Had my Digital Storm system for six months now and could not be more pleased. I love it. Due to budgetary constraints (no job at the moment) mine is basic rig.
Digital Storm Desktop 167935

System Configuration:
Chassis Model: Special Deal Hot Seller - HAF 922
Processor: Intel Core i5 750 2.66GHz (Quad Core)
Motherboard: EVGA P55 LE Edition (Intel P55 Chipset)
System Memory: 4GB DDR3 1333MHz Digital Storm Certified by mushkin enhanced (Highly Recommended) (Hand Tested)
Power Supply: 700W Digital Storm Certified (Dual SLI Compatible) (Silent Edition Recommended)
Hard Drive Set 1: Operating System: 1x (500GB Western Digital (16MB Cache) (7200 RPM) (SATA)
Optical Drive 1: DVD±R/RW/CD-R/RW (DVD Writer 20x / CD-Writer 48x)
Internet Access: High Speed Network Port (Supports High-Speed Cable / DSL / Network Connections)
Video Card(s): 1x NVIDIA GeForce GTS 250 1GB (Includes PhysX Technology)
Sound Card: Integrated Motherboard Audio
Extreme Cooling: Standard Factory Heat-sink and Fan
Chassis Airflow: Standard Factory Chassis Fans
Internal Lighting: Internal Chassis Lighting System (Blue)
CPU Boost: Stage 1: Overclock the processor between 3.3GHz to 3.9GHz (Requires Air Cooling Upgrade)
Windows OS: Microsoft Windows 7 Home Premium (64-Bit Edition)
Restore Kit: Digital Storm Specialized Recovery System (DVD Image Based)

I had shopped for months and the reviews on this forum and Digital Storm's very informative website convinced me. From the time I placed my order I was treated like their best customer. The computer arrived in excellent condition and has performed flawlessly from the minute I turned it on. It's used for general computing as much as gaming and the speed is amazing.
--------[ EVEREST Ultimate Edition ]------------------------------------------------------------------------------------
Operating System Microsoft Windows 7 Home Premium 6.1.7600 (Win7 RTM)
Date 2010-03-28
Time 11:50

--------[ Overclock ]---------------------------------------------------------------------------------------------------
CPU Properties:
CPU Type QuadCore Intel Core i5 750
CPU Alias Lynnfield
CPU Stepping B1
Engineering Sample No
CPUID CPU Name Intel(R) Core(TM) i5 CPU 750 @ 2.67GHz
CPUID Revision 000106E5h
CPU Speed:
CPU Clock 3620.8 MHz (original: 2667 MHz, overclock: 36%)
CPU Multiplier 20x
CPU FSB 181.0 MHz (original: 133 MHz, overclock: 36%)
QPI Clock 3258.8 MHz
Memory Bus 724.2 MHz
DRAM:FSB Ratio 4:1
CPU Cache:
L1 Code Cache 32 KB per core
L1 Data Cache 32 KB per core
L2 Cache 256 KB per core (On-Die, ECC, Full-Speed)
L3 Cache 8 MB (On-Die, ECC, Full-Speed)
Motherboard Properties:
Motherboard ID 65-0100-000001-00101111-102309-LfdHvdImc$1E653A39_BIOS DATE: 10/23/09 16:17:15 VER: 08.00.16
Motherboard Name Unknown
Chipset Properties:
Motherboard Chipset Intel Ibex Peak P55, Intel Lynnfield
Memory Timings 11-11-11-29 (CL-RCD-RP-RAS)
Command Rate (CR) 1T
DIMM1: Mushkin 991585 (996585) 2 GB DDR3-1333 DDR3 SDRAM (9-9-9-24 @ 666 MHz) (8-8-8-22 @ 592 MHz) (6-6-6-16 @ 444 MHz)
DIMM3: Mushkin 991585 (996585) 2 GB DDR3-1333 DDR3 SDRAM (9-9-9-24 @ 666 MHz) (8-8-8-22 @ 592 MHz) (6-6-6-16 @ 444 MHz)
BIOS Properties:
System BIOS Date 10/23/09
Video BIOS Date 02/19/09
DMI BIOS Version 080016
Graphics Processor Properties:
Video Adapter Zotac GeForce GTS 250
GPU Code Name G92GTS (PCI Express 2.0 x16 10DE / 0615, Rev A2)
GPU Clock (Geometric Domain) 738 MHz (original: 740 MHz)
GPU Clock (Shader Domain) 1836 MHz (original: 1836 MHz)
Memory Clock 1101 MHz (original: 1100 MHz)
I started my career as a computer tech and have had many in my home since 1980. The build quality of this one is the best I have seen.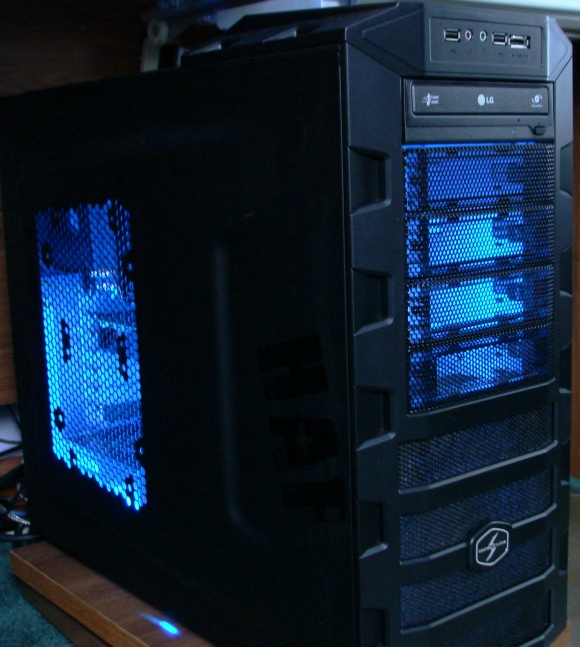 I hope to add components as my budget allows. So far the only upgrade is a Cooler Master Hyper 212 Plus with 2 120mm fans. It was easy to install in this chassis and works great.
I highly reccomend Digital Storm. This is an excellent computer and they are a pleasure to deal with.