It took me a long time to come to the conclusion that Digital Storm was the best in terms of overall quality as well as value. After much extent of researching what all the other competitors have to offer, it was really a no-brainer. Piece of mind. I as the customer wanted to know that every precaution would be taken care of and I could just sit back and relax. And essentially, that's what happened.

I have to say that after almost 2 weeks of having this baby, it's amazing in every way I thought possible so far. No crashing or locking up, everything is as smooth as ice through gameplay. When I power on, it's up in seconds. No more waiting minutes upon minutes for me to reach my desktop screen! It runs so quietly until I forget it's even on. Just like a whisper. My Pride & Joy. Never have I been so glad to hop on the computer everyday as I am now. It's really quite a liberation of sorts when I've been confined to basic stock computers my whole life (I'm 25 now). But it was worth the wait.
1) Community Forums - They (you guys), were the biggest help of all. I methodically and periodically checked out the configuration discussion board and looked for what other people wanted in the price range I had considered. I learned so many different ins-and-outs that I'm sure I never would've figured out on my own. Efficiency was the constant for what members recommended. Sure I could have just gone max everything, but in terms of value, the gains would have been minimal at best. I appreciate that they were looking out for the best interest of us consumers in a money driven-society. The recommendation for the Dell Ultrasharp 24" monitor for 1920x1200 resolution was spot on. The colors are rich and beautiful, especially at night or in the dark. As well as this configuration:
System Configuration:
Chassis Model: Special Deal Hot Seller - Cooler Master 942 HAF X
Exterior Finish: - Standard Factory Finish
Trim Accents: - Standard Factory Finish
Processor: Intel Core i7 2600K 3.40GHz (Unlocked CPU for Extreme Overclocking) (Quad Core)
Motherboard: ASUS P8P67 Deluxe (Intel P67 Chipset) (New & Improved B3 Revision Without SATA 3G Issue)
System Memory: 8GB DDR3 1600MHz Digital Storm Certified Performance Series (Highly Recommended) (Hand Tested)
Power Supply: 1050W Corsair Pro Silver 1050HX (Dual/Triple/Quad SLI Compatible)
Expansion Bay: - No Thanks
Hard Drive Set 1: Operating System: 1x (120GB Solid State (By: Intel) (Model: 320 Series) - (However, it seems that I received Corsair in lieu of Intel. But this is minor, it's just as stable as it can be. I like the red coloring of it as well.)
Set 1 Raid Options: - No Thanks
Hard Drive Set 2: Multimedia\Data: 1x (1TB Western Digital Caviar (7200 RPM) (Model: Black Edition)
Hard Drive Set 3: Backup\Misc.: - No Thanks
Optical Drive 1: DVD-R/RW/CD-R/RW (DVD Writer 24x / CD-Writer 48x)
Optical Drive 2: - No Thanks
Internet Access: High Speed Network Port (Supports High-Speed Cable / DSL / Network Connections)
Video Card(s): 2x SLI Dual (NVIDIA GeForce GTX 570 2.5GB (PhysX) (EVGA 025-P3-1579-BR)
Add-on Card: - No Thanks
Sound Card: Integrated Motherboard Audio
Extreme Cooling: AIR: Stage 2: Noctua NH-D14 SE2011 Extreme Performance
H20 Tube Color: - Not Applicable, I do not have a FrostChill or Sub-Zero LCS Cooling System Selected
Chassis Airflow: Standard Factory Chassis Fans
Internal Lighting: Internal Chassis Lighting System (Red)
Enhancements: - No Thanks
Chassis Mods: - No Thanks
Noise Reduction: - No Thanks
LaserMark: - No Thanks
CPU Boost: Stage 1: Overclock CPU 4.0GHz to 4.5GHz
Graphics Boost: - No Thanks, Please do not overclock my video card(s)
Memory Boost: - No Thanks, Please do not overclock my memory
OS Boost: - No Thanks, Please do not tweak the services on the operating system
Windows OS: Microsoft Windows 7 Home Premium (64-Bit Edition)
Recovery Tools: Windows Recovery Toolkit (Bundled with Windows 7 CD)
Virus Protection: - No Thanks
Office: - No Thanks
Game: - No Thanks
Display: - No Thanks
Surge Shield: - No Thanks
Speakers: - No Thanks
Keyboard: - No Thanks
Mouse: - No Thanks
External Storage: - No Thanks
Exclusive T-Shirt: FREE: Digital Storm T-Shirt - Black (Extra Large)
Priority Build: - No Thanks, Ship Within 5-15 Business Days After Order Is Successfully Processed
Warranty: Life-time Expert Customer Care with 3 Year Limited Warranty
Along with an extra 200mm non-led silent fan on top and limiting the vcore to 1.4 (technical term that will extend the life-span of my cpu, whilst having optimal performance).
It came just under 3k due to the wonderful 10th anniversary promotion. I'm sure I saved at least $500 if I decided to do the build based on my own pre-knowledge before perusing the topics.
Score: 5/5.
2) Customer Service: Once the order was placed I was kept abreast every step of the way up until the departure. One minor issue was that they probably confused my order with someone else's but nonetheless they quickly rectified it by sending the correct invoice. I shall overlook it. Score: 5/5
3) Shipping: Once it was shipped it took about one week to get here. A reasonable wait considering that it was traveling cross-country to get to me. No need to pay for expedited shipping. Just exercise the little bit of extra patience that got you to this point and you'll be fine. It came right on the estimated date.
Score: 5/5
Pics!
1) Boy was it ever a challenge lifting the thing. It felt way more than the estimated 70.0 lbs.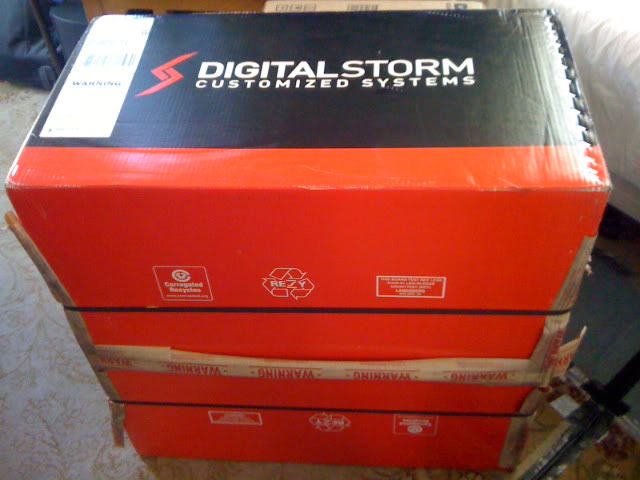 2) Another angle of me getting it on the table.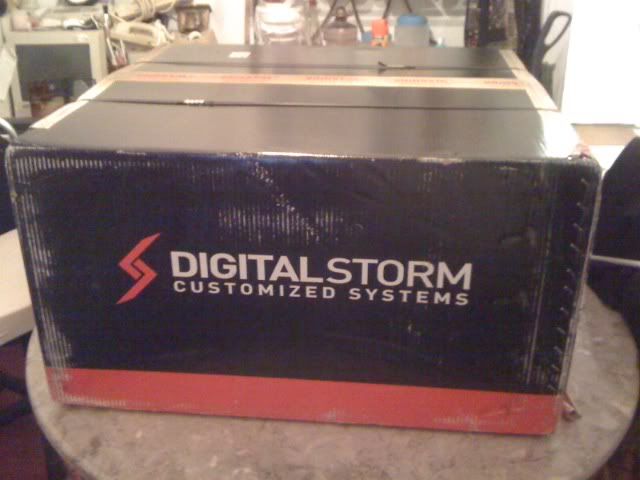 3) When I say this machine was sheltered and protected...it was totally tamper proof. The chances of something penetrating cardboard that thick is almost 0%. The standard shipping method is more than enough in my opinion.
4) Further proof.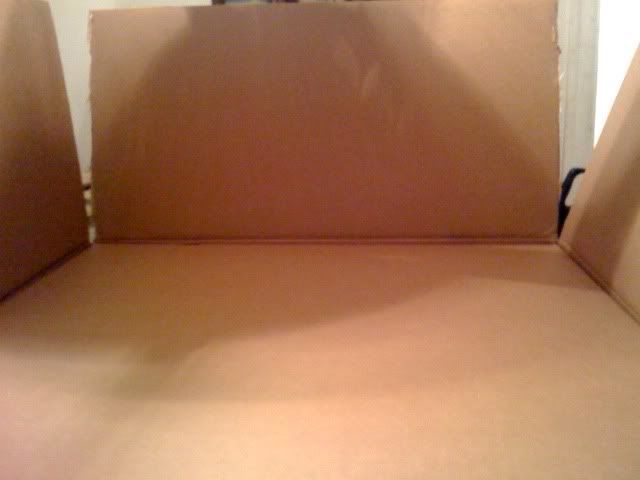 5) The manual (containing certificate, specs, instructions, etc.) and free t-shirt were a great finishing touch and allowed me to breeze through the setup.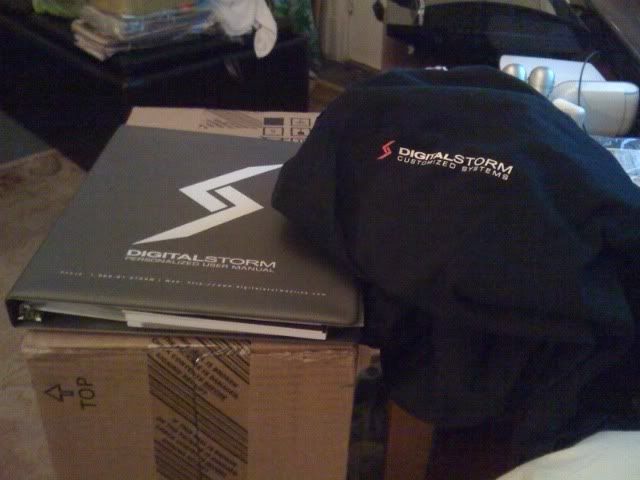 6) Another view of its mammoth size. Just had enough room for the table to hold it.
7) After taking off the sealing cardboard, one can see that it's also plastic insulated on the other side to avoid shaking or damage to the case. There was also foam inside the case to avoid jarring on any equipment like the graphics cards.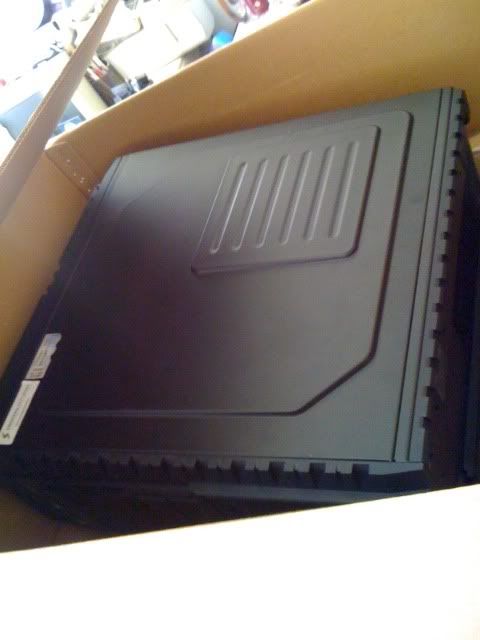 8) And a few short hours later, voilĂ ! Super computer activated! Let the good times roll.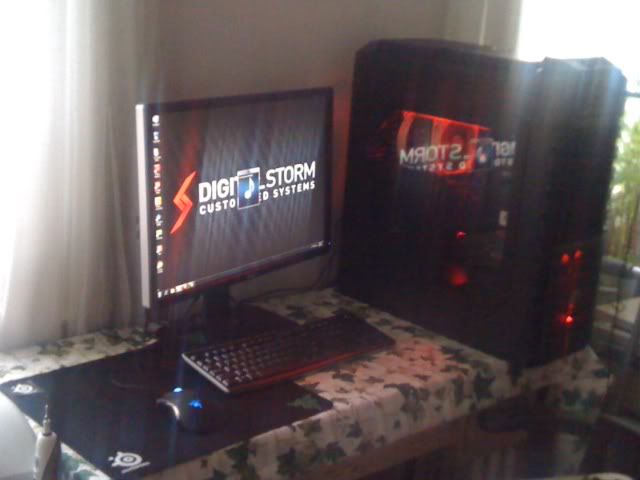 Closing, I would quickly recommend Digital Storm to any and everybody who wants to take their gaming or system in general to the next level. An investment they can trust. Hope to do business with them once again in the future. Thank you DS!

FINAL SCORE: 5/5