System Configuration:
Chassis Model: Special Deal Hot Seller - Cooler Master CM Storm Scout
Exterior Finish: - Not Available
Trim Accents: - Not Available
Processor: Intel Core i5 750 2.66GHz (Quad Core)
Motherboard: EVGA P55M SLI (Intel P55 Chipset)
System Memory: 4GB DDR3 1600MHz Digital Storm Certified Performance Series (Highly Recommended) (Hand Tested)
Power Supply: 750W Digital Storm Certified (Dual SLI Compatible) (Silent Edition Recommended)
Expansion Bay: - Not Available
Hard Drive Set 1: Operating System: 1x (500GB Western Digital (16MB Cache) (7200 RPM) (SATA)
Set 1 Raid Options: - Not Available
Hard Drive Set 2: Multimedia\Data: - No Thanks
Hard Drive Set 3: Backup\Misc.: - No Thanks
Optical Drive 1: DVDÄ…R/RW/CD-R/RW (DVD Writer 22x / CD-Writer 48x)
Optical Drive 2: - No Thanks
Internet Access: High Speed Network Port (Supports High-Speed Cable / DSL / Network Connections)
Video Card(s): 1x ATI Radeon HD 5850 1GB
Add-on Card: - No Thanks
Sound Card: Integrated Motherboard Audio
Extreme Cooling: AIR: Stage 1: High Performance Cooler (Compatible With ONLY i5/AMD Processors)
H20 Tube Color: - Not Available
Chassis Airflow: Standard Factory Chassis Fans
Internal Lighting: - No Thanks
Enhancements: - Not Available
Chassis Mods: - Not Available
Noise Reduction: - Not Available
CPU Boost: FREE: Stage 1: Overclock the processor between 3.3GHz to 3.9GHz (Requires Air Cooling Upgrade)
Graphics Boost: - Not Available
Memory Boost: - Not Available
OS Boost: - Not Available
Windows OS: Microsoft Windows 7 Home Premium (64-Bit Edition)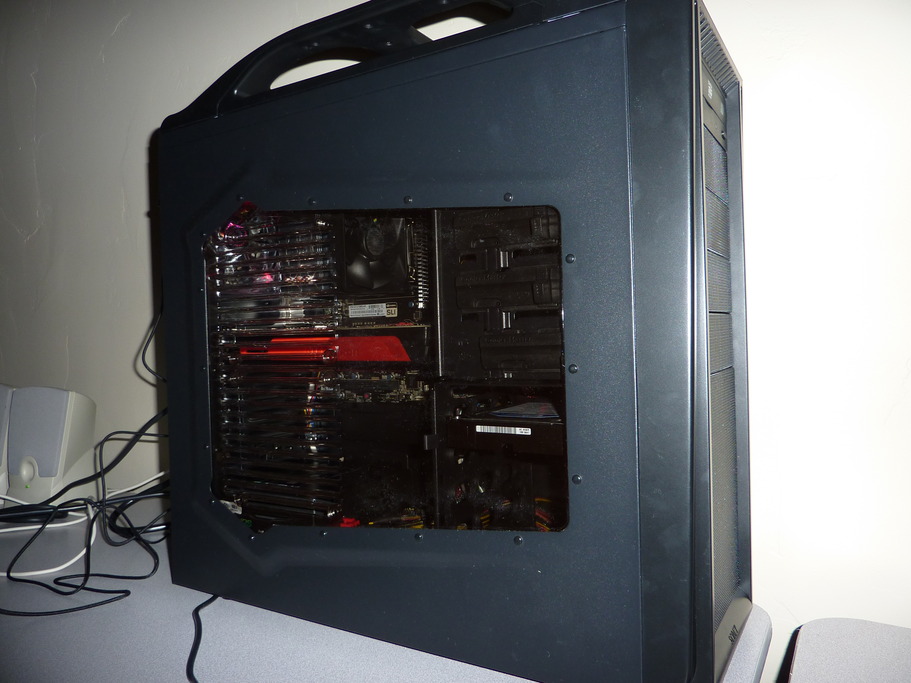 I got this system for my wife to play AION. This is currently running AION on a 22" LCD 1680x1050 with all settings enabled and turned up to the max and gets 110+FPS in pandemonium fortress. We've not done any fort battles but I'll update with more FPS details as we encounter them. :)
This is the best built system I've ever owned. I've always built my own systems by ordering parts from well known oem retailers. After having to RMA ram 3 times for not posting and failing memtest86. Not to mention other compatibility issues with things not fitting in cases etc. I decided I was done building my own system. It just wasn't worth having to wait 2+ weeks for RMA parts to show up and hoping they work. I also got tired of waiting months to receive a rebate on an oem part and many times I never receive it. Also working in the IT industry and dealing with computers all day, the last thing I wanted to do when I came home was work on another system so I decided to order from the best. This was hands down the easiest computer to setup. The packing was amazing. The best packing job I've ever seen and I receive PC's at work from all of the big name vendors.
-edit-
Overclocked Processor Settings
Processor Speed GHz: 3.3
CPU Multiplier: 21
Voltage CPU VCore: 1.35
VDroop Control: Yes
i7 - BCLK MHz: 160
Thanks DS!
Now I need to order one for myself.


Edited by DBAndrew - 23 Feb 2010 at 4:51pm