Hello Everyone,
This is my formal review of my Digital Storm system, which I received at the beginning of June this year. This is my second Digital Storm system, the first one I purchased two years ago, almost to the date. This time I wanted all the bells and whistles
I could get, and still have some money left over to buy things like a new monitor and such.
Here is the new system I ordered:
System Configuration:
Chassis Model: Special Deal Hot Seller - Black OPS HailStorm Edition Exterior Finish: - Standard Factory Finish Trim Accents: - Standard Factory Finish
Processor: Intel Core i7 2600K 3.40GHz (Unlocked CPU for Extreme Overclocking) (Quad Core)
Motherboard: ASUS P8P67 Deluxe (Intel P67 Chipset) (New & Improved B3 Revision Without SATA 3G Issue) System Memory: 8GB DDR3 1600MHz Digital Storm Certified Performance Series (Highly Recommended) (Hand Tested) Power Supply: 1000W SliverStone Strider Gold (Dual/Triple/Quad SLI Compatible) (ST1000-G)
Hard Drive Set 1: Operating System: 1x (120GB Solid State (By: Intel) (Model: 320 Series SSDSA2CW120G3K5)
Hard Drive Set 2: Multimedia\Data: 1x (1TB Western Digital Caviar (7200 RPM) (64MB Cache) (Model: Black Edition)
Optical Drive 1: DVD-R/RW/CD-R/RW (DVD Writer 24x / CD-Writer 48x)
Video Card(s): 2x SLI Dual (NVIDIA GeForce GTX 580 1.5GB (Includes PhysX Technology)
Sound Card: Integrated Motherboard Audio
Extreme Cooling: H20: Stage 6: Sub-Zero LCS Dual Loop: CPU & Dual SLI/CrossFire Video Cards
H20 Tube Color: Black Tubing with High-Performance Fluid (UV Lighting Reactive)
Chassis Airflow: Standard Factory Chassis
CPU Boost: Stage 2: Overclock CPU 4.5GHz to 4.8GHz (Requires Pro or Deluxe Series Motherboard)
Windows OS: Microsoft Windows 7 Home Premium (64-Bit Edition) Recovery Tools: Windows Recovery Toolkit (Bundled with Windows 7 CD)
Speakers: - No Thanks
Keyboard: - No Thanks
Mouse: - No Thanks
Exclusive T-Shirt: FREE: Digital Storm T-Shirt - Black (Xtra Large)
Warranty: Life-time Expert Customer Care with 3 Year Limited Warranty
The system arrived, and everything was packed tightly, so there was little movement of components that could not be moved back without minimum effort. This system is everything I expected and more. Great forum support, DS Customer service was and is AWESOME - special thanks to Alex, who led me by the hand on some small issues, which he got straightened out for me
Here are pictures of my system, with ALL the protective film off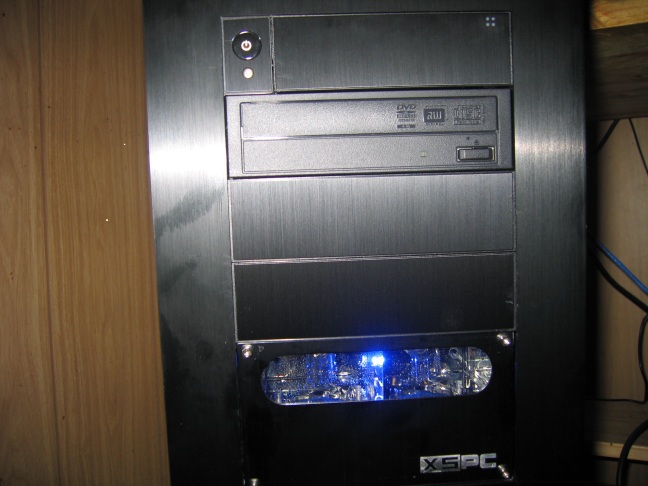 Front view of my new system
Overall, a great experience, once again, and you guys have a customer for life!
Regards,
Mark