After a week with my new DS masterpiece I finally feel ready to write a review.
I was originally a customer of another PC building company. I was satisfied with my computer and when I was ready to purchase a new machine they were the first company I looked up. My last build was nice, but I didn't do enough research and ended up having to upgrade numerous times over the first year I had it. This time I had to make sure I was going to purchase a system that wasn't going to need to be upgraded for quite a while.
Because I was planning to invest more in this rig than I had ever spent before, I wanted to do a lot of research before I made my purchase.
The first thing I did was price builds from several different companies. Some seemed much cheaper than others; the original company I went with was very competitive. So I decided to look into the reputation of some of these companies. - Outside Link Removed - was one of the first places I went.
I was shocked.
Pretty much every company with these "too good to be true" prices turned out to be too good to be true. Stories of horrible customer service, missing parts, heavily damaged systems, even the use of refurbished parts! Unfortunately, the company that was rumored to use refurbished parts was the company I went with for my last rig. I looked at their warranty information and sure enough, it clearly states that parts turned in for replacement can in fact be replaced with refurbished parts at the company's discretion.
That did it for me.
So I looked at the companies with the highest customer satisfaction ratings, which brought me to Digital Storm. Their systems did cost more but their reputation was impeccable. I decided to check out their message boards for some additional input. Everyone was very helpful and friendly. Out of all the custom PC builder's boards I have visited, none was so free of flaming and complaints.
I was sold.
So after another 2 weeks of toiling over my decision, I went with this configuration:

System Configuration:
Chassis Model: Cooler Master HAF 932
Exterior Finish: - Standard Factory Finish
Interior Finish: - Standard Factory Finish
Trim Accents: - Standard Factory Finish
Processor: Intel Core i7 920 2.66GHz (Quad Core)
Motherboard: EVGA X58 3X SLI (Intel X58 Chipset) (Supports Triple SLI or CrossFire)
System Memory: CLEARANCE HOT SELLER: 3GB DDR3 1333MHz Corsair XMS3
Power Supply: 1000W Silverstone OP1000-E (Dual/Triple/Quad SLI Compatible) (Silent Edition)
Card Reader: - No Thanks
Hard Drive Set 1: Operating System: 1x (320GB Western Digital (16MB Cache) (7200 RPM) (SATA)
Set 1 Raid Options: - No Thanks
Hard Drive Set 2: Multimedia\Data: - No Thanks
Hard Drive Set 3: Backup\Misc.: - No Thanks
Optical Drive 1: DVD±R/RW/CD-R/RW (DVD Writer 20x / CD-Writer 48x)
Optical Drive 2: - No Thanks
Internet Access: High Speed Network Port (Supports High-Speed Cable / DSL / Network Connections)
Video Card(s): 1x NVIDIA GeForce GTX 285 1GB (Includes PhysX Technology)
Add-on Card: - No Thanks
Sound Card: Integrated Motherboard Audio
Extreme Cooling: AIR: Stage 2: Cooler Master V8 (Compatible With i7 Processors)
Liquid Color: - Not Applicable, I do not have a H20: Stage 3 Cooling System Selected
Chassis Airflow: Standard Factory Chassis Fans
Internal Lighting: - No Thanks
Enhancements: - No Thanks
Chassis Mods: - No Thanks
CPU Boost: Yes, Overclock the processor as much as possible with complete stability
Graphics Boost: - No Thanks, Please do not overclock my video card(s)
Memory Boost: - No Thanks, Please do not overclock my memory
Windows Boost: - No Thanks, Please do not tweak the services on the operating system
Windows OS: Microsoft Windows Vista Home Premium (64-Bit Edition) (For Enthusiasts)
Restore Kit: Digital Storm Specialized Recovery System (DVD Image Based)
Virus Protection: - No Thanks
Office: - No Thanks
Benchmarking: - No Thanks
Pre-Install Game: - No Thanks
LCD Display: - No Thanks
Surge Shield: - No Thanks
Speakers: - No Thanks
Keyboard: - No Thanks
Mouse: - No Thanks
External Storage: - No Thanks
Exclusive T-Shirt: - No Thanks
Priority Build: - No Thanks, Ship Within 5-10 Business Days After Order Is Successfully Processed
Warranty: 3 Year Platinum Care Extended Parts & Labor Warranty
The total was well above my original budget but in the end it was well worth it!
Here are the steps I went through from order to delivery:
3/12/2009 4:50pm EDT: My purchase was made. I immediately received an email receipt and an order ID. A second email was received a moment later notifying me to check with my bank to make sure such a large purchase would be accepted (which I did).

3/12/2009 5:14pm EDT: Customer Care emailed me letting me know my configuration was all good.

3/12/2009 7:57pm EDT [Stage 1]: I received an email notifying me that my order had been successfully processed. This email also outlines and defines each stage of the build process.

3/13/2009 12:54pm EDT [Stage 2]: The stage 2 email I received stated that a component bin had been assigned for my order.

3/13/2009 12:54pm EDT [Stage 3]: Moments after the Stage 2 email arrived I received an email (actually 2 identical ones) showing my system is now in Phase 1 integration.
3/13/2009 10:54pm EDT: Sent a request to customer service for an EVGA GPU.

3/16/2009 12:11pm EDT [Stage 4]: Received an email showing my system has entered the Engineering Lab.

3/16/2009 12:19pm EDT: Received a response to my EVGA GPU email stating that my system does include an EVGA GTX 285 (thanks again DST).

3/16/2009 7:47pm EDT [Stage 5]: My rig has now been passed on to the phase 2 stress-testing team. I received a new est. ship date (Estimated Shipment Date: 2-3 business days (Mon-Fri) from 3/16/2009).

3/23/2009 12:18pm EDT [Stage 6]: 2 days after my last estimated ship date I received an email saying QA has received my system. This email included a new estimated ship date (Estimated Shipment Date: 0-1 business day (Mon-Fri) from 3/23/2009).

3/23/2009 6:08pm EDT [Stage 7]: I received an email showing that my rig had passed QA along with a breakdown of my overclock and temps.
Here's the OC...

Idle: 43C
Overnight Load: 75C
Important Notice: Overclocked systems will definitely run hotter than stock units. Your unit has been tested to be fully stable in our stress-test facility at these temperatures.
Overclocked Processor Settings
Processor Speed GHz: 3.5
CPU Multiplier: 20
Voltage CPU VCore: 1.45
VDroop Control: Yes
i7 - BCLK MHz: 1.67
i7 - Voltage QPI\DRAM: AU
i7 - Voltage QPI\PLL: 1.275
i7 - Voltage CPU VTT: 100
i7 - Voltage IOH Vcore: 1.375
i7 - Voltage ICH Vcore: AU
i7 - Voltage IOH/ICH I/O: A
i7 - PWM Frequency: A
780i/790i - Memory Clock Mode:
780i/790i - CPU FSB MHz:
780i/790i - Voltage FSB:
780i/790i - Voltage SPP:
780i/790i - Voltage MCP:
Motherboard BIOS: SZ21
Video Card Driver: 182.08
Chipset Driver: CD
Sound Card Driver: R2.11

3/23/2009 8:39pm EDT: Received my tracking info from DS. Estimated date for delivery, 3/28/2009.
3/28/2009 5:00pm EDT: My system was delivered.
Unfortunately when my system arrived, the box had been punched through. Here are the pictures: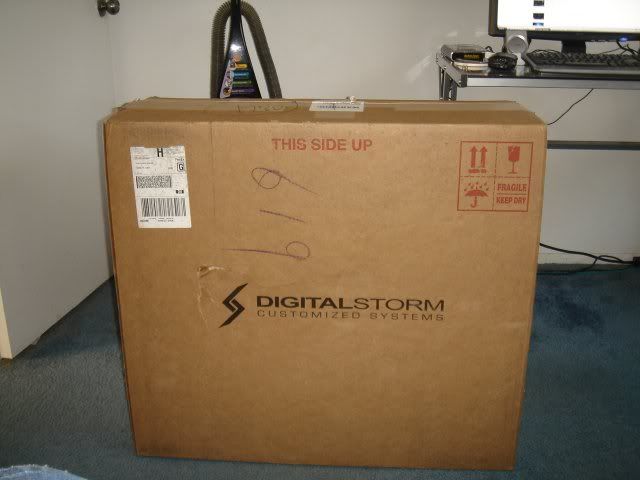 The tape on the lid was also cut clean through: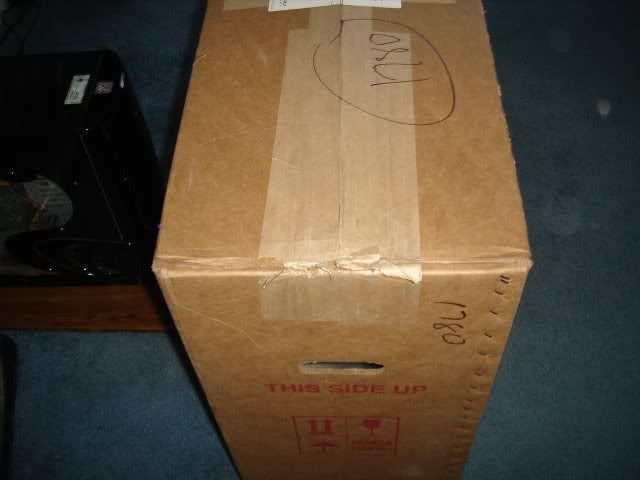 While opening the box I was quite worried: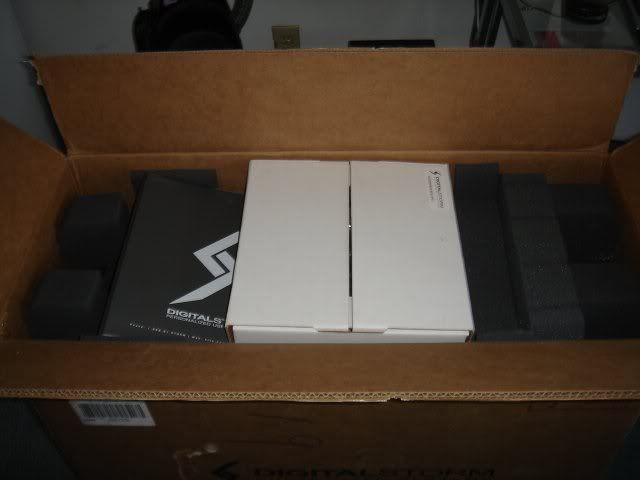 Luckily, the system showed no sign of damage: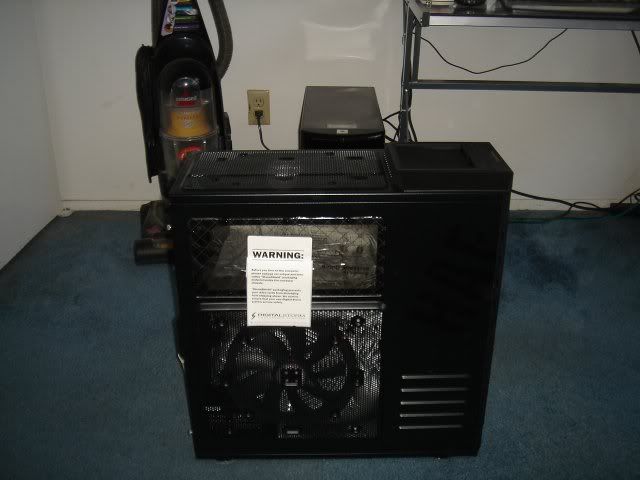 The interior packing foam was wedged in the system quite well, almost too well. I was unable to remove the foam from above the massive V8 cooler without the cooler moving so I cut the bag and pulled the foam out handful by handful. After finally removing the last of the foam I was able to look over this beautiful new system: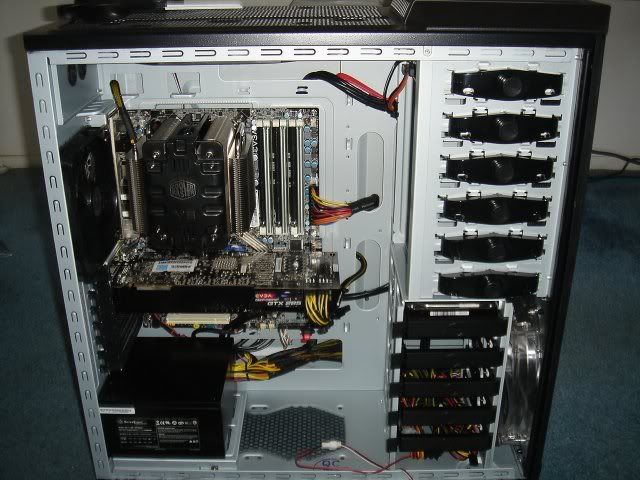 I put the cover back on and powered her up.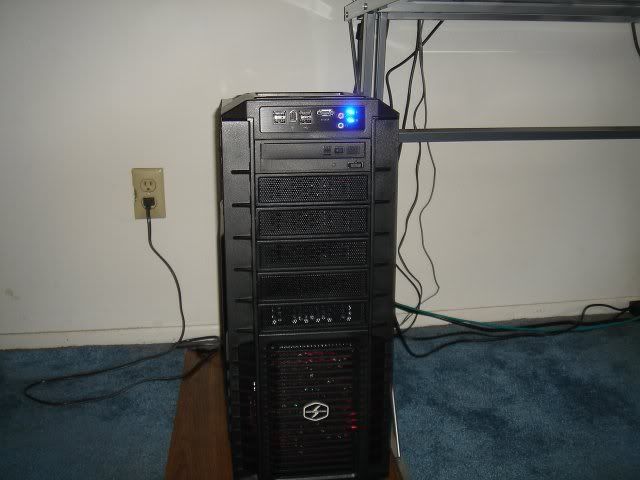 She booted up without any problem. I was a little surprised that no windows updates were run: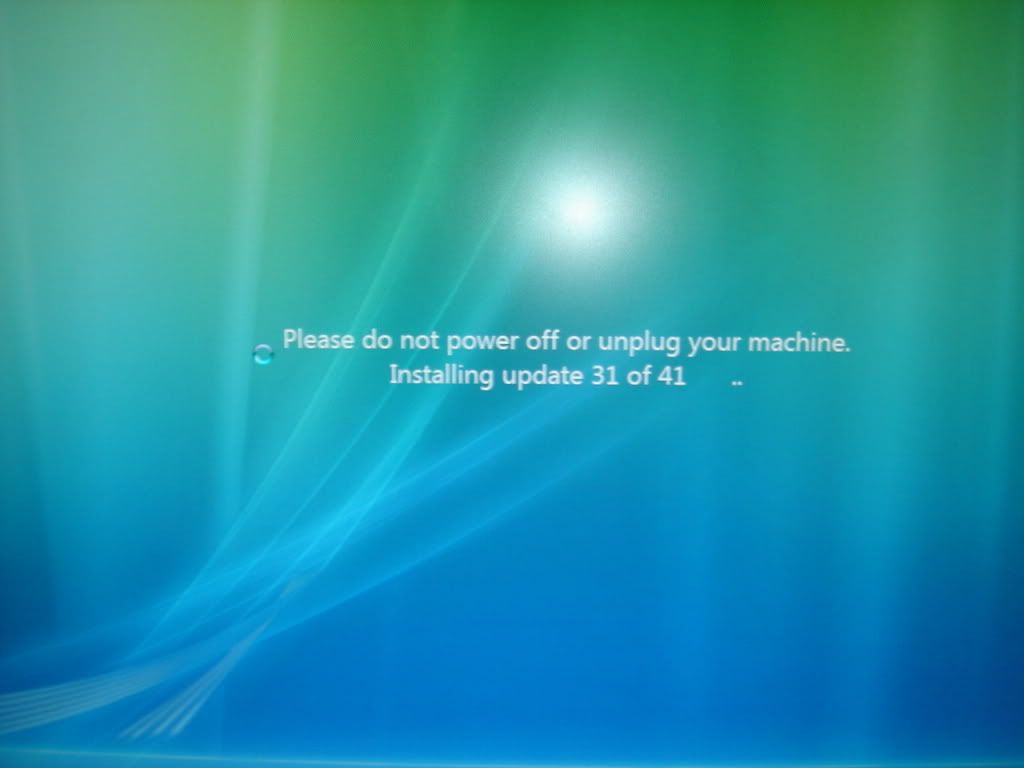 I found out in a thread on the message boards that updating every system before shipping would be a huge strain on the company's bandwidth, which is completely understandable. After the updates were run, I installed a blue front fan on my tower and my old Creative X-fi card.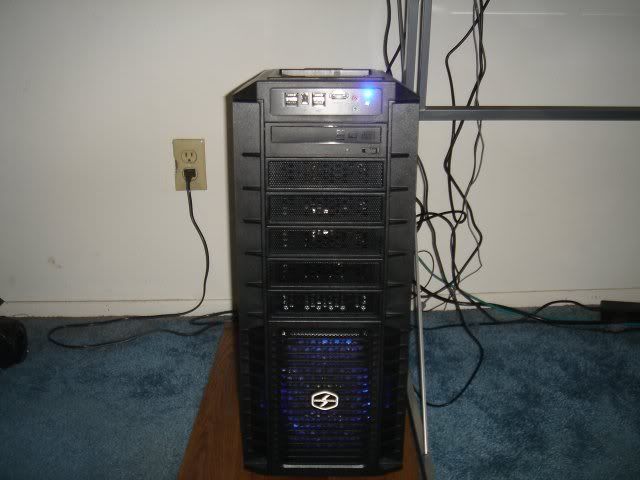 This system is amazing! I was able to simultaneously run 2 folder transfers (one 22GB, the other 440MB), download 2 programs, run a scanner and surf these message boards without even thinking about it!
Here's my Vista rating: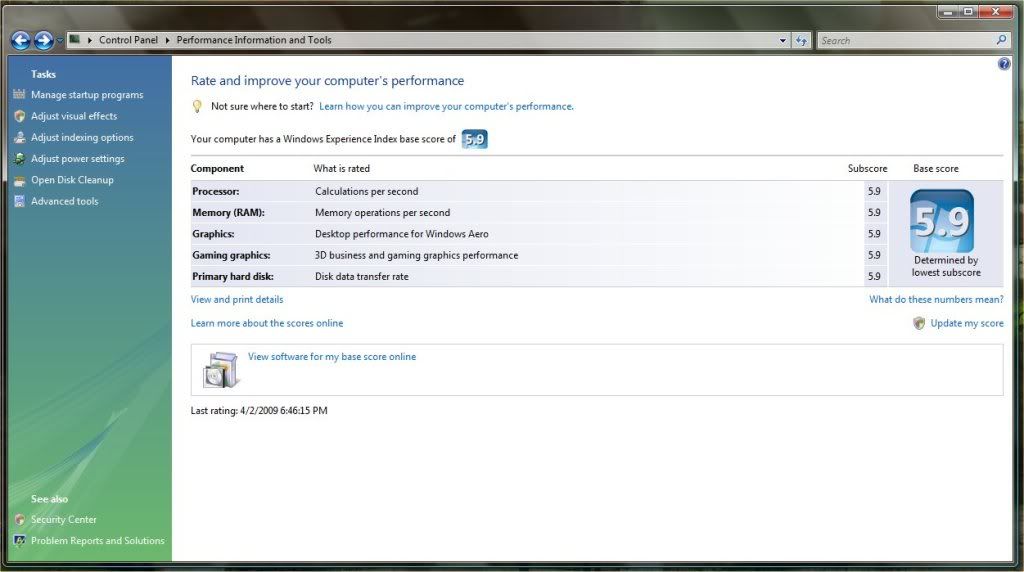 So of course I went out and purchased Crysis to see what this thing could really do. I was able to play with everything set to Very High, 1680X1050res, 4X AA with very playable framerates (although there is some screen tearing). Here are my temps after 3 hours of Crysis: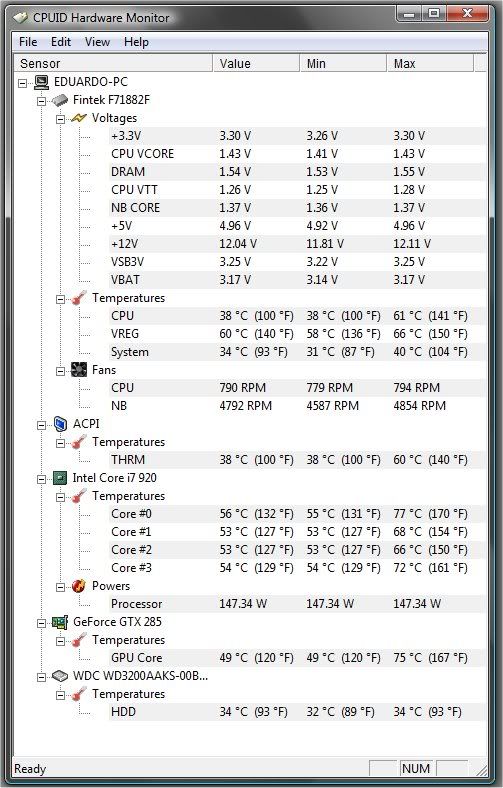 I think I can live with that.

Overall I couldn't be happier with my new computer. All of my dealings with Digital Storm have been a pleasure. The process was fast, the system and wiring immaculate. The people on the message boards are nothing but helpful and Alex makes sure to take care of any problem a customer may post about. This company deserves every accolade they receive. I am proud to be a Digital Storm customer and will definitely buy my next system from them.
Which I really hope is a very long time from now…