I've had my Slade for about 3 weeks and have finally had time to set it up properly and start to use it. I also really wanted to post a review since finding user reviews are so helpful when you're considering what to buy. Right off the bat I'll say Digital Storm has been fantastic to work with and order from. My previous system was an Alienware and though it cost me over $5000 it was a very reliable system so my new Slade had a lot to live up to. Here is the configuration I chose:
Specifications:
Chassis Model: Special Deal Hot Seller - Corsair Obsidian 550D
Exterior Finish: - Standard Factory Finish
Trim Accents: - Standard Factory Finish
Processor: Intel Core i7 3770K 3.50 GHz (Unlocked CPU) (Quad Core) (Requires Z77 Motherboard)
Motherboard: ASUS P8Z77-V DELUXE (Intel Z77 Chipset) (Higher Overclocks and Unique Wi-Fi Features)
System Memory: 16GB DDR3 1600MHz Corsair Dominator DHX (High-Performance)
Power Supply: 1050W Corsair Pro Silver 1050HX (Dual/Triple/Quad SLI Compatible) <b></b>
Expansion Bay: - No Thanks
Hard Drive Set 1: Operating System: 1x (180GB Solid State (By: Intel) (Model: 520 Series)
Set 1 Raid Options: - No Thanks
Hard Drive Set 2: Multimedia\Data: 1x (1TB Western Digital Caviar (7200 RPM) (Model: Black Edition)
Hard Drive Set 3: Backup\Misc.: - No Thanks
Optical Drive 1: DVD-R/RW/CD-R/RW (DVD Writer 24x / CD-Writer 48x)
Optical Drive 2: - No Thanks
Internet Access: High Speed Network Port (Supports High-Speed Cable / DSL / Network Connections)
Video Card: 1x NVIDIA GeForce GTX 680 2GB (Includes PhysX) <b></b>
Add-on Card: - No Thanks
Sound Card: Creative Labs X-Fi Titanium HD 24-bit 96KHz 7.1
Extreme Cooling: H20: Stage 2: Digital Storm Vortex 240mm Radiator Liquid CPU Cooler (Extreme-Performance Edition)
H20 Tube Color:- Not Applicable, I do not have a FrostChill or Sub-Zero LCS Cooling System Selected
Chassis Airflow: Standard Factory Chassis Fans
Internal Lighting: - No Thanks
Enhancements: - No Thanks
Chassis Mods: - No Thanks
Noise Reduction: - No Thanks
LaserMark: - No Thanks
Boost Processor: Stage 2: Overclock CPU 4.5GHz to 4.8GHz (Requires Pro/Deluxe/Sabertooth Motherboard)
Boost Video Card: FREE: Yes, Overclock the video card(s) as much as possible with complete stability
Boost Memory: - No Thanks, Please do not overclock my memory
Boost OS: - No Thanks, Please do not tweak the services on the operating system
Windows OS: Microsoft Windows 7 Home Premium (64-Bit Edition)
Recovery Tools: Windows Recovery Toolkit (Bundled with Windows 7 CD)
Virus Protection: - No Thanks
Office: - No Thanks
Game: - No Thanks
Display: - No Thanks
Surge Shield: - No Thanks
Speakers: - No Thanks
Keyboard: - No Thanks
Mouse: - No Thanks
External Storage: - No Thanks
Exclusive T-Shirt: FREE: Digital Storm T-Shirt - Black (Extra Large)
Priority Build: - No Thanks, Ship Within 10-15 Business Days After Order Is Successfully Processed
Warranty: Life-time Expert Customer Care with 3 Year Limited Warranty
The entire ordering process was painless and thankfully DS even worked with me on a few last minute changes and questions I had about configuring things. My suggestion is to have a really good idea about what you want prior to ordering. DS works so quickly to put together your system and test it that you don't have more than a few days to make any changes to your original order.
I selected the Slade based on my desire to have a very silent system. I live in a small apartment in NYC so a computer that makes too much noise would be impossible to live with. I did a lot of research about this particular system and concluded it would be perfect for me. The system arrived right on time. Immediately I was surprised how well everything was packaged. There wasn't any waste of packing materials - just the right amount to secure my new baby in place. I was very impressed to find all the manuals for all the various components including all the additional cables for my power supply. This is one place my prior Alienware system failed - never giving me the information I needed for what was inside my computer.
Setting up the system was painless. I turned the system on and to my extreme relief the system is basically silent. I turned the pump fan down to low for now which helps but even if it's turned up to medium I can basically hear nothing. I've only had a day to work with it so far and have basically just set up various files and installed a couple of games. The system is fast. I've had a couple blue screens while trying to install applications but I know from experience that systems eventually calm down and I don't suspect this will continue.
I did have one misfortune when I was inspecting my system. I was a little unhappy with finding that the cooler I chose utilized the top fans vents in my case ( I'm not particularly experienced in cooler options). I think for a system that is advertised as silent it would be more helpful if DS would make it clear to purchasers that the fan will require the top of the case to be removed at all times. I am planning to replace the Corsair H100 that I have with the Corsair H80 which will use the back fan and allow me to close the top and use optional fans if I choose. Also, when I was first inspecting the system I found that the front door to my Corsair case had a broken hinge. Basically I would be able to open the door only one way. The other would cause the door to fall off. I contacted DS right away and they mailed me out a replacement door. I received it within a week. I was pleased to find the new door no longer had the DS emblem stuck to the front of it. While I love DS, I do prefer this Corsair case to be as basic as possible. It truly is a beautiful case.
I added one picture to show what I'm doing with the top panel being off. For now I'm using a paint stick to hold the top slightly off at an angle to allow the fans to blow but also to buffer some of the fan sound (the panel is lined in sound proofing material).
I will end by saying I am a new fan of DS and of their Slade system. Anyone looking for a quiet PC that is well constructed will love this system. I highly recommend both DS and the Slade.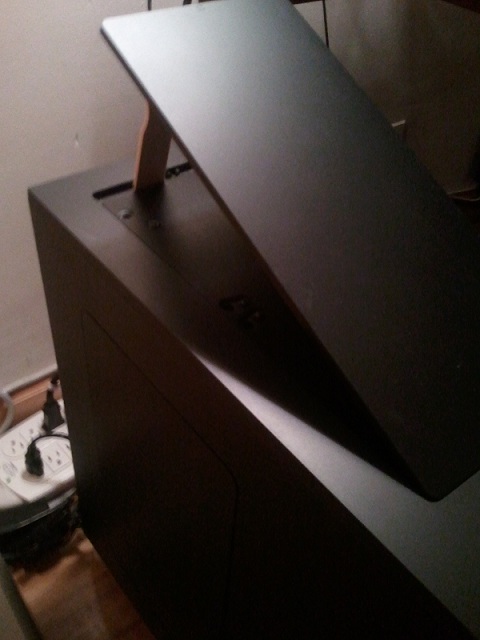 Edited by JohnD212 - 09 Sep 2012 at 5:05pm