Hi, I thought I would write a quick review for the xm11 since there doesnt seem to be any already.
I got my xm11 about 3 months ago now, and I love it. It doesnt weigh anything (~4lbs), and the battery lasts surprisingly long. I have been able to get 5.5 hours of use at work without plugging in, which is truly amazing for a laptop of this caliber. The display looks really good for being only 11in, and the speakers actually blew me away the first time I really cranked them up. Aesthetically, it looks awesome. The rubberized surface looks and feels nice, and the overall look is one that says this little baby means business.
Under the hood, the xm11 is even more amazing. The i7 3630QM blows through everything, and 8GB of RAM allows me to do just about anything with ease. I chose to upgrade to a 240GB SSD for the extra storage space, which is a nice option to have. From pressing the power button, it takes ~40 seconds to load into windows, and that usually includes the time it takes me to type in my password.
The nvidia 650M gpu packs quite a bit of power into this tiny package. When I loaded up BF3 for the first time, the auto-detect set all graphics settings to max, which surprised me. FPS on Ultra was decent, but I toned it down to Medium and the game ran just as smoothly as my desktop. I wasnt able to get any specific numbers regarding FPS, but even with explosions and a lot of action on screen, BF3 was smooth as a hot knife through butter.
When I bought the xm11, I was a little wary of how it would handle temps. My previous latpop, a Sony Vaio F series, was terrible. 70C at idle, and playing a game would easily hit 95C, which seriously limited what I could do with it. The xm11 is a totally different story. Idle temps are anywhere from 40-60C, which for a laptop are decent. But underload, the temps are very good. Playing BF3 for 2 hours straight got me temps of 78-80C, which is only slightly worse than a desktop. I was really impressed with this.
I chose the xm11 because I was looking to get an ultrabook style laptop for work (carrying around an 8lb laptop gets old after about a week). When I started to look at ultrabooks on newegg, I saw that the prices for high end systems were very high. My xm11 was ~1400$, including shipping. If you look at any of the similarly spec'd ultrabooks (i7, SSD, 8gb of ram), you will see prices closer to 1800-2000 or more, and hardly any of those will have a GPU capable of matching the xm11. I decided to opt for paying less for greater performance.
The bottom line is that the x11, in my opinion, is the best bang for you buck for this size laptop. You will be hard pressed to find a better combination of performance + price. I would highly recommend the xm11 to anyone looking for a highly portable laptop, but still wants to play a few games, all without breaking the bank.
Here are a few pics of my xm11 in all of its glory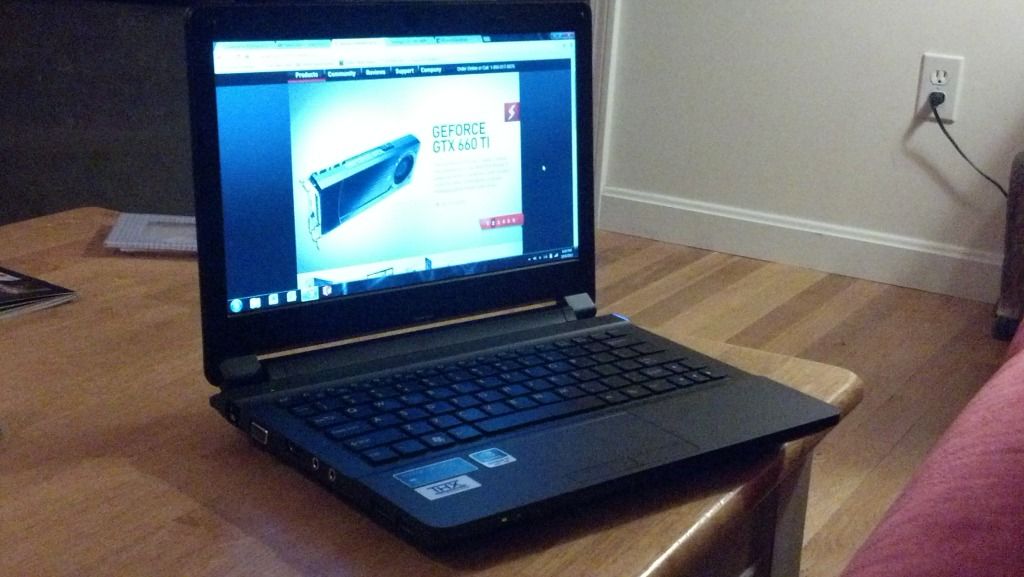 Here is one next to my external hdd for size reference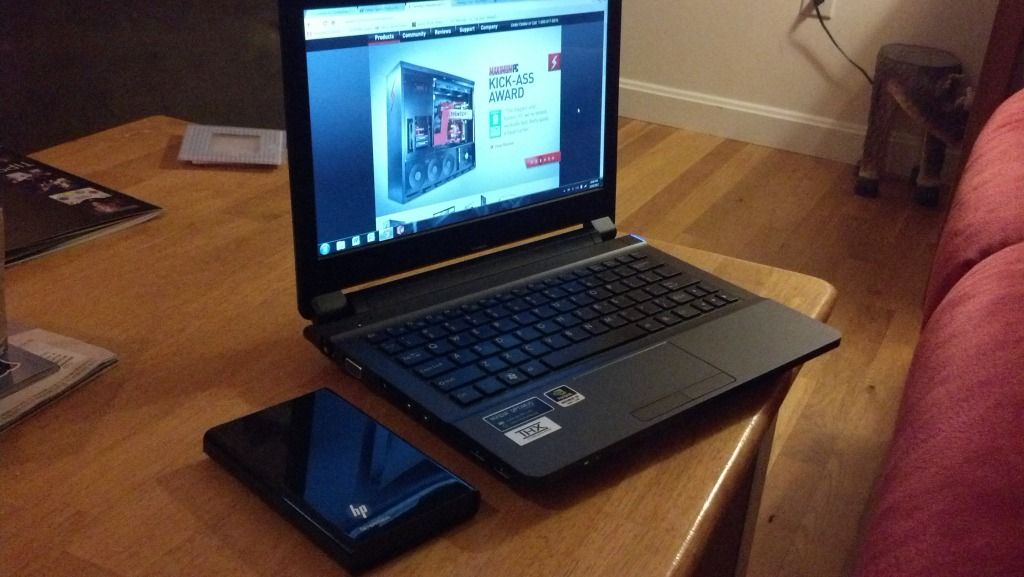 Edited by redsoxfanatic - 08 Oct 2012 at 6:54pm