The new line of nVIDIA graphic cards allows customers to experience a high-definition home theater experience straight through your Digital Storm computer. PureVideo technology enhances your videos by removing artifacts and imperfections of standard digital media. PureVideo also provides a boost to high-definition videos with smooth playback and awsome clarity.
PureVideo Delivers:
High-Definition Video: nVIDIA series graphic cards allow high-definition video to be played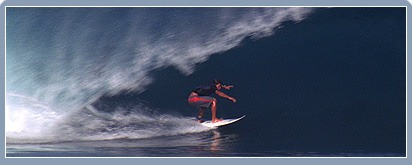 the way the producers meant it to be. Imagine hardware accelerated DVD,MPEG-2 video streams, and the new Microsoft Windows Media (WMV HD) to a whole new level. This is all possible by removing the stress on the processor and transfer it to the GPU on the graphics card to produce stutter-free, smooth, high resolution high definition playback. Rest assured, nVIDIA's PureVideo technology has been designed to stay with new releases to digital media formats.
Superb Picture Clarity: Using innovative techniques nVIDIA has finally resolved the issue of flickering and jagged playback. Imagine awsome picture clearly free of any imperfections. PureVideo takes advantage of the most advance de-interlacing methods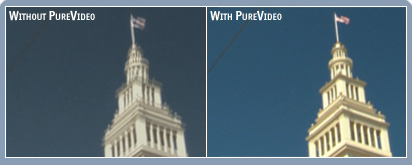 to produce a crisp image without double images similar of traditional de-interlacing techniques. Enhanced 3:2 and 2:2 pull downs eliminate blurring and ghosting which is commonly associated with other video processing solutions. The featured image above demonstrates the very common blurring and ghosting with standard processing. PureVideo technology dramatically enhances the image to remove imperfections and provide a true high-definition image.
Scale Videos: Computer videos are obtained from many different types of sources such as: internet streams, web cams, camcorders, etc. Rarely, will you find a high-definition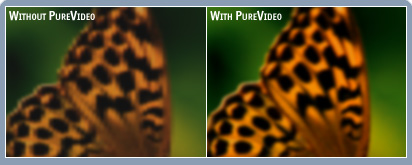 crisp video for the size of high resolution display. With PureVideo's accurate scaling and sub pixel calculations videos can be finally enlarged to full screen without looking blurry or blocky. The image above demonstrates a video that has been enlarged to full screen. Without PureVideo, the image appears blurry and blocky, however, the image with PureVideo provides a crisp detailed picture.