First, let me say I am not good at writing reviews. I rarely do them, especially if I am satisfied.
That being said, I ordered my DSO computer on February 25 after doing quite a bit of research on these forums. I received feedback from numerous people which helped influence my decision. After placing my order I was informed that the motherboard I originally chose was out of stock so I picked another and was informed a day later that it too was not in stock. Finally, I settled on the P67 Sabertooth, which was fine, just ended up costing a bit more than I had wanted to spend.
Now the hard part began. The waiting. In hindsight, things moved very quickly from here on out. I was stuck at stage 5 for around three days, but since this is the QC and stress testing part I didn't mind it so much.
My PC shipped on Monday March 7 and arrived Friday March 11!!! I was thrilled that I would be able to enjoy it over the weekend.
The box was HUGE. I was expecting big, but wow, this thing was gigantic! I opened it up and the packing was perfect. No damage, no loose parts, just perfect. Compared to my last experience with a boutique vendor (cough Alienware circa 2000) this was night and day.
I unpacked everything and the pc booted right up with no problems. Not a speck of bloatware, all the drivers were current, accessories neatly packed in the separate box, etc.
I can not stress how pleased I am with Digital Storm Online. The computer is a work of art and everything from the wiring and cable management to the overclocking far exceeded my expectations.
Specs:
System Configuration:
Chassis Model: Special Deal Hot Seller - Cooler Master 942 HAF X
Exterior Finish: - Standard Factory Finish
Trim Accents: - Standard Factory Finish
Processor: Intel Core i7 2600K 3.40GHz (Unlocked CPU for Extreme Overclocking) (Quad Core)
Motherboard: ASUS Sabertooth P67 (Intel P67 Chipset) (Features USB 3.0 and SATA 6Gb/s)
System Memory: 8GB DDR3 1600MHz Digital Storm Certified Performance Series (Highly Recommended) (Hand Tested)
Power Supply: 750W Corsair TX (Dual SLI Compatible)
Expansion Bay: - No Thanks
Hard Drive Set 1: Operating System: 1x (80GB Solid State (By: Intel) (Model: X25-M MLC Edition) (Extreme Performance)
Set 1 Raid Options: - No Thanks
Hard Drive Set 2: Multimedia\Data: 1x (1TB Hitachi/Seagate (7200 RPM) (32MB Cache)
Hard Drive Set 3: Backup\Misc.: - No Thanks
Optical Drive 1: DVD-R/RW/CD-R/RW (DVD Writer 24x / CD-Writer 48x)
Optical Drive 2: - No Thanks
Internet Access: High Speed Network Port (Supports High-Speed Cable / DSL / Network Connections)
Video Card(s): 1x NVIDIA GeForce GTX 570 1.2GB (Includes PhysX Technology)
Add-on Card: - No Thanks
Sound Card: Integrated Motherboard Audio
Extreme Cooling: AIR: Stage 1: Noctua NH-U12P SE Dual 120mm Fans High Performance Cooler
H20 Tube Color: - Not Applicable, I do not have a FrostChill or Sub-Zero LCS Cooling System Selected
Chassis Airflow: Standard Factory Chassis Fans
Internal Lighting: Internal Chassis Lighting System (Blue)
Enhancements: - No Thanks
Chassis Mods: - No Thanks
Noise Reduction: - No Thanks
CPU Boost: Stage 1: Overclock the processor between 4.0GHz to 4.7GHz (Cooling Upgrade Recommended)
Graphics Boost: FREE: Yes, Overclock the video card(s) as much as possible with complete stability
Memory Boost: - No Thanks, Please do not overclock my memory
OS Boost: - No Thanks, Please do not tweak the services on the operating system
Windows OS: Microsoft Windows 7 Home Premium (64-Bit Edition)
Recovery Tools: Windows Recovery Toolkit (Bundled with Windows 7 CD)
Virus Protection: - No Thanks
Office: - No Thanks
Benchmarking: - No Thanks
Pre-Install Game: FREE: Hot-selling game with a NVIDIA GeForce GTS 250 or above graphics card
Display: - No Thanks
Surge Shield: - No Thanks
Speakers: - No Thanks
Keyboard: - No Thanks
Mouse: - No Thanks
External Storage: - No Thanks
Exclusive T-Shirt: FREE: Digital Storm T-Shirt - Black (Xtra Large)
Priority Build: - No Thanks, Ship Within 5-15 Business Days After Order Is Successfully Processed
Warranty: Life-time Expert Customer Care with 3 Year Limited Warranty
Here are a few sub par iphone pics: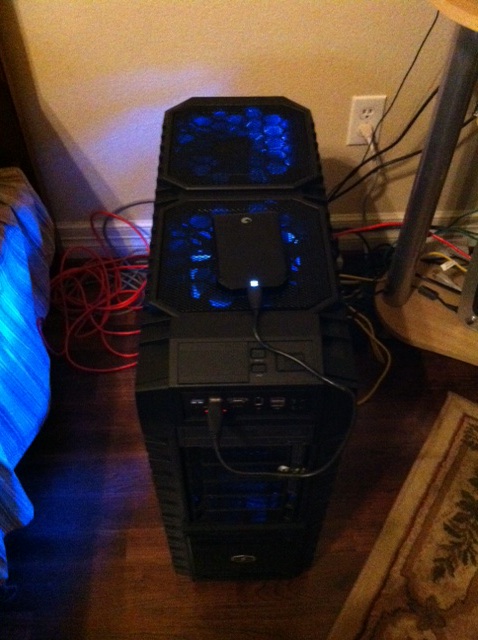 Edited by Kriegaffe - 16 Mar 2011 at 2:24pm