Main Lobby Entrance
Digital Storm's entrance has a clean welcoming lobby which is reflective of our fresh and simple brand image. Upon entrance, you will be greeted with our friendly reception staff who are always happy and available to assist our guests with any questions they may have.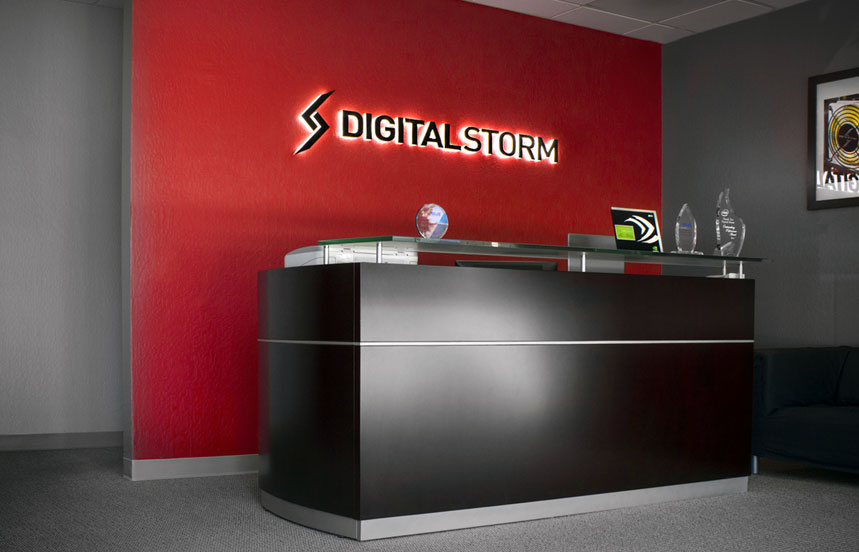 Inventory Assignment
We take pride in every step of the production process. Before the actual system assembly process begins, each individual part is verified and placed into a build bin by our inventory team. This helps protect components as they make their way to the assembly team and also makes sure that no parts misplaced during the production phase.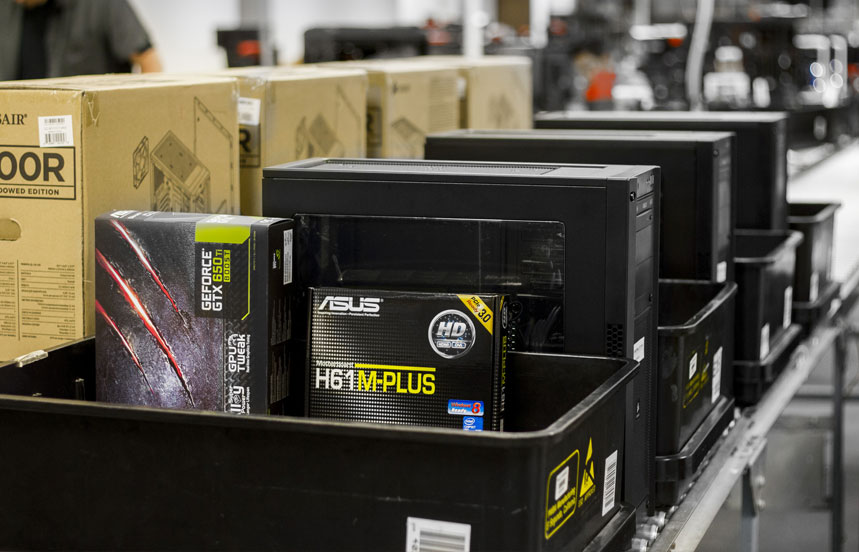 Hand Built with Precision
Nothing is automated or outsourced at Digital Storm. Every computer is hand assembled from the ground up by our highly skilled experts. Here we see one of our technicians making sure every screw is torqued down to just the right level before this Aventum II system is finished and sent to our testing department.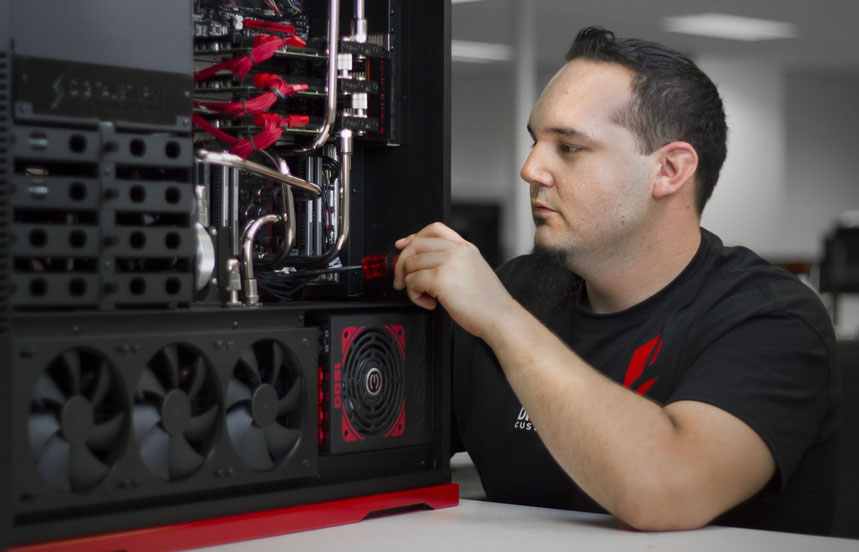 Hand Made with Perfection
One of the special options we offer our customers which makes a Digital Storm systems unique is custom nickel-plated piping for the Aventum II. Everything in this process is hand crafted specifically for each computer; assuring no two systems are alike. The Aventum II in this image, just had all of its copper tubing cut and polished and is awaiting final assembly.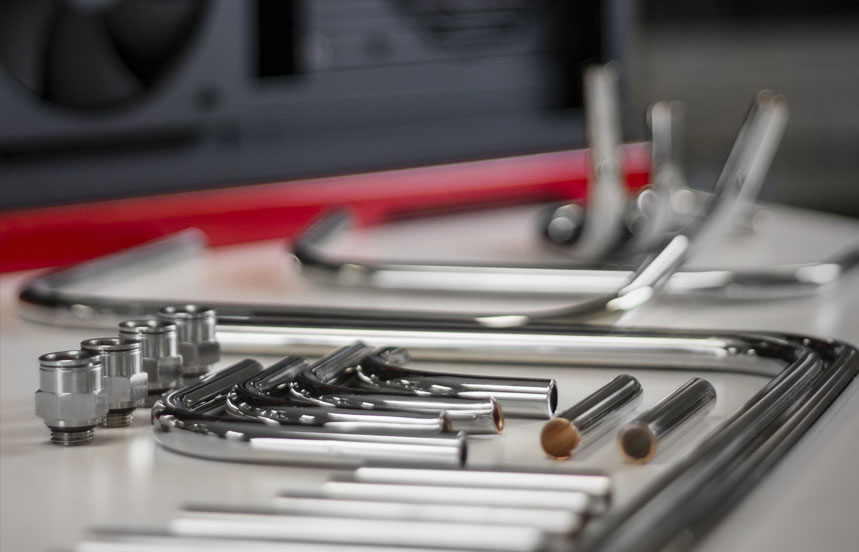 Finished with Utmost Care
This technician is just beginning the rigorous process of installing the finished nickel-plated copper piping on an Aventum II. This process consists of as much art as it is skill and will take this single technician a full day to complete. Time and dedication is what makes Digital Storm systems so special.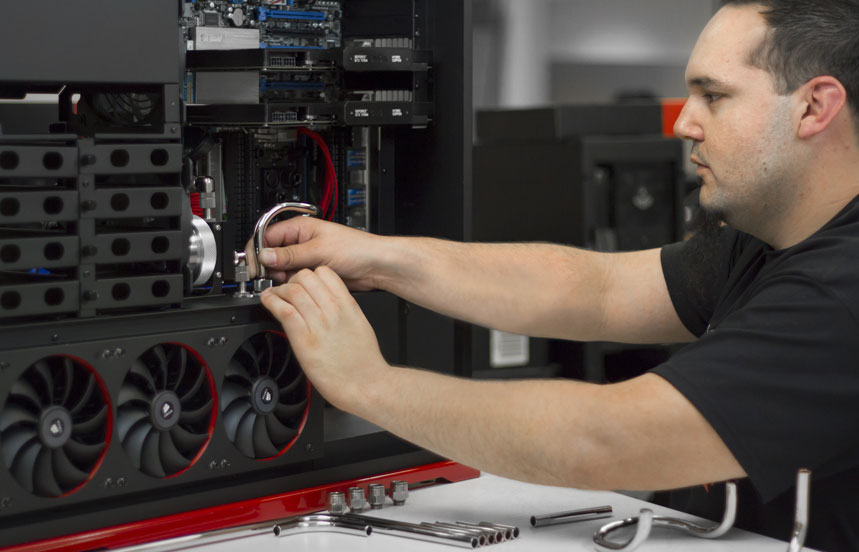 Extensive Testing Process
Once the assembly process is complete, every Digital Storm computer heads to our testing department. Each system is run through a rigorous stress test that puts intensive loads on every component. This allows us to monitor for any stability or overheating issues. We want to make sure that each one of our valued customers receive the best product possible.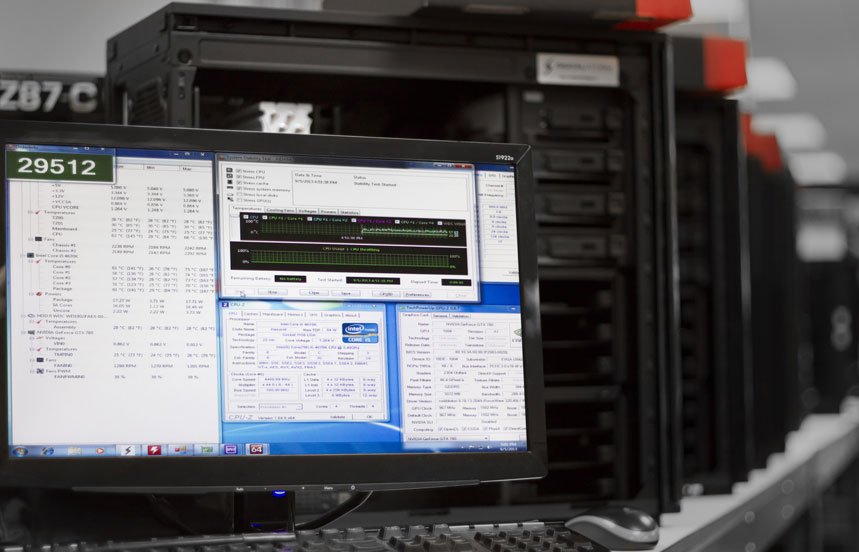 In-depth Quality Assurance
A team of devoted QA technicians carefully review every system that leaves our facility. They check and double check every single aspect from hardware to software, even down to the tightness of mainboard screws to make sure everything is built to our strict specifications and runs perfectly.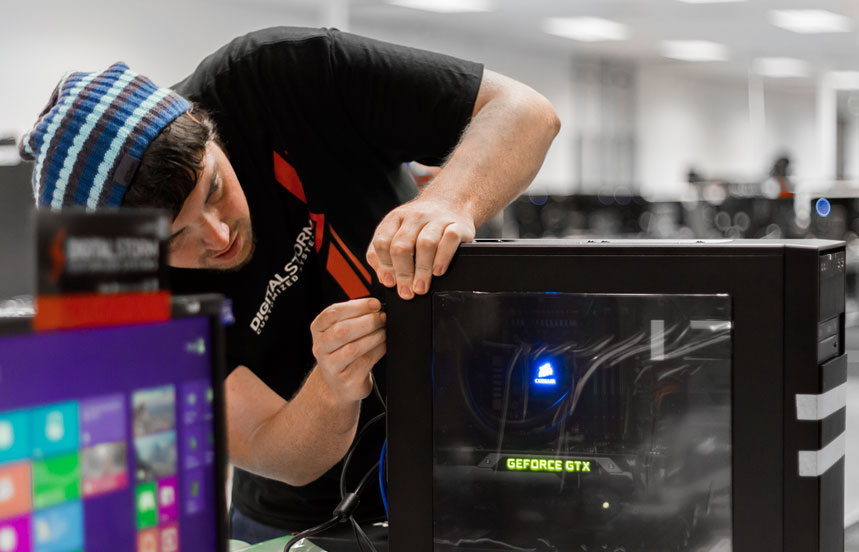 The Finishing Touch
This photo really captures the heart and soul of everything that goes into the creation of a Digital Storm system. From start to finish, our systems are treated with utmost care and attention to make sure the end result is a product our customers will love and use for years to come.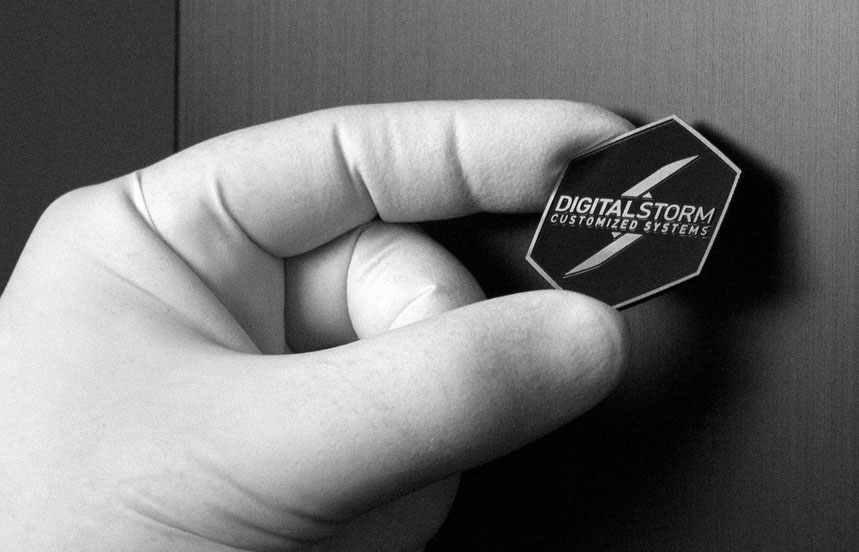 Innovative Packaging
There is no point in building a flawless system if it can't arrive in the same condition to our customers. All of our systems are specially packaged and shipped in secure, large, solid boxes which are protected by film membranes in order to suspend each system rightfully in place. This protects the computer from any exterior impacts and vibrations during shipping by acting as a shock absorber, assuring your system arrives in the same condition it left our facility.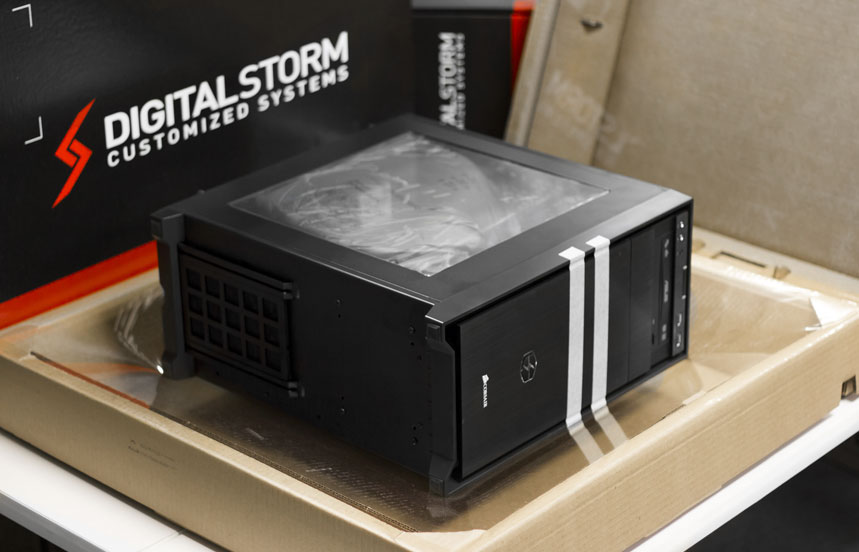 Injection Foam Mold
While our film membrane shipping solution works perfectly for nearly all our computers, some truly heavy and custom builds require a more personal packaging approach. We spent a ton of resources researching and investing in new technologies to keep our systems safe during shipping. In this image, our team is creating a custom expanding foam mold.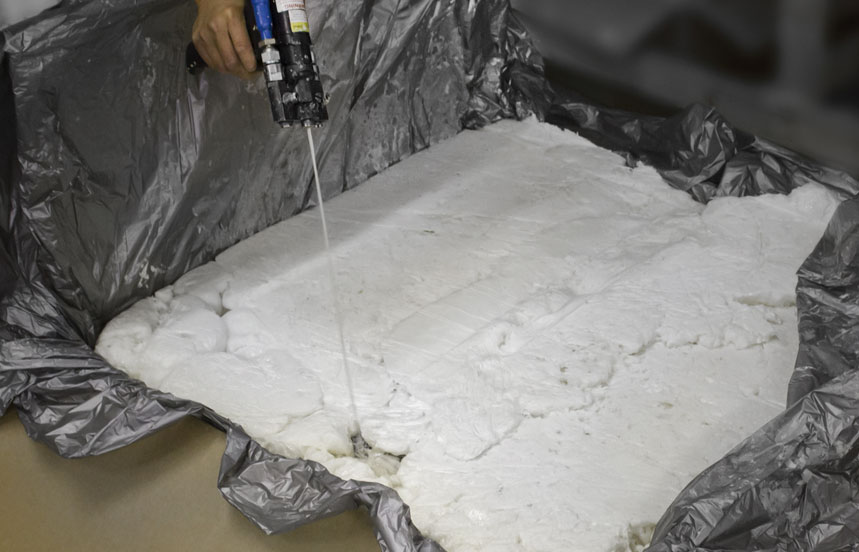 In-House Fabrication
From development and proto-typing to custom logos and laser engraving, we love our C02 laser cutter. It gives us the flexibility to add custom and special touches to our customer's systems. In this image, our laser cutter has just finished making the first layer of a custom SLI bridge for a customer.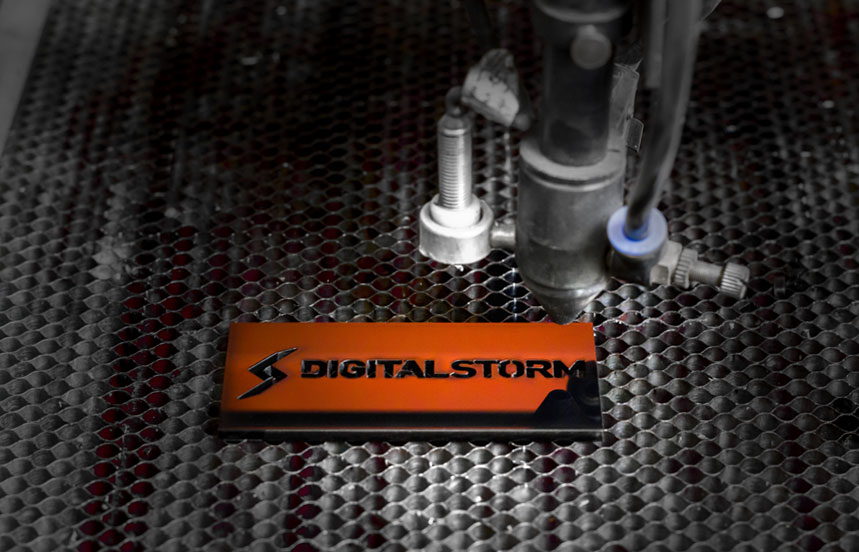 In-House CAD Engineering
We spend a great deal of time and resources researching and developing new products and technologies to make our computers unique and stand out above the competition. In this image, one of our dedicated CAD engineers is working on refining designs for a new system chassis.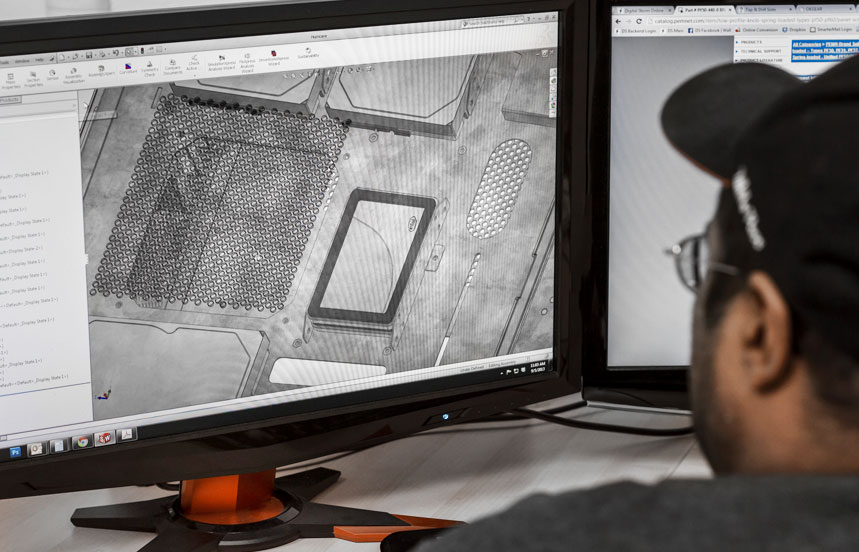 In-House Electrical Engineering
Our team of engineers have created exclusive options such as our HydroLux control board and software which monitors thermal zone temperatures and adjusts chassis fans accordingly, providing our customers with the best balance between cooling and noise.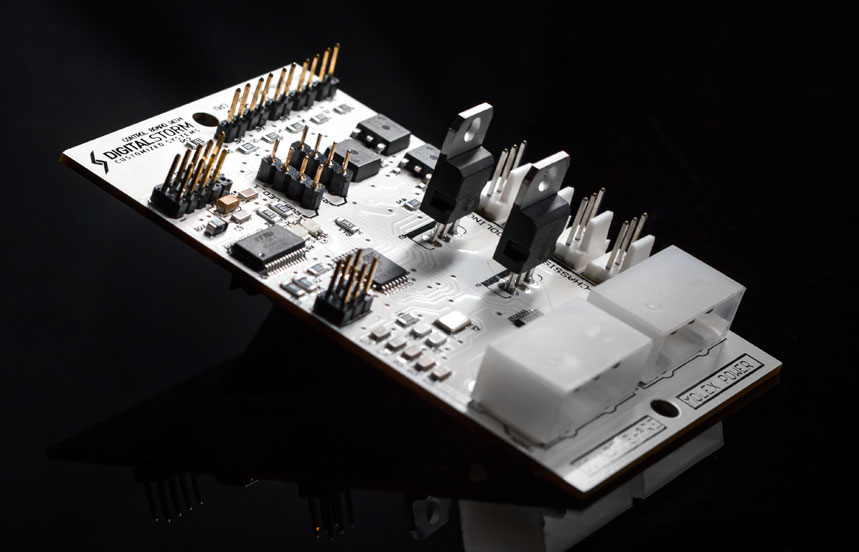 Exotic Paint Finishes
The worlds most advance performance PCs are complimented by high-end exotic paint finishes. Digital Storm has a team of master spray booth artists that have decades of experience painting high-end exotic cars. You'll receive a breathtaking paint finish that shines deep with luster.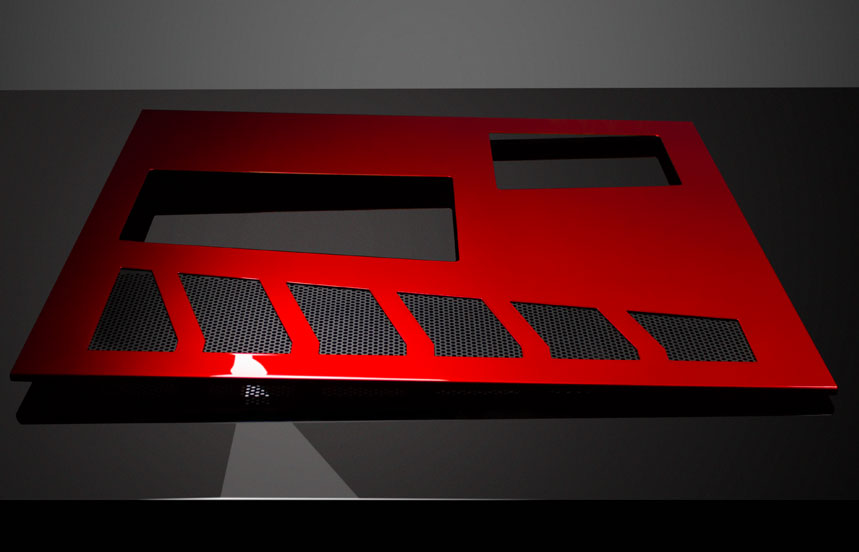 The Final Step
It may not seem too exciting on the surface but to anyone waiting for a new system, this is the last and most exciting phase a system will go through at Digital Storm. Every system that makes it to our loading dock represents the height of care and attention that makes every Digital Storm system so special. At this point the only thing that separates our customers and their brand new Digital Storm PC is just a few short days of shipping.