A year ago, I bought a new monitor. The Asus ROG PG348Q is a 34" wide screen monitor with a resolution of 3440x1440 and G-Sync. Now that is a lot of pixels to push around but I really did think my Bolt 3 could handle it. My Bolt 3 had an Intel Core i7 4790K, an ASUS Z97I-PLUS, 16GB DDR3 1866MHz, and a NVIDIA GeForce GTX 980 4GB. Even though it was over 2 years old I had been playing a few older games at ultra or high settings on a 27" G-Sync Monitor for 2 years with no problems. I did not think the added pixels would tax my Bolt that much. After switching to the new monitor, I noticed that my frame rates were lower in my games than before. To get my frame rates up I needed to turn a few graphic settings off (like shadows – bye, bye), or down a notch. Then I noticed that my graphic card's fans were spinning at full speed during game play and it would become very warm in my office where I have my computer. Sitting at my desk I could actually feel the fans in my Bolt pushing the hot air out during game play. This only happened when I was playing a game and not when I was using my computer for anything else. I opened the case and cleaned out any dust (there wasn't much). That didn't help so I thought it was time to get drastic. Off came the side glass panel and then the other side metal panel. That did the trick and the heat came down to almost normal levels. But I still did not have my games running at ultra/very high settings and the fans on my graphic card still spun up to full speed when I played any games. Then I noticed that my liquid cooling reservoir was close to the minimum level which means it would soon be needing a refill. The Digital Storm 240mm Liquid Cooling System is a very good liquid cooling system but IMO it is a bear to service. Even if I was looking to save some money and do the work myself, afterwards I would still have a computer that could not play games at ultra or very high settings, my graphic card would be pushed to its limits, the side panels would have to stay off, and I would have a computer with 3-year-old equipment in it. For 10 to 11 months I had watched my liquid level get lower and then dip below the minimum level, which means that it was critical for me to get the liquid cooling system refilled. I only had a few options. I could service the system myself, or take it to a shop to have done, or send it back to DS to do, or I could buy a new top-of-the-line Intel desktop computer. Since this is a review of my new Bolt X I guess you can figure out what I did. This is my fourth DS computer. The one before the Bolt 3 was a Slade, and I can not remember the model name of the one before that. Each was a top-of-the-line Intel desktop computer for its time. Each was beautifully built by DS and each worked great, right out of the box. Am I a believer in the build and quality of Digital Storm computers? You bet I am.
I ordered my Bolt X on May 16, 2018 and received it on July 2. I have had my new Bolt X for over two weeks and It is running fantastic (all my games are running at ultra-high detail and if I buy any new games that push the envelope of graphics I hope I will be able to run them at high detail). Here are my Bolt's specs;
Chassis Model: Digital Storm BOLT X
Processor: Intel Core i7-8700K (6-Core) 3.70GHz
Motherboard: ASUS ROG STRIX Z370-I GAMING (Wi-Fi) System Memory: 32GB DDR4 3000MHz
Power Supply: 750W Lian-Li PE-750 (Platinum Rated)
Storage Set 1: 1x SSD M.2 (1TB Digital Storm M.2 Performance Series)
Storage Set 2: 1x SSD (2TB Samsung 860 EVO)
Internet Access: High Speed Network Port
Graphics Card: GeForce GTX 1080 Ti 11GB (Performance Edition)
Extreme Cooling: Digital Storm HydroLux PRO LITE (CPU + Graphics)
HydroLux Tubing Style: HardLine Tubing
HydroLux Fluid Color: Blue Fluid + Clear Tubing
CableManagement:White Chassis Fans: High Static Pressure - Corsair Air Series SP140 Fans
Internal Lighting: Remote Controlled Advanced RGB Lighting
Airflow Control: Digital Storm Thermal Management Control Board & Software
Boost Processor: Stage 1: Overclock CPU - Up to 4.7GHz on All CPU Cores
Windows OS: Microsoft Windows 10 Home (64-Bit Edition)
Recovery Tools: USB Drive - Windows 10 Installation (Format and Clean Install)
Warranty: Life-time Expert Care, 3 Year Labor & 1 Year Part Replacement
UPS guy just dropped it off at the front door.
Let us start to unpack!!! That is my Bolt 3 on the desk.

This box has the DS personalized information notebook, excess cables, program disks, component manuals, and the emergency boot thumb drive.
Back to the unpacking!!!!! The computer itself comes wrapped in its own Digital Storm cloth bag.
The acrylic side panel window is wrapped in a protective cover.
DS cuts individual pieces of dense foam to form fit inside the computer to protect components during shipping.

After I took out the foam pieces and before I put the acrylic window on.

Put the window on and get it up on my desk.
I think it might be time to turn this bad boy on!!!

The Asus motherboard has it own LED lighting separate from the DS case LED lighting.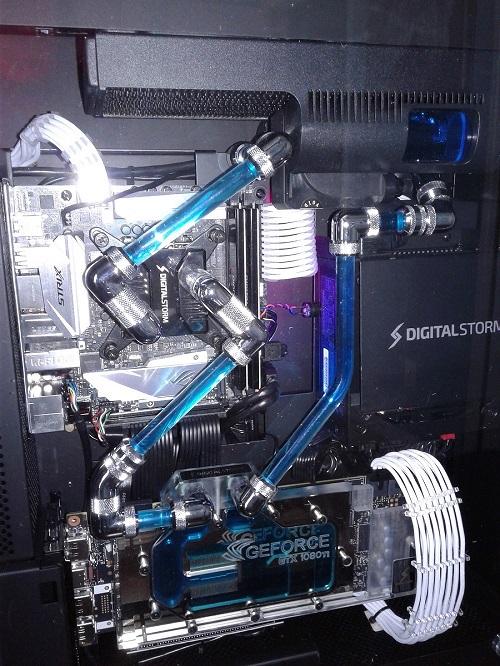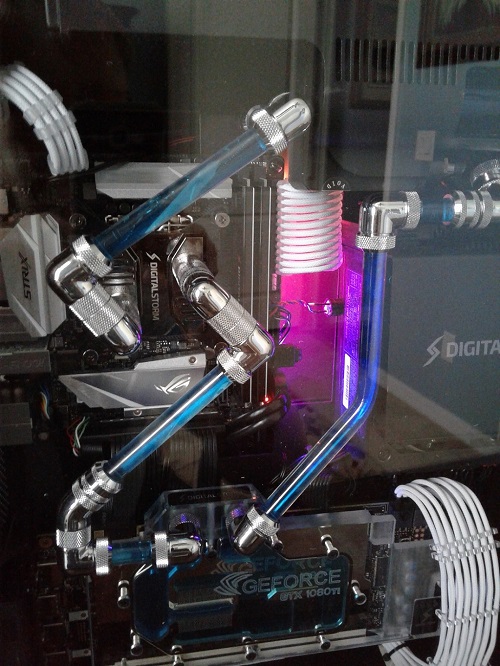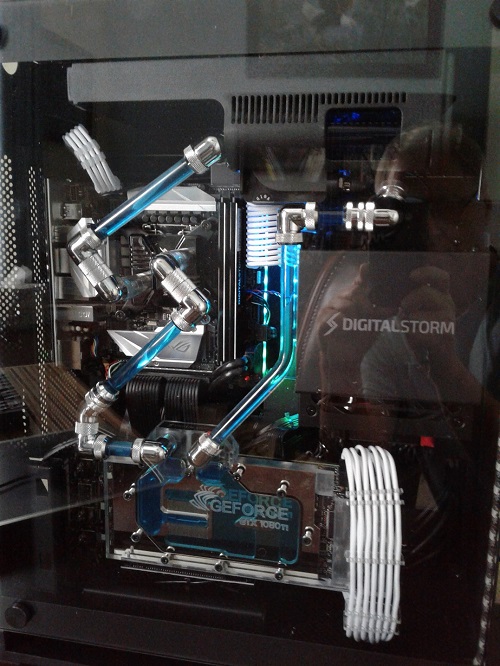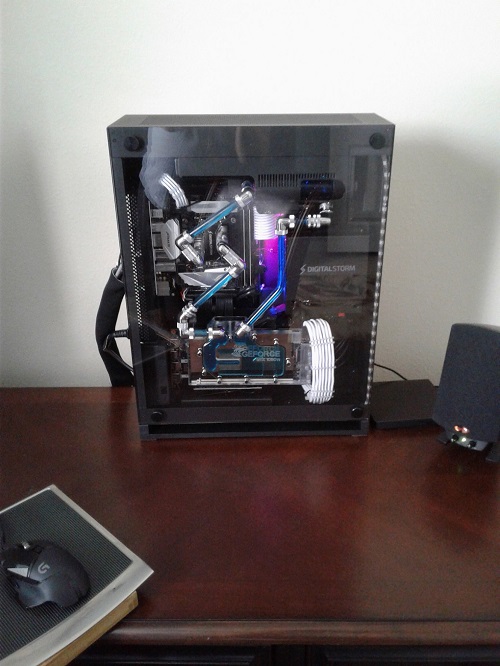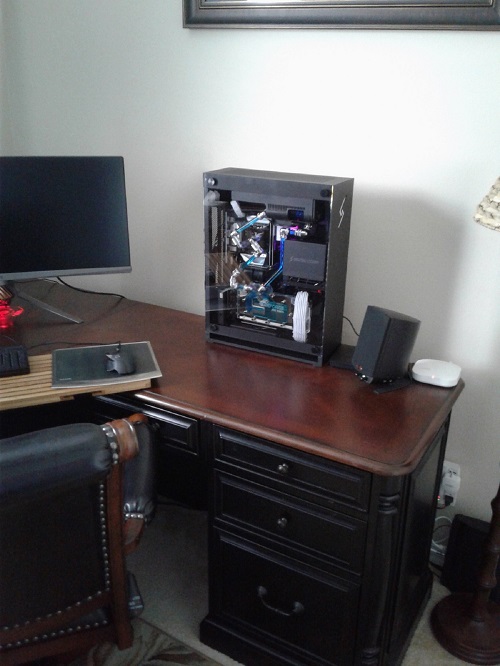 This is an awesome computer. So cool .... Cool Blue, that is. Digital Storm - you are the best!!!


Edited by Dakota Red - 30 Jul 2018 at 10:22am