Hello everyone! I received my Digital Storm x17 laptop two months ago, and I figured its time I posted a review. I had a review within a week of receiving my laptop, but I figured I needed more time to break it in and play around with it. This is a rather lengthy review, but I needed this much room to express my satisfaction with my new laptop.
Background:
I decided to start looking for a new computer about 6 months ago because I wanted to be able to play games on something besides my Xbox 360. I also wanted a system that I could use for college, since the computers at my home were incredibly outdated.. I thought about building my own, but decided against it after some research.
Deciding on Digital Storm:
When I started researching well known pc builders I was constantly seeing outrageous prices and horrible reviews, so I decided to do some more research and ended up finding a review site of digital storm. I was shocked at the incredibly high rating average, and as I continued to read reviews I became more and more impressed with digital storm.
This is when I finally went to the digital storm website and looking through computers. What I was most impressed at initially was the customization. No other builder I looked at allowed complete customization of every single aspect of the computer. By doing this DS allows customers to really know what they're buying as well as allowing the customer to design a machine that really suits their specific needs.
What I was mostly impressed with, however, was the DS community. Everybody on the forums, from DS employees to complete strangers, wanted to help others out with questions and configurations, and everyone had something great to say about their Digital Storm experience.
Deciding on x17:
So after deciding on digital storm, I had to design on which computer to buy. I started off by setting a budget of around $2,300 so I first looked at the ODE series which offered an incredible value, hardly $100 more than the actual component cost. When you add in the incredible 3-yr warranty (which no other builder offered unless you added on several hundred dollars), it's an incredible offer.
So I was set on the ODE lvl3... Until I took a look at the laptop page randomly and saw the x17 laptop. For a price in my budget, I could get a laptop that was only slightly lacking compared to a desktop, yet was much more portable. Since I was planning for college this would make going back and forth between college and home much easier. Instead of having to move a whole desktop, monitor, and keyboard, I would only have to move a laptop.
I decided on the x17 instead of the x15E solely because I wanted my laptop to be a desktop replacement, so the bigger screen really makes it fill this niche a lot better. I hear cooling on the x17 is a lot better too, but being able to put the exact same components in a smaller case would be nice for people that want an even more portable gaming machine but with the same capabilities.
Ordering and updating:
5/15/12 - Ordered laptop online
5/16/12 - Stage 1 began
5/23/12 - Emailed DS asking to changed the 675m to the 7970m
5/23/12 - Order updated with the 7970m
~6/13/12 - Shipment of 7970ms arrived at DS
6/15/12 - Laptop is shipped
6/20/12 - Laptop arrives(a day early)
In total my laptop was at DS for 29 days. This was only because I upgraded my graphics card after a week into the process.
My only complaint about this was that I was not originally told that it would take as long as it did for the 7970ms to arrive. Originally I was only told that it would only delay my order by 10 days, but it ended up taking 20. However I still think the extra wait was worth it.
Shipping:
I've heard a lot of people complain about FedEx's shipping and mistreatment of packages. However I've always had good experiences with FedEx and this was no exception. My package arrived a day early and with no scratches or dents.
The package DS ships the laptop in weighs a total of 18lbs, so there's a lot of protective material in there. Even the extra things, such as the power adapter and driver CDs, are in their own protective case within the whole package. Even if the package had gotten damaged during shipping, I'm confident that my laptop would have been fine.
What's in the box:
Inside the big cardboard shipping box is another box. Inside that box is the laptop which is held away from the box with styrofoam. Also inside the box is the laptop carrying bag, which has a cardboard/foam case which has the power adapter, a Clevo manual, the windows 7 disk, and the driver disk.
Setting up:
Setup is extremely simple with DS. Basically the only thing required is choosing what language to use. Without all the bloatware setup hardly takes a minute.
After setting up, the first thing I did was setup the finger scanner, which saves a lot of time at each login. I installed chrome and then got rid of Internet explorer, and then downloaded MSE which has not slowed my computer down at all. and is free.
System:
Chassis Model: Digital Storm x17 Laptop (Model: 9170)
Processor: Intel Core i7 3720QM (2.6 GHz Turbo Mode to 3.6Ghz) (Quad Core) (6MB Cache)
System Memory: 16GB DDR3 1600MHz
Hard Drive Set 1: Operating System: Intel 240GB SSD (520 Series) (SATA 6Gb/s)
Hard Drive Set 2: Multimedia\Data: - No Thanks
Optical Drive 1: Blu-Ray Player (Blu-Ray 6x) & DVD/CD Writer
Internet Access: Bigfoot Networks Killer Wireless-N 1103 (Reduces Latency for Online Gaming)
Video Card: AMD Radeon HD 7970M 2GB
Extreme Cooling: Premium IC Diamond CPU and GPU Thermal Compound (Reduces Thermal & Laptop Noise)
Windows OS: Microsoft Windows 7 Home Premium (64-Bit Edition)
Display: 17.3 Inch (16:9) (Resolution: 1920 x 1080) (Glossy Surface) LED-Backlit Display
Warranty: Life-time Expert Customer Care with 3 Year Limited Warranty
Hardware:
-i7 3720QM
At 2.6GHz this is pretty much the standard quad core processor. I considered upgrading to the 2.7GHz but with the turbo boost on this processor I figured I would never see the difference. I may be wrong, but I can always upgrade processors in the future.
This CPU runs cool and quiet, and has handled everything I've thrown at it. The integrated graphics (Intel HD 4000) on this card are also very impressive. My laptop is set to always overclock the processor when the power adapter is plugged in, and it has been completely stable with this setting.
-Radeon HD 7970m
I have always been a big fan of Nvidia, but I really do like this AMD card. It is very powerful; every game I have played has been on ultra settings and the fps is always locked at 60. I don't play any FPS's, but I bet this card could handle them easily. I do think that Nvidia's optimus technology is superior to the switchable graphics of the AMD cards, and Nvidia does seem to have better graphics drivers. For these reasons I may end up switching to a Nvidia card in the future, but for now this card outperforms almost all Nvidia mobile GPUs, so I will stick with it until I need an upgrade.
-Intel 240GB SSD
I had never owned a solid state drive before this one, and I was completely blown away by the speed. This drive is advertised as having a 550/520 MB/s sequential read/write, and when I tested it this was pretty close to my actual results. I have never had to wait more than 5 seconds for a loading screen in any game, and my boot time averages at 25 seconds. The only thing that limits my startup time is how fast I can scan my finger on the scanner.
The size of this drive is more than sufficient for me. I did not buy a second internal drive for 3 reasons. The first is that I can more easily use an external for larger files, plus that way I can move files around on all of my devices. Second, I did not want the extra weight of a hard disk drive, or the sound for that matter. Third, I can add one in at any time in the future.
-Blu-ray player
I only purchased this because I have a fairly large collection of blu-ray discs that I can now watch on my laptop. Incase blu-ray takes over it will also be nice to have a player. The screen size on this laptop makes watching movies awesome. I wouldn't suggest buying this addition if you don't have many blu-ray discs, as it is rather expensive.
-Killer wireless card
After some research, I decided to choose this wireless card because I read that it offered some improvements in wireless performance. It was also cheap, so why not? The wireless connection on this laptop is definitely better than that on my other laptop, but that could just be because this one is newer. Either way, I'm happy with this upgrade.
-Screen
When I ordered this laptop, I had no idea that the screen was going to be this large. It is HUGE! It looks incredible, and gaming on this screen is amazing. In addition, the size makes mutlitasking with multiple windows easy.
-Keyboard
Although it took me some time to get used to, this keyboard is very comfortable and is a great size. When I first recieved my laptop, I found myself hitting the caps lock key very frequently, but don't have any problems now. The number pad is a nice addition, as many laptops do not have one. The keyboard does not feel cramped, which I have heard some complaints about the 15' keyboards being too small.
Another nice feature is the LED backlighting. The LEDs are divided into 3 section across the keyboard, and an included program allows full customization of the color and behavior of the LEDs. This keyboard actually has more LED customization than my friend's alienware laptop, and that's basically all that their laptops are known for.
The colors available are Blue, Red, Purple, Green, Cyan, Yellow, White, and off.
Sound:
The sound on this laptop is nice, the nicest I've heard of any laptop. I would still use speakers for the most part, but I occasionally play without the speakers when I don't want to drag them around with me, and the sound quality is excellent. The subwoofer is a nice bonus,
Size and weight:
Since this is a gaming laptop, I wasn't expecting it to be small or lightweight, and it is neither of these. This laptop is heavy, mine weighs 7.5lbs with only a SSD and no secondary drive. WIth 2 HDDs I imagine it would weigh much more. This laptop is also very large. With the lid closed, it is 1.5 inches thick toward the front of the keyboard and 2 inches thick at the back, where the CPU and GPU are housed. The other dimensions are 10.75 inches in width and 16 inches in length.
Battery life:
The battery life is decent for watching movie/ browsing the web while being unplugged, but I would never play games on it while it was unplugged. Watching movies on the battery gives around a 2.5-3hr life, which is pretty good considering the power of this laptop.
Cooling:
The fans on this laptop are extremely efficient. They move a ton of air, so they tend to sound a little loud under a heavier load. The fans are positioned on the back, with intake through the bottom. I'm not sure why many other laptop manufacturers don't put the fans on the back, as none of the hot air is blowing on my hand, as is common with laptop cooling for some reason.. The fans keep the laptop very cool, the only hot spot is the fan output itself. Even the area above the cpu and gpu stays cool. The keyboard never gets warm at all. The cooling on this laptop is clearly very well designed, and much better than any other gaming laptop I have seen/used.
Ports:
This laptop comes with a plethora of ports. I usually only have the headphone input, one USB 3.0 port, and the ethernet port filled. The micro SD port is a handy feature for my cameras. If I wanted to use an external monitor there are more than enough ports for that.
Accessories:
With my laptop, I am using the following:
Gigabyte M6900 mouse - a nice inexpensive gaming mouse. Has customizable LEDs that can be matched to the keyboard, which looks nice.
Steelseries qck mousepad - very smooth and inexpensive, but I can tell it will last me a long time unlike many other mousepads I have used.
Logitech Z313 2.1 speakers - great sound, I may eventually upgrade to a 5.1 setup, but these sound awesome.
CAT6 cable - for all my ethernet needs.
For more portability, I am currently using my parent's old MacBook Pro that they didn't need anymore for classes. I plan on getting either a tablet or an ultrabook at some point so I get extreme portability for work, and extreme performance for play.
Performance:
Being new to the world of PC games, I only own a few games now but will of course buy more as they come out.
Skyrim: Like I mentioned earlier, I have all settings on Ultra. The game is almost always at 60fps, and it looks incredible. I had played Skyrim on the xbox, but it looks much much better on my laptop.
SWTOR: I'm a huge Star Wars fan, so I first played this game for the story. It is the first mmo I have played and it is very fun. It is not a graphics intensive game, so it runs at max settings with constant fps easily. I have never had a problem with either hardware or connection associated lag, which does give me a nice advantage in PvP. The solid state drive makes the biggest difference in this game out of the ones i own.
Left 4 Dead 2: Once again, not a very graphics intensive game. Does look better and is easier to play on my laptop in comparison to the xbox.
Metro2033: The first game that does not run perfectly on my system. Metro is designed for Nvidia graphics cards, so everytime I open it I get a nice little warning saying my graphics card is not supported, and that there may be some instability. Despite this, it runs at 60fps if i turn down the AA from 16 samples to 8, which still looks awesome.
Minecraft: The only game that has crashed my laptop. Minecraft for some reason doesn't always want to run off my discrete graphics, so it sometimes runs off the integrated graphics, which overloads the CPU after a while. Even on the Intel graphics, it runs at around 120fps constantly. I still haven't figured out how to get it to run completely off the 7970m yet, even when its set to in the configurable graphics panel. Not a big deal though.
Slender: This game is scary by itself, but with this large of a screen, HD resolution, and the built in subwoofer, this game scares the crap out of me.
Pictures: (Sorry about image quality, I had to resize quite a lot)
LED Program: (Large amount of customization available)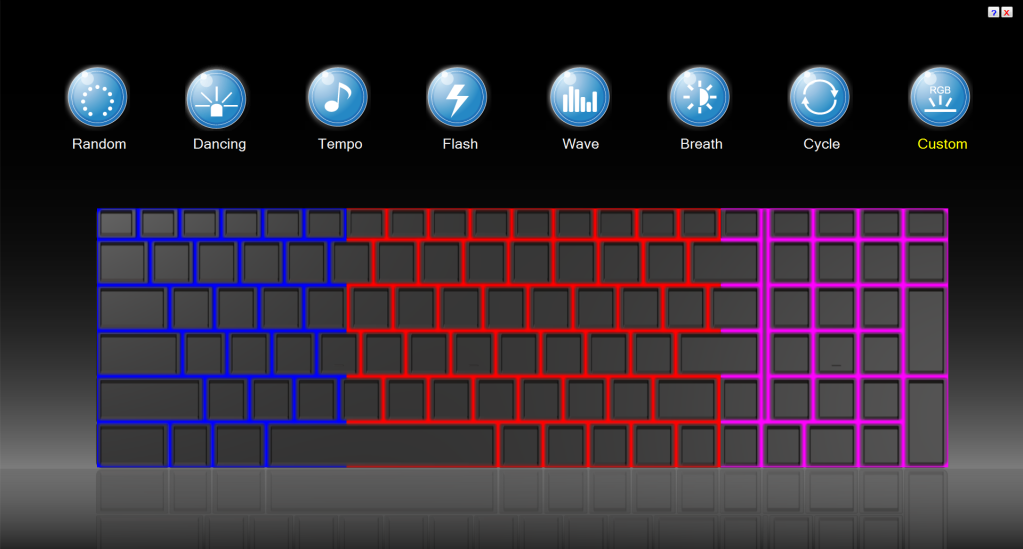 Comparison to my 13' MacBook Pro:
The comparisons are to highlight how large this laptop is.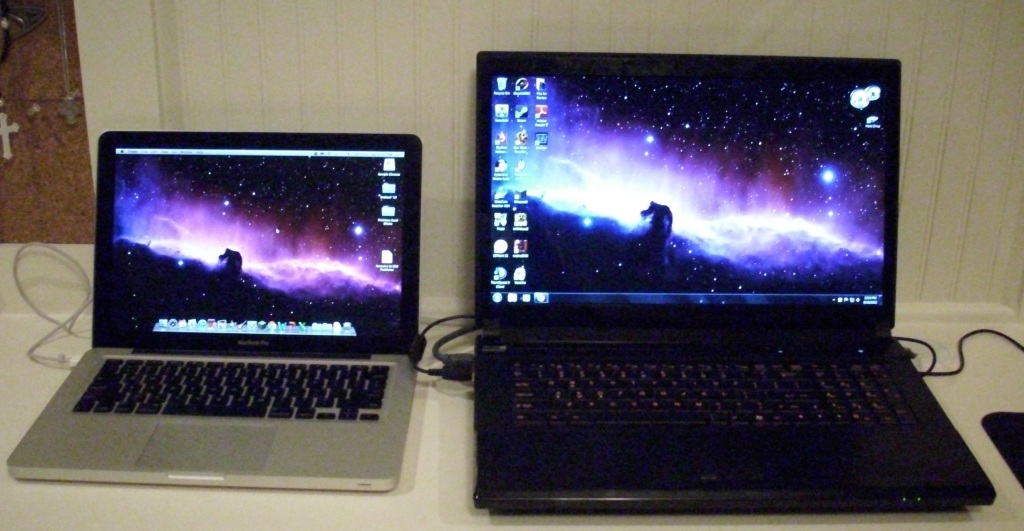 Top Comparison: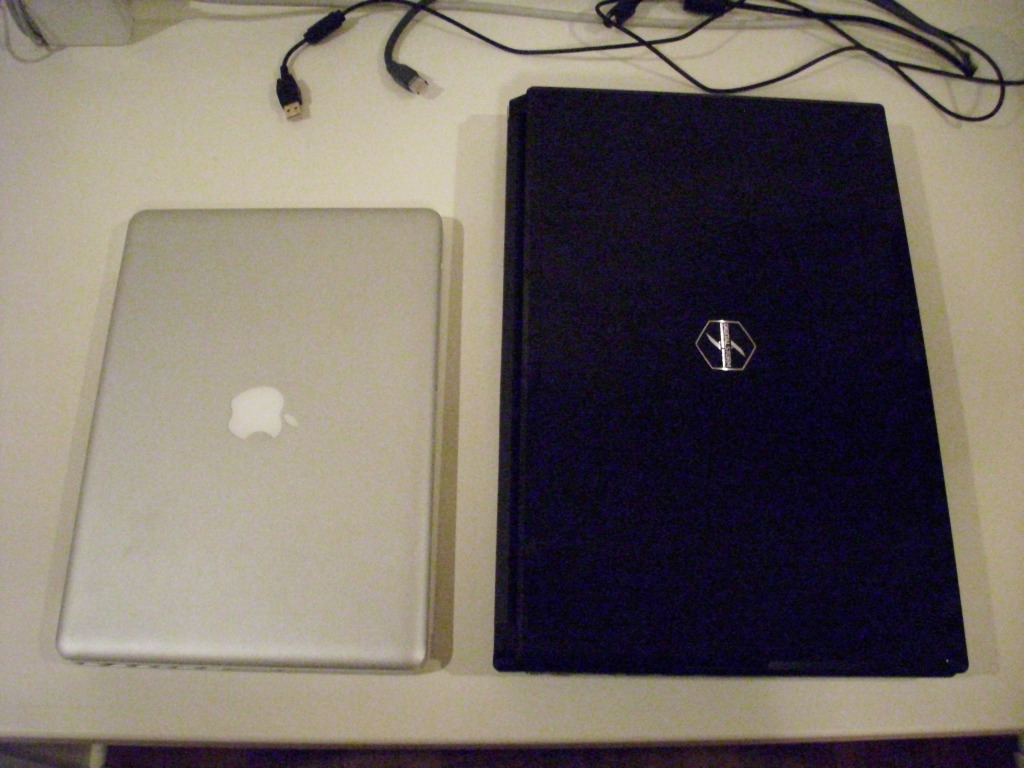 Side Comparison:

Side View: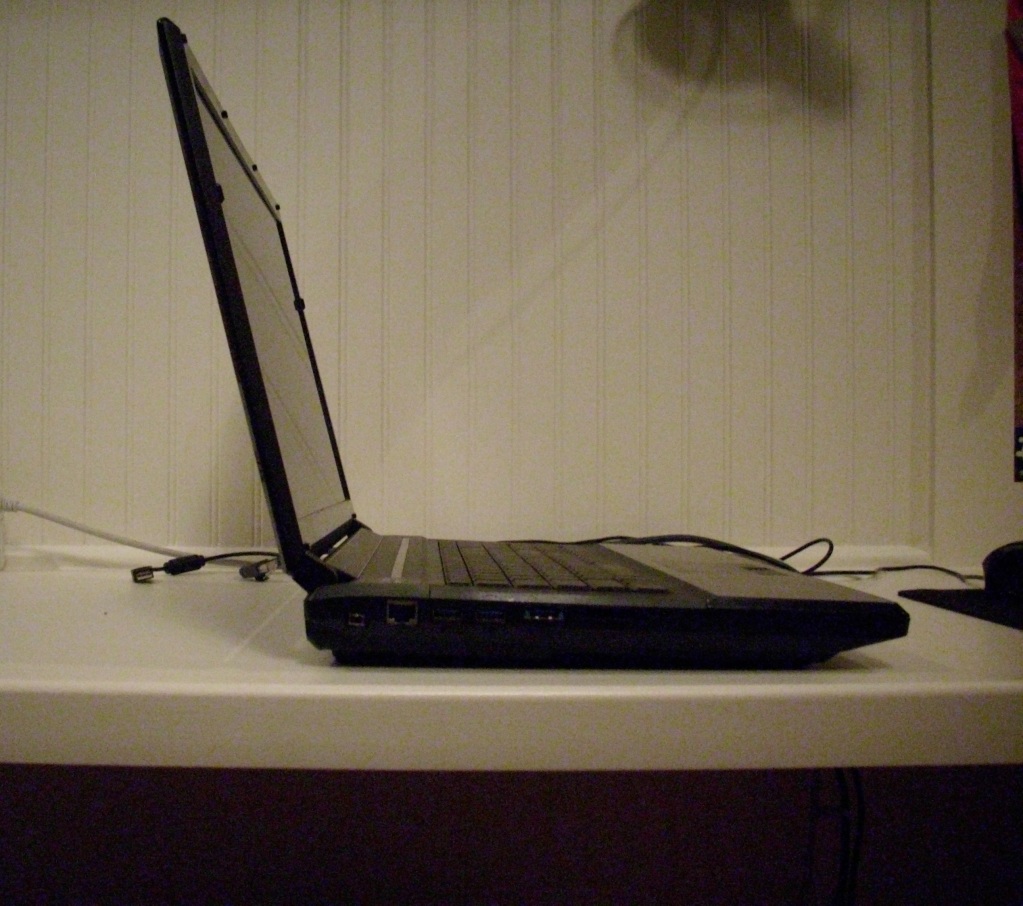 Open View: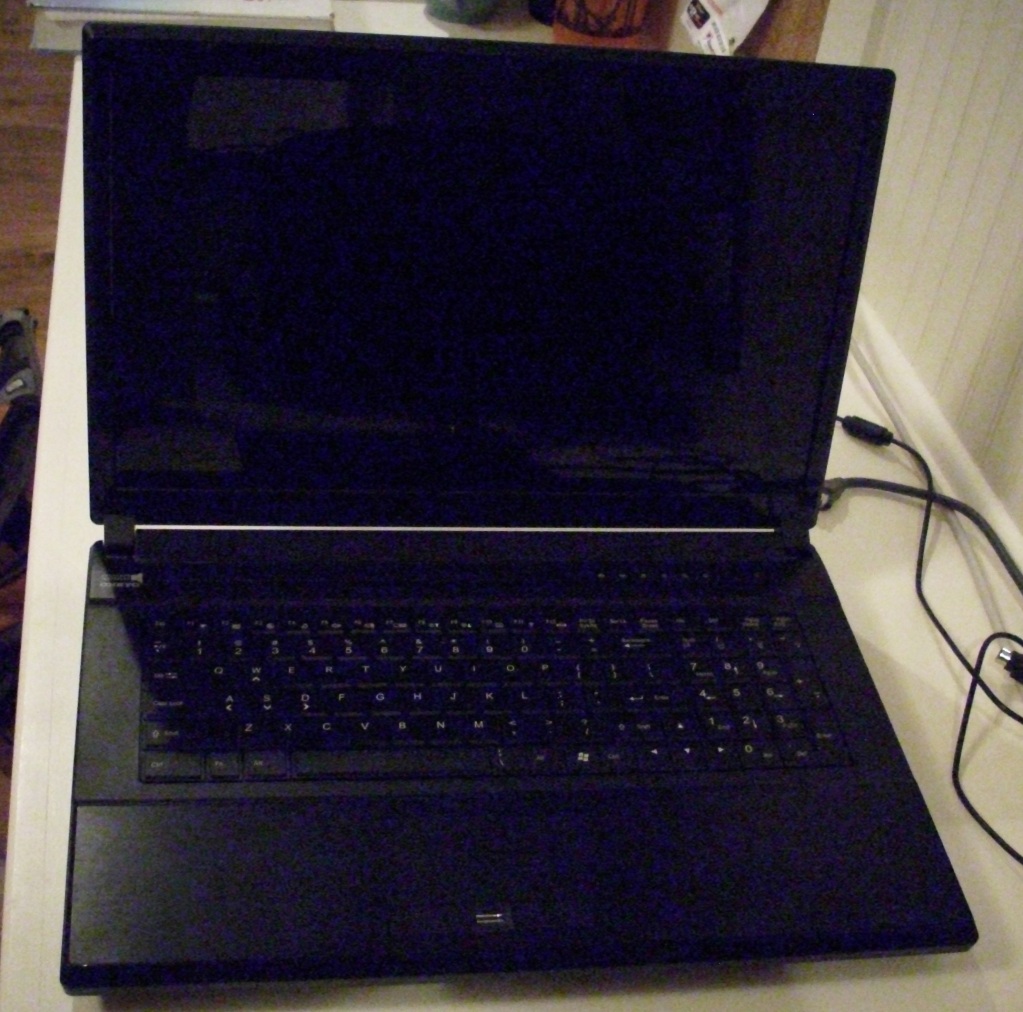 Top View: (I wish the DS emblem was larger)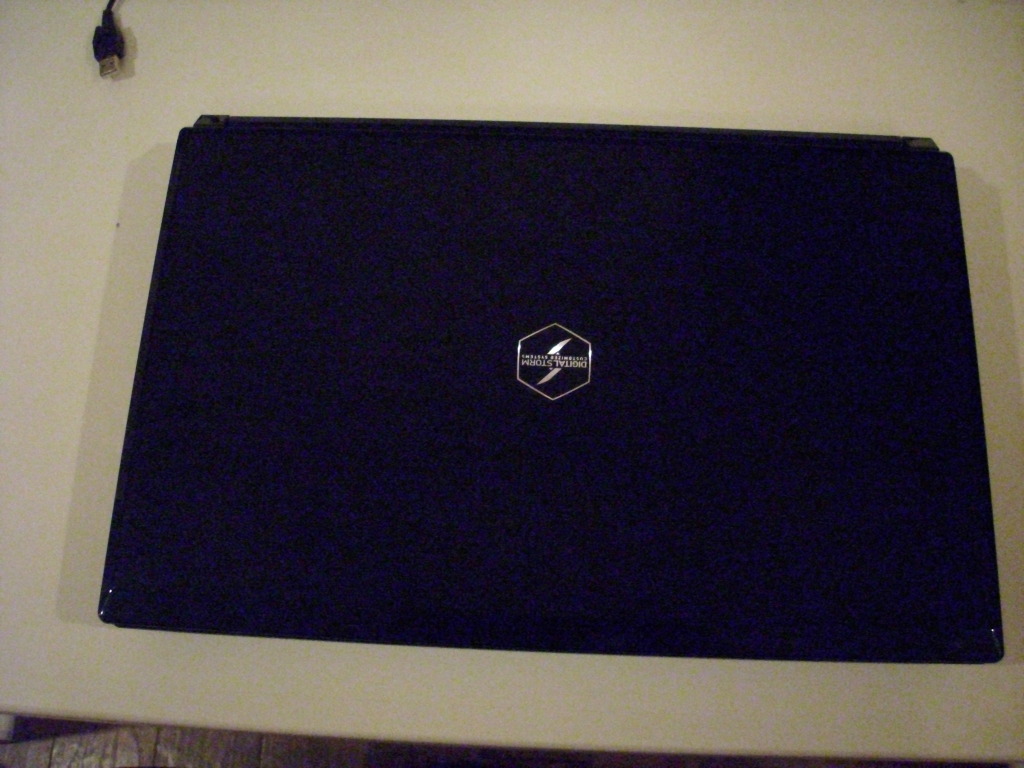 Back View: (note the fan ejection slits)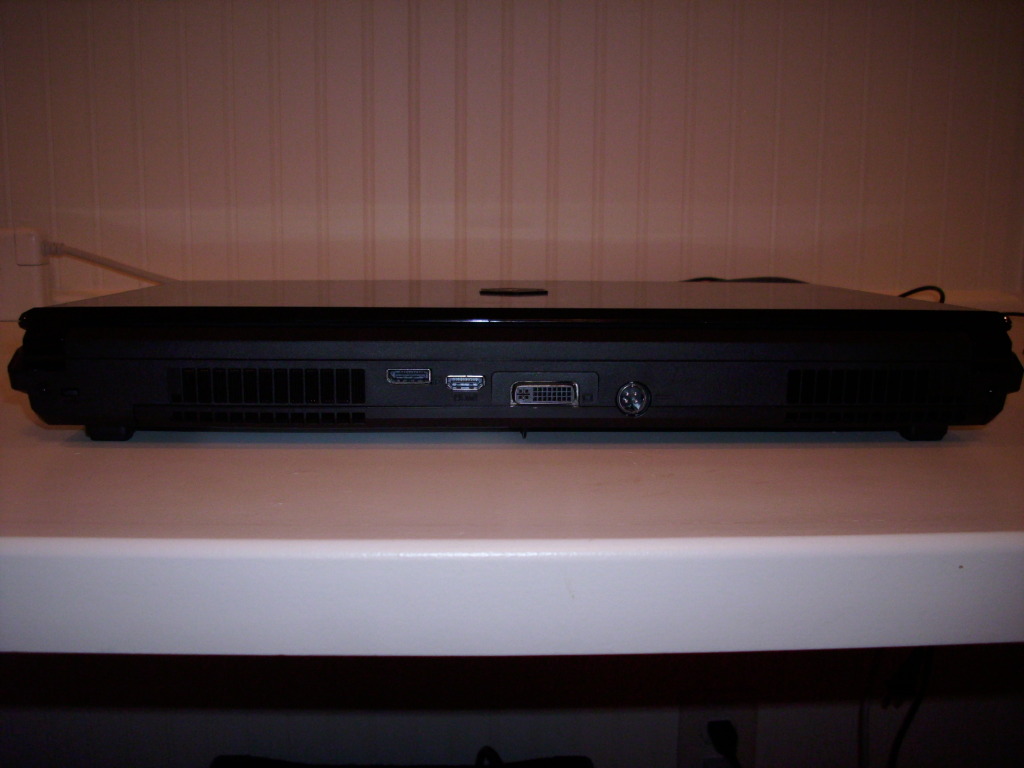 Bottom View: (nice little bumper sticker)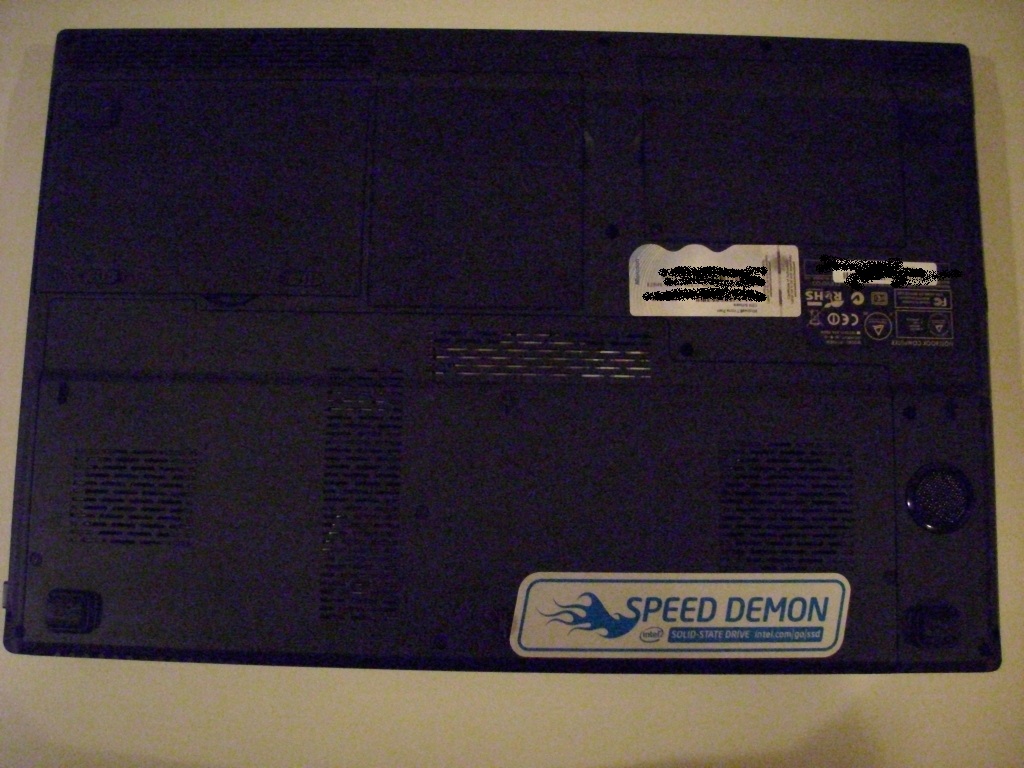 Other comments:
I would say that the best part about my purchase from Digital Storm is the fact that even after my purchase, I know DS will still take care of me as a customer. Already, I have been helped by numerous members of the DS staff with various problems and questions. The standard 3 year warranty is also an incredible bonus. I have never seen another computer company stand behind their product the way that Digital Storm has.
Another huge bonus of buying from DS is the lifetime labor free upgrades and tech support. Many of my friends who have bought gaming laptops from other companies complain that their hardware becomes outdated too quickly, so they have to buy a whole new laptop. I will never have this complaint because I can upgrade my computer with new hardware as it comes out. Eventually, I may want to update my CPU or GPU, and I would only have to pay for parts instead of a whole new computer.
Complaints:
My only complaint is that I wish the laptops came with the binder and the t-shirt like the desktops do. My laptop was more expensive than many desktops, so I feel like I should have gotten these things. No complaints about anything else though.
Overall:
I would give Digital Storm a 10/10 on all aspects of my new laptop. They made an incredible machine for a great cost, and they have amazing customer support and an amazing community that stands behind their products. Everything about Digital Storm has exceeded my expectations, and I know I will be a lifelong customer of DS.
Thank you so much to everyone who influenced me in my purchase with your reviews or comments on the forums, and thank you to the entire Digital Storm team for making me one heck of a laptop. Also, special thanks to Alex for answering multiple questions that I have had.
If anyone wants other information or pictures posted I'd be happy to do so.


Edited by DomTheBomb - 19 Aug 2012 at 6:47pm