My goal for a new computer was to get a low power, low noise machine that was no larger, preferably smaller than my current 5-year old i7-930 machine I built, which was rather loud with 3 case fans running full speed all of the time and the performance was starting to show its age. I was looking around at a lot of cases to build my own machine and not finding any that were particularly thrilling. I began looking at mainstream and boutique manufacturers to see what systems they were putting together and once I came across the Bolt II, I was, I must admit, a bit enamored by the elegance of the packaging, with a zero maintenance all-in-one 240mm radiator CPU cooler in a fairly clean design.
I put together a configuration that suited my needs: I was interested in playing Assassin's Creed Unity; I wanted to use the full 3840 x 2160 at 60 Hz my UHD had for work and play; and meet the aforementioned requirement of being low noise. Here is what I ended up with:
Configuration URL:
https://www.digitalstormonline.com/configurator.asp?id=1113816
Specifications:
Chassis Model: Special Deal Hot Seller - Pre-built Digital Storm Bolt II
Exterior Finish: Onyx Black Matte Finish
Trim Accents: - No Thanks
Processor: Intel Core i5 4590 3.30 GHz (Quad Core)
Motherboard: ASUS Z97I-PLUS (Intel Z97 Chipset) (Mini-ITX)
System Memory: 8GB DDR3 1600MHz Digital Storm Certified Performance Series (Highly Recommended) (Hand Tested)
Power Supply: 500W Digital Storm Bolt II Edition (Quiet) (Gold Plus Rated)
Expansion Bay: - No Thanks
Optical Drive: Blu-Ray Player/DVD Writer (Play Blu-Ray and Burn DVDs) (Slim Slot Loading Edition)
Storage Set 1: - No Thanks
Storage Set 2: - No Thanks
Storage Set 3: - No Thanks
RAID Config: - No Thanks
RAID Card: - No Thanks
Internet Access: High Speed Network Port (Supports High-Speed Cable / DSL / Network Connections)
Graphics Card(s): 1x AMD Radeon R7 240 2GB
Sound Card: Integrated Motherboard Audio
HPC Processor: - No Thanks
Extreme Cooling: 240mm Radiator Liquid CPU Cooler (Extreme-Performance Edition)
H20 Tube Color:- Not Applicable, I do not have a FrostChill or Sub-Zero LCS Cooling System Selected
Chassis Fans: High Static Pressure - Corsair Air Series SP120 Fans (2x 120mm)
Internal Lighting: - No Thanks
Airflow Control: - No Thanks
Chassis Mods: - No Thanks
Noise Reduction: - No Thanks
LaserMark: - No Thanks
Boost Processor: Standard Intel Turbo Boost 2.0 Automatic Overclocking
Boost Graphics Card(s): - No Thanks, Please do not overclock my video card(s)
Boost Memory: - No Thanks, Please do not overclock my memory
Boost OS: - No Thanks, Please do not tweak the services on the operating system
Windows OS: Microsoft Windows 8.1 (64-Bit Edition)
Recovery Tools: Windows Recovery Toolkit (Bundled with Windows CD)
Virus Protection: FREE: McAfee AntiVirus Plus (1 Year Service Activation Card) (Not Pre-installed) ($35 Value)
Office: - No Thanks
Game: - No Thanks
Display: - No Thanks
Surge Shield: - No Thanks
Speakers: - No Thanks
Keyboard: - No Thanks
Mouse: - No Thanks
Portable Gaming: - No Thanks
Branded Gear: - No Thanks
Priority Build: - No Thanks, Ship Within 10-15 Business Days After Order Is Successfully Processed
Warranty: Life-time Expert Care with 3 Year Limited Warranty (3 Year Labor & 1 Year Part Replacement)
I selected no storage as I was using a 512 GB Crucial M4 SSD I got for a laptop that was bought back under warranty. I also only spec'd the i5-4590 as I intend to either upgrade to an i7-5770K when they come out, or move to a Skylake, if the specs look extremely good on them, so any money saved now was money I could spend later (and the i5-4590 was "good enough" for my purposes; this dilemma is also why I'm deferring on getting good RAM, as Skylake will use DDR4). I also had purchased separately an EVGA GTX 970 FTW ACX 2.0 because I wanted the fans on the GPU to be able to completely stop at low GPU loads, so I spec'd only the AMD R7 240 for the GPU. My processor was locked and my GPU was being replaced so I did not opt for any overclocking. Also, I was happy to find out the slot-loading Blu-ray writer was the Panasonic UJ-265, which has BD-XL capabilities not advertised on DS's website (important for possible future compatibility with UHD media).
Here is a comparison on new (on the left) and old (on the right):

The Bolt II is actually slightly deeper by around 1" than my ΞΌATX case (Silverstone Grandia GD05), but it is also around 1" shorter in height (when laying on its side on the feet) and the same width.
I first went through the chassis and made sure all of the connections were seated correctly. While I was in there I re-routed some of the cables to my liking (there was one in particular routed through the 8.1 mm spacing behind the radiator that I moved to another area of the chassis to give the radiator more exhaust room). I noticed my RAM was upgraded to DDR3-1866 from the spec'd 1600MHz (sweet), but also I was missing a screw on the storage drive cage (more on that later). After that I got it up and running with all ordered components, no problem (obviously I had installed my SSD to install the O/S on; there was no mounting for SSDs in the drive cage, but after talking with DS, they sent me some 3.5"-to-2.5" drive adapters

which I've mounted my SSD on). After that I replaced the GPU with my 970 FTW; again, no problems.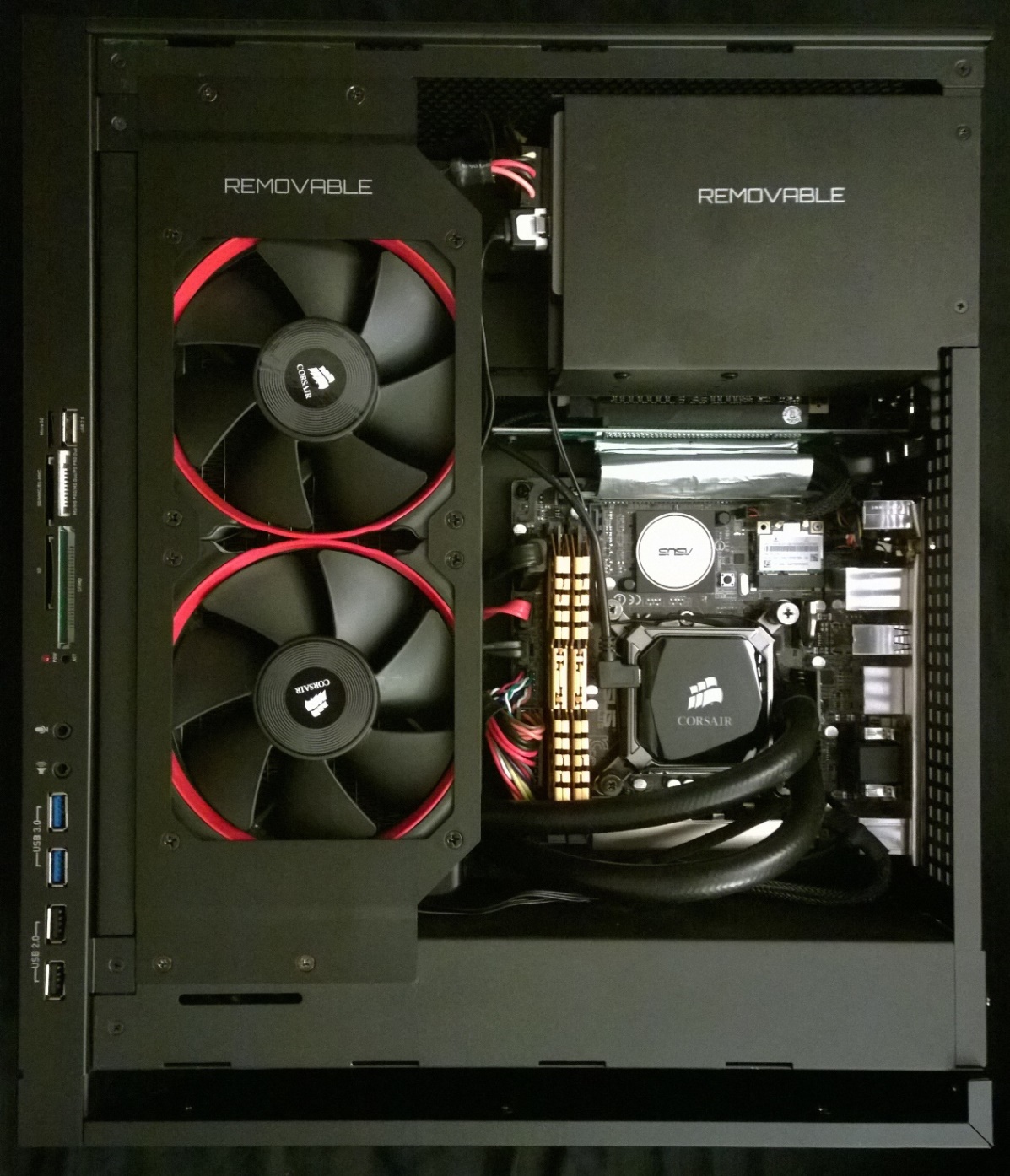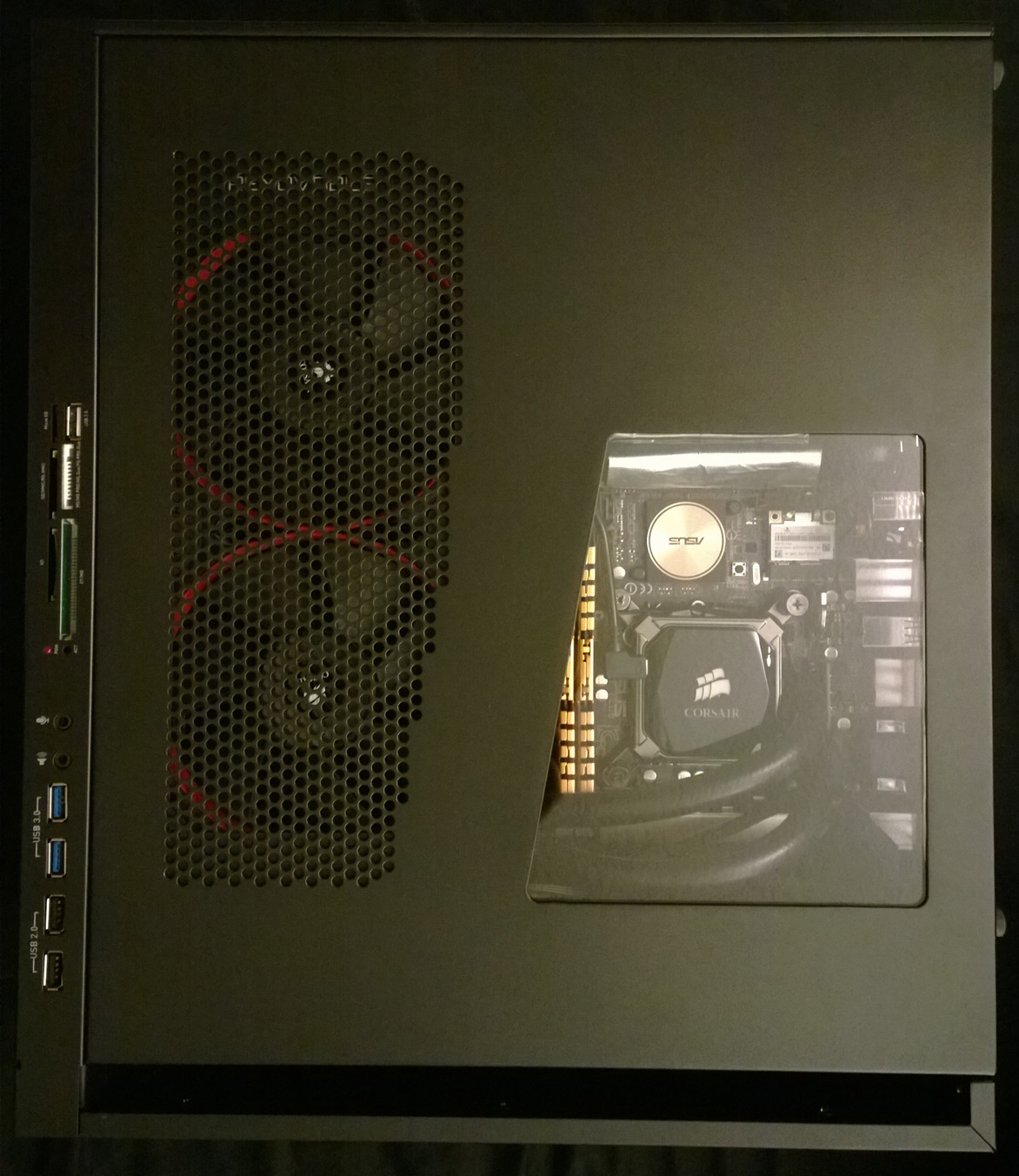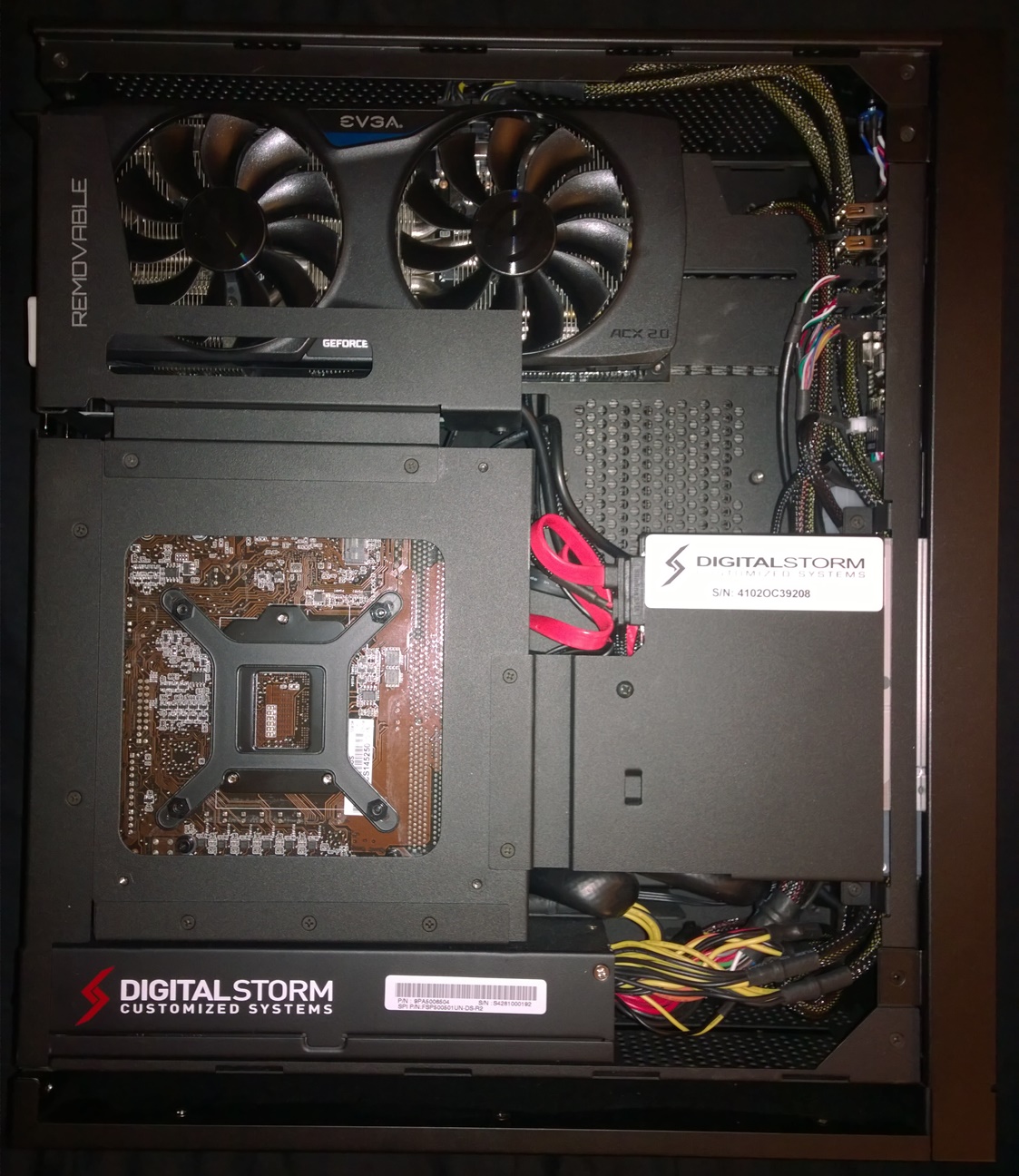 I did run into an issue with the motherboard not detecting Intel LAN controller on the board (this is an ASUS issue, not a DS one). I was able to get wireless connectivity, but could not detect the on-board Ethernet. I tried to trouble-shoot the problem by downloading the drivers from ASUS' webpage, but that did not work, either. However, DS tech support to the rescue, working with Mike, he got me the I218-V controller drivers directly from Intel and manually pointed the installer to load from the extracted files

...very much a headache averted. So, even though I know my way around a computer quite well, I'm am definitely not a fan of system administration and the premium paid for this system that comes with this level of support is absolutely worth it (and saved me from having a massive headache from banging my head on the desk too much). This actually happened twice as I had to re-install the whole system after I added a Trusted Platform Module (which you can see jammed right next to the swivel barbs on the H100i CPU cooler in the picture above looking down on the motherboard) to fully encrypt my SSD. He additionally was able to help me with a boot prioritization issue I had, where the problem was rooted in a buried sub-menu. I hadn't used UEFI before and this was unfamiliar territory they were able to help me out with. Mike mentioned that they can send me a Digital Storm branded cover for my H100i, which I'm waiting on, but am in no hurry to change (just gives the machine a nicer aesthetic).
As I mentioned above, one of the screws on the drive cage was missing. DS sent me some screws along with the 3.5"-to-2.5" adapter plates and I attempted to fasten the missing screw. However, the threads on the case were not good and after talking with DS customer support, they offered to have the system shipped back to them so they could remedy the issue and they also offered an alternative compensation. I opted for the alternative compensation as it was quite attractive in my opinion. I did go find a good hardware store and bought an M3 tap and proceeded to ream the hole. You can see in the pic with the cover off looking at the motherboard that I was successful in getting the screw in and perfecting the fit and finish.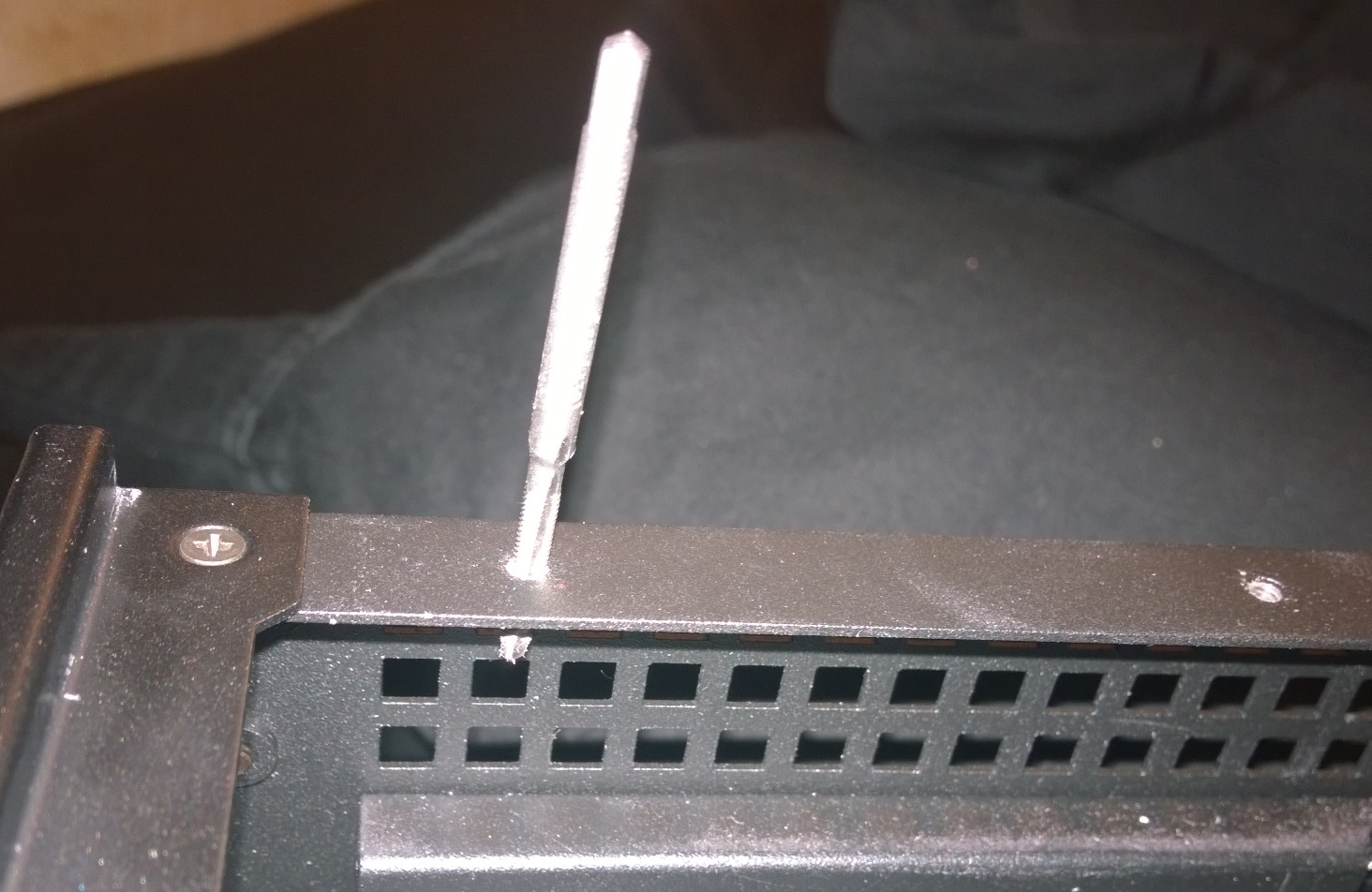 A minor concern of mine is that the radius of curvature of the hoses on the H100i are so tight, they are becoming out-of-round (you can see this on the pic looking at the back with the cover off). However, this machine has been on the market for a while, I'm sure with several running hotter overclocked processors, and I would think DS would have pulled the Bolt II or redesigned it if there were any issues resulting from this. Besides, I've see designs where flattening around bends for fluid flow was done intentionally:
http://www.micronexhaust.com/store/prodserpent.htm
. Also, if this does become a problem down the road, a couple simple coil springs wrapped around the hoses may help solve any issue.
Another concern is with the fans. The fans do not seal up well to the radiator and there is a lot of leakage in the gaps, especially in the area between the two fans. This is highly detrimental to the static pressure the fans are designed to create. For more effective cooling, this should be remedied. And while I understand the use of the SP-120 fans they have because they only have 3-pin headers on the Digital Storm Thermal Management Control Board, PWM fans can get to even lower operational speeds, reducing noise further than they can with voltage regulation (provided motor noise does not become significant).
As for low noise in my system, I am very pleased with how this machine came out. I swapped the GPU to the GTX 970 FTW with ACX 2.0 cooler as I already mentioned. I also added a fan header splitter on one of the motherboard ports and drove the fans from the motherboard instead of the H100i. This was recommended on the Corsair forums, as some users had had issues with fans connected to the H100i. It also allowed me to take advantage of ASUS' ability to stop the fans with the CPU at low temperatures. The H100i is a very short loop for a water cooler (yet still has enough for substantial thermal capacity) which makes it so I'm not so concerned about the delayed transient temperature swings, as they won't be very large. So, for almost all light loads, including web browsing and watching videos, the only fan running on the machine is the small 40mm fan on the PSU. This sounds like a quiet refrigerator and is a highly directional sound that can be readily diffused. I will be looking for a couple fans in the future to replace the SP-120's; right now I'm hoping the MassDrop for the Nidec Servo 2150RPM fans with PWM happens:
https://www.massdrop.com/vote/nidec-servo-gentle-typhoon-d1225c-high-performance-caseradiator-fan-formerly-dis
.
Overall, I am very happy with my Bolt II. It is extremely quiet, especially compared to my previous computer. I am able to play ACU at 1080p with high levels of detail and I've play a couple of other games at 2160p with the highest settings (except for anti-aliasing, which I've kept at 2x/FXAA). Working with a 2160p60 screen is awesome...I can have many windows open up on the screen in front of me and jump between them...it's essentially like having four 1080p screens to work on. I definitely look forward to using it for the years to come!



Edited by  - 12 Dec 2014 at 9:25am