I promised a review, so here it is.

Background
For my profession I am a computer analyst, programmer, and sysadmin, and I have been working in the industry for many years now. For reference (because I will be comparing the new laptop somewhat to them), my current desktop is a quad core i7-3820 OC'd to around 4.2GHz with 16GB Corsair Vengeance RAM, OWC Mercury Extreme Pro 6G SSD, and OC'd NVIDIA GeForce GTX 670. This laptop is replacing a mid-2011 series 13" MacBook Pro which had a dual core i7, 8GB RAM, OWC Mercury Extreme Pro 6G SSD, and Intel graphics 3000.
Why
Why did I want a new laptop? In short, I wanted something I could really game on. My current desktop is a quite capable machine but of course is far from portable. My old laptop was a pretty speedy machine for basic work tasks but the on-board graphics card could only handle simple games. It lagged heavily even on Magic the Gathering 2014 at 1280x800 with no anti-aliasing. So I wanted something that could handle whatever game I threw at it (on high or ultra settings if possible) but also be portable.
Originally I was going to order a DS Veloce 13" laptop, however that was before I found out that the Veloce could not handle a graphics card more powerful than the GTX 765M. My preliminary research showed that a 765M would not be able to handle graphics on high or ultra at the native resolution of the Veloce's display (1920 x 1080), so in the end I chose power over portability. Note, this was before DS unveiled a 15" model with the GTX 780M. Not sure if I would have gone with it instead, but no need to dwell.
New Laptop Configuration
The new laptop was ordered with the following configuration:
Chassis Model: Digital Storm Carbine 17.3 Inch Laptop (Model: M:1763-780)
Display: 17.3 Inch (16:9) (Resolution: 1920 x 1080) (Anti-glare) LED-Backlit Display
Processor: Intel Core i7 4800MQ (Up to 3.70Ghz) (Quad Core) (6MB Cache)
Thermal Compound: Stock CPU and GPU Thermal Compound
Memory: 16GB DDR3 1600MHz (2x8GB Sticks)
Primary Hard Drive: 120GB Solid State (By: Corsair) (Model: Neutron GTX Series) (SATA 6Gbps)
Secondary Hard Drive: 750GB 7200RPM (SATA 3Gb/s)
Optical Drive: Blu-Ray Player (Blu-Ray 6x) & DVD/CD Writer <b></b>
Wireless Card: Killer Wireless-N 1202 Wireless LAN + Bluetooth 4.0 Module
Video Card(s): NVIDIA GeForce GTX 780M 4GB with NVIDIA Optimus
Windows OS: Microsoft Windows 7 Home Premium (64-Bit Edition)
Warranty Plan: Life-time Expert Customer Care with 3 Year Limited Warranty
Purchasing
Ordering the laptop was a breeze. The site was responsive and the options were well laid out...for what was there. Due to DS launching a completely new line of laptops and my jumping on them immediately, I missed out on a couple of options that may have changed things had I waited (such as accessories not listed before, or the 15" model as mentioned above). Not really DS's fault, though, and the price I paid for what I got in the end turned out to be slightly less than if I configured the same laptop now. Also, it should be easy enough to order accessories later as needed. Nothing that happened during ordering could lower the score from perfect.
Purchasing Score: 5/5
Build Process and Shipping
Mostly good, with a couple of exceptions. The first issue was that I was told that there would be only 2 stages in the build process because it's a laptop. That turned out to be false. In the end, there were the full 7 stages of build just like a desktop. Now, technically I like getting more information, however it did cause a bit of confusion. (-0.25)
The second issue is linked to something below. Due to some certain circumstances I wanted to find out why the laptop had been in stage 6 for so long (several days) and if they could give me a better guesstimate of when the laptop would ship. I was told that the laptop was through stage 6 (a.k.a. final checks before shipping), however it was going to be sent out to a third-party shop for laser engraving and that was going to take an additional 2-3 business days (and it did). I was surprised since I hadn't seen anything about laser engraving anywhere on the site or whatever but it seemed fine to me; DS was still within their initial shipping estimate, so they had time and this wasn't something being charged to me. However, when I received the laptop I found absolutely no evidence of laser engraving whatsoever. I'm still trying to figure that one out, i.e. why was I essentially told a lie. But, the laptop still was shipped within a 10-15 business day window. (-0.75)
All other aspects of the build and shipping process were smooth. I was kept better informed than I have been with other build companies and I felt more relaxed during the whole process.
[UPDATE] See in the comments below for Alex's response concerning laser engraving. Unfortunately I wasn't told about their decision before receiving the laptop, meaning I was still expecting laser engraving. I don't mind that it's not there, but since I wasn't informed prior to receiving the system (nor given the option to bypass it in the first place) the score stands.
Build Process and Shipping Score: 4/5
Arrival and Packaging
Once shipped, the laptop arrived in quick order. The box was intact as well as everything packed inside. Concerning making sure everything was protected I have to say that DS did a stellar job. Concerning contents, everything seemed to be there. However, when I've seen other reviews for DS products (here and elsewhere), a binder is mentioned. As in, a binder to store your recovery disks and whatnot in.
A recent review for the Veloce
specifically mentions a binder as one of the selling points. In short, I didn't get one,
however
I don't actually know for sure if I should have, since this is the first review for the Carbine I've seen. So no reduction in score.
In all other ways, though, DS did a stellar job packing the laptop up and getting it to me.
[UPDATE] See Alex's response below for more on the binder. It looks like I can get one free of charge if I contact DS.
Arrival and Packaging Score: 5/5
Pictures
First Boot
In short, the first boot went very smoothly. This being a laptop I didn't want to crack it fully open, but I did shake it slightly first to listen for loose connections. Not finding any, I started it up. Windows 7 booted without issues, did it quickly, and into DS's lovely vanilla installation. As a sysadmin, I can't say how much it means to me to get a computer with just the drivers installed and nothing else. With other places, the first thing I generally have to do is wipe the computer to get rid of all the junk. For this one, I could just start. Wonderful.
First Boot Score: 5/5
Windows 8 Upgrade
This section is not scored, but I wanted to note it. After performing the basic checks and such, I upgraded the machine from Windows 7 Home Premium to Windows 8 Pro. The process went smoothly (and quite quickly) for the most part, however there is/was a device that did not upgrade properly and shows as unknown. I have yet to figure out what that device is, because the laptop works just fine in all standard areas (WiFi, video, sound, ethernet, ports I've used, etc.). I have a support ticket with DS to see if they can help me identify the driver I need. I assume I probably already have it, as the Windows 7 install had all drivers installed and such already and all the parts I used are listed as compatible with Windows 8.
[UPDATE] I just received a reply from DS with advice I'll try later. Reply came within 5 hours of my first reporting an issue.
[UPDATE 2] The email from DS solved the issue easily. All drivers now operating just fine. It's great being treated off the bat as a person by DS support, not an [fill in the blank] who might not know how to power the machine on (referring here to past experiences with other tech support, where I spent a long time just trying to convince them that I really have tried everything on their script already).
Windows 8 Upgrade Score: N/A
Laptop: Design
Now we get to the laptop itself. The first section, design. The laptop has a very sleek look, mostly black with hints of grey here and there. It looks, in a word, professional. I will have no issue using it for both work and for home. Other than a sticker on the bottom of the machine you wouldn't know it's a DS build, or the power residing within. This, let me stress, is a good thing. It's nice to have a PC rigged out with lights and such. With a laptop, i.e. something that can be stolen easier, subtle is better. And in the realm of a professional work environment, subtle is required.
Design Score: 5/5
Laptop: Connectivity
The ports. Ah, yes, ports. Let's just say if it doesn't have the ports you need, you are either asking far too much of a laptop or working with components from a decade ago. Back-side power and ethernet ports are a polarizing issue. Some think they should only be on the side, others like them on the back of the system. Myself...I don't care. They work nicely where they are for me (on the back). If I said it was missing any port, I would have to say e-SATA, however with two USB 3.0 ports I don't think I'll be missing it.
Connectivity Score: 5/5
Laptop: Keyboard and Trackpad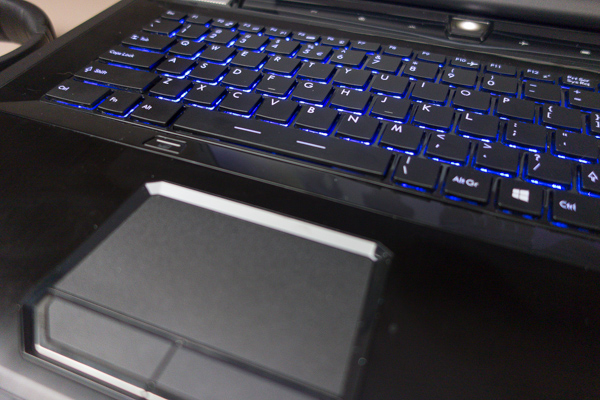 The keyboard on the Carbine is well laid out, though I keep getting thrown off by there not being a Windows key on the left side of the keyboard. Having a larger-than-normal control key, however, makes up for this. Having a number pad as well? Awesome. As for the keys themselves, they have a nice firm feel to them, not requiring too much to press but you definitely know that you did press the key.
The function keys are varied and useful. I did have to pull out the manual to figure them all out, and technically there is one key that doesn't really do anything (I think you have to install extra software (likely included, but not currently installed)). I love having a easy-to-access key to disable the trackpad, though I don't have as many issues on this system as I did my old laptop (i.e. accidental trackpad input while typing).
The backlighting on the keyboard is nice. The quick touch key to turn the keyboard backlight on and off is even nicer.
The trackpad is probably the only place where I have any issue, and that is when you are using it you wish it was bigger. However, I like that since it is small you don't run into it as often when using the keyboard, which is probably the point given that you normally will be (or at least I normally will be) using a separate mouse or controller when playing games.
Keyboard and Trackpad Score: 5/5
Laptop: Sound
Through my headphones things sound good. Through the laptop...I need to do some more tests in an environment that allows me to do so. There is a tag on my laptop that says "Sound Blaster Cinema", however nothing is installed to that effect. I did find, though, Sound Blaster Cinema software on the included driver disk. I'll need to check that out. Until then, I don't feel comfortable putting a score on this section. The little bit I've heard out of the speakers isn't enough to go on.
[UPDATE] I have spent some time testing the speakers on the laptop using music and other sources. My general conclusion is: they are laptop speakers. Yep, the Sound Blaster Cinema software and such helps, and there is an interesting almost surround quality to the sound with some sources, but they are still laptop speakers. If you want good, immersive sound you will need to use headphones. They get an above passing grade here, however, because they are actually useful. The sound is accurate, just not full or immersive.
BTW, the subwoofer that the laptop theoretically has (and I do see it on the bottom of the system)? I can't tell when it is in use. Frankly, though, I'm fine with that. Seriously, a good subwoofer causes vibrations. Do you really want your laptop to vibrate?
Sound Score: 4/5
Laptop: Portability
OK, there is power in this system. A lot of it. However, it's huge. It's big and thick, which while it is sitting on a desk is great, but when you want to take it somewhere... Wow. I have a backpack that is rated for 17" laptops and it just barely fits, and that's just-barely-because-I-crammed-it. It's also rather heavy, though not as heavy as I feared.
So I'll be honest. I can't give it a high score in this category, especially considering the laptop I had before this one. Right now I consider having this kind of power worth the weight (and the wait, ha ha), however if you are looking for a really portable system this ain't it. I'll modify my original score of 2/5, though, because you do get a lot of power for the trade off of weight and size.
[UPDATE] After running some further tests, I unfortunately have to knock portability down a notch. This section could go under here or under the battery, but it seemed to make more sense here.
Why knock it down a notch? Because when you are off of wall power, the battery just can't seem to give the video card and other components enough juice. That, or I can't seem to find a way to get it to go into a higher performance mode (I've changed all the advanced power settings I could find, both in Windows and Nvidia's control panel). This is extremely evident when you are playing a demanding game, such as Arkham City or Far Cry 3: Blood Dragon. When plugged into a wall the games were very playable on ultra settings, getting well above the FPS needed for smooth play. On battery, however, neither game was playable, constantly getting under 30 FPS (sometimes under 10-20 FPS). In general there was a 50% reduction in FPS.
I did double check several times to make sure that the Nvidia card was being used, which it was. And as I said, I changed the power settings as I could to try and get it to give me full power. When I play on a laptop I don't expect to have to find a wall outlet anytime I want to play a demanding game. Yes, I understand that it will kill my battery faster, but I'm talking about gaming for a half hour to an hour disconnected. I will grant, though, that only the most demanding games suffer. Given the power of the video card, for many other games 50% power is still more than enough to run them maxed out.
So take that into consideration when you are looking at this system. If I find a way to adjust the power settings that works then I will update this score appropriately, however the portability of this system took a hit because I can't use it to its full potential when it is not plugged in. I can use a lot of its power, but not all of it, even if I want to sacrifice battery life.
Portability Score: 2/5
Laptop: Battery
Battery life in this monster is decent. For basic non-gaming tasks, you can tweak it out to get around 3-4 hours of battery life, more if you don't mind having the display be darker. This is thanks to the Haswell architecture combined with a large battery and Intel 4600 graphics that the system uses when you don't need the full Nvidia power. The system does not compare as favorably as it could with systems from other competitors, however battery life is quite sufficient for some computing and gaming away from the power outlet.
If I were being picky I would knock down the score a bit because gaming draws a lot more power, thereby draining the battery a lot faster, however let's face it: you aren't buying a powerful system like this thinking you will be sitting off of the plug for hours on end. This is a system that will allow you to game for a little while when you are out and about or on a trip, or watch video or surf the net for quite a while. If you want something that lasts a lot longer on battery, you probably would also want a lot more portability. The couple hours you can get gaming or few-to-several hours you can get on basic tasks is more than sufficient for this kind of system.
Battery Score: 4/5
Laptop: Display
The display isn't quite as vibrant as my old laptop, however that is countered by the fact that this is a more non-reflective display (my old laptop had terrible issues with glare). Colors look nice, and 1920 x 1080 resolution is excellent on a 17" laptop. What can I say? It looks great, and better than I hoped for. It's not IPS, though, so viewing angles do make a difference (though admittedly not much; you won't hurt your neck trying to look at it just right).
Display Score: 5/5
Laptop: Speed
I could nit-pick the general speed of the system for many paragraphs, but I'm not sure that's really necessary. Let's just say the system is very fast. The quad core i7 works great, no question there. As for disk speed, the Corsair Neutron GTX SSD is fast, in general scoring as well or better than my old OWC drive:
AS SSD Benchmarks
Model: Corsair Neutron GTX M306
Method: storahci
Seq. Read: 492.16 MB/s
Seq. Write: 286.35 MB/s
4K Read: 23.26 MB/s
4K Write: 56.81 MB/s
4K-64Thrd Read: 317.94 MB/s
4K-64Thrd Write: 189.46 MB/s
Acc. time Read: 0.099 ms
Acc. time Write: 0.063 ms
Score Read: 390
Score Write: 275
Score Overall: 862
This laptop compares favorably to my home desktop, beating it in several areas. You could get a faster system, but for all basic tasks it performs as promised and then some.
Speed Score: 5/5
Laptop: Graphics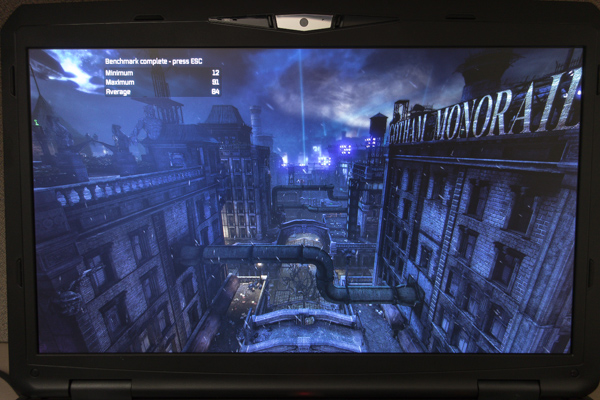 What you might have been waiting for, or perhaps scrolled down to read.

The laptop contains a single Nvidia GTX 780M, as well as a Intel 4600 chip to handle things when the Nvidia chip isn't needed. I ran the laptop through a bevy of tests and was suitably impressed. This system performs either on par or better than my home desktop. Granted, my home desktop only has a GTX 670 in it, not the most powerful card on the market (whereas the GTX 780M is the most powerful chip on the market), however for a non-SLI laptop this is pretty impressive. With only one exception I performed all the tests on ultra/ultimate/extreme quality settings at the full 1920 x 1080 resolution. Yes, for 3DMark 2013 Fire Strike and Unigine Heaven it didn't maintain a 'playable' frame rate (i.e. at least 30 FPS average), however when tested against actual games it stood the test.
I threw some tough games at the system and it performed very well. Additional note to those who might not know, but the benchmark mode available in games are often more harsh than the game actually requires, i.e. you'll probably see at least a few additional points of FPS going through the regular game.
[UPDATE] See the above portability section concerning how the system behaves on battery. All tests below were performed plugged in (i.e. not on battery).
Benchmark results:
---------------------------------------
3DMark 2013
---------------------------------------
Fire Strike, default (1920x1080)
Total Score: 4717
Graphics Score: 5178
Physics Score: 9772
Graphics Test 1 Average FPS: 25.49
Graphics Test 2 Average FPS: 20.16
Physics Test Average FPS: 31.02
Combined Test Average FPS: 8.98
Cloud Gate, default (1280x720)
Total Score: 18672.0
Graphics Score: 35702.0
Physics Score: 6995.0
Graphics Test 1 Average FPS: 148.2
Graphics Test 2 Average FPS: 162.9
Physics Test Average FPS: 22.2
---------------------------------------
Unigine Heaven Benchmark 4.0
---------------------------------------
FPS: 26.6
Score: 670
Min FPS: 6.9
Max FPS: 60.1
Platform: Windows NT 6.2 (build 9200) 64bit
CPU model: Intel(R) Core(TM) i7-4800MQ CPU @ 2.70GHz (2693MHz) x4
GPU model: NVIDIA GeForce GTX 780M 9.18.13.1148 (4095MB) x1
Render: Direct3D11
Mode: 1920x1080 8xAA fullscreen
Preset: Custom Quality Ultra
Tessellation: Extreme
---------------------------------------
Unigine Valley Benchmark 1.0
---------------------------------------
FPS: 55.0
Score: 2301
Min FPS: 20.8
Max FPS: 110.8
Platform: Windows 8 (build 9200) 64bit
CPU model: Intel(R) Core(TM) i7-4800MQ CPU @ 2.70GHz (2693MHz) x4
GPU model: NVIDIA GeForce GTX 780M 9.18.13.1148 (4095MB) x1
Render: Direct3D11
Mode: 1920x1080 fullscreen
Preset: Custom Quality Ultra
---------------------------------------
Batman: Arkham City (Benchmark Mode)
---------------------------------------
Resolution: 1920x1080
V-Sync: No
Anti-Aliasing: NVidia 8x CSAA
DX11: MVSS and HBAO
DX11 Tessellation: High
Detail Level: Very High
All other detail settings on (blur, shadows, etc)
Miniumum FPS: 31
Maximum FPS: 89
Average FPS: 64
---------------------------------------
Bioshock Infinite (Benchmark Mode)
---------------------------------------
Resolution: 1920x1080
Graphics Setting: Ultra
V-Sync: No
Per Scene Stats:
Average FPS Min FPS Max FPS Scene Name
49.66 15.11 73.15 Welcome Center
49.87 28.29 78.76 Town Center
46.61 28.51 60.77 Raffle
70.49 33.05 84.34 Monument Island
53.09 15.11 84.34 Overall
---------------------------------------
Sleeping Dogs (Benchmark Mode)
---------------------------------------
Resolution: 1920x1080
Graphics Setting: Extreme
V-Sync: No
Minimum FPS: 19.5
Maximum FPS: 42.4
Average FPS: 30.5
---------------------------------------
Tomb Raider (2013, Benchmark Mode)
---------------------------------------
Resolution: 1920x1080
Graphics Setting: Ultimate
V-Sync: No
Minimum FPS: 29.1
Maximum FPS: 46.5
Average FPS: 39.2
All in all the system performed great. Average GPU temp under full load was around 82 degrees Celsius. In order to get any higher scores I think you'd have to go SLI. For this price and build quality, it doesn't get any better.
Graphics Score: 5/5
Conclusion
Without a doubt this is an excellent system that I would recommend to anybody. The issues I came across along the way were either my own or relatively minor. I am still curious about the laser engraving issue which I will continue to look into. However, after everything is said I have a simply awesome system.
Purchasing: 5/5
Build Process and Shipping: 4/5
Arrival and Packaging: 5/5
First Boot: 5/5
Design: 5/5
Connectivity: 5/5
Keyboard and Trackpad: 5/5
Sound: 4/5
Portability: 2/5
Battery: 4/5
Display: 5/5
Speed: 5/5
Graphics: 5/5
Final Score: 4.5/5 (59/65)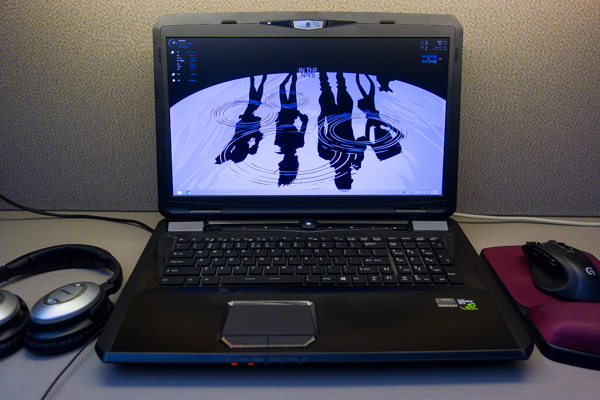 Thanks for reading, and please let me know if there are any points you would like me to touch on that weren't addressed above!


Edited by Qnarf - 13 Aug 2013 at 11:20am