Repeat Customer here, been with DS since 2008
DigitalStorm Mighty Mouse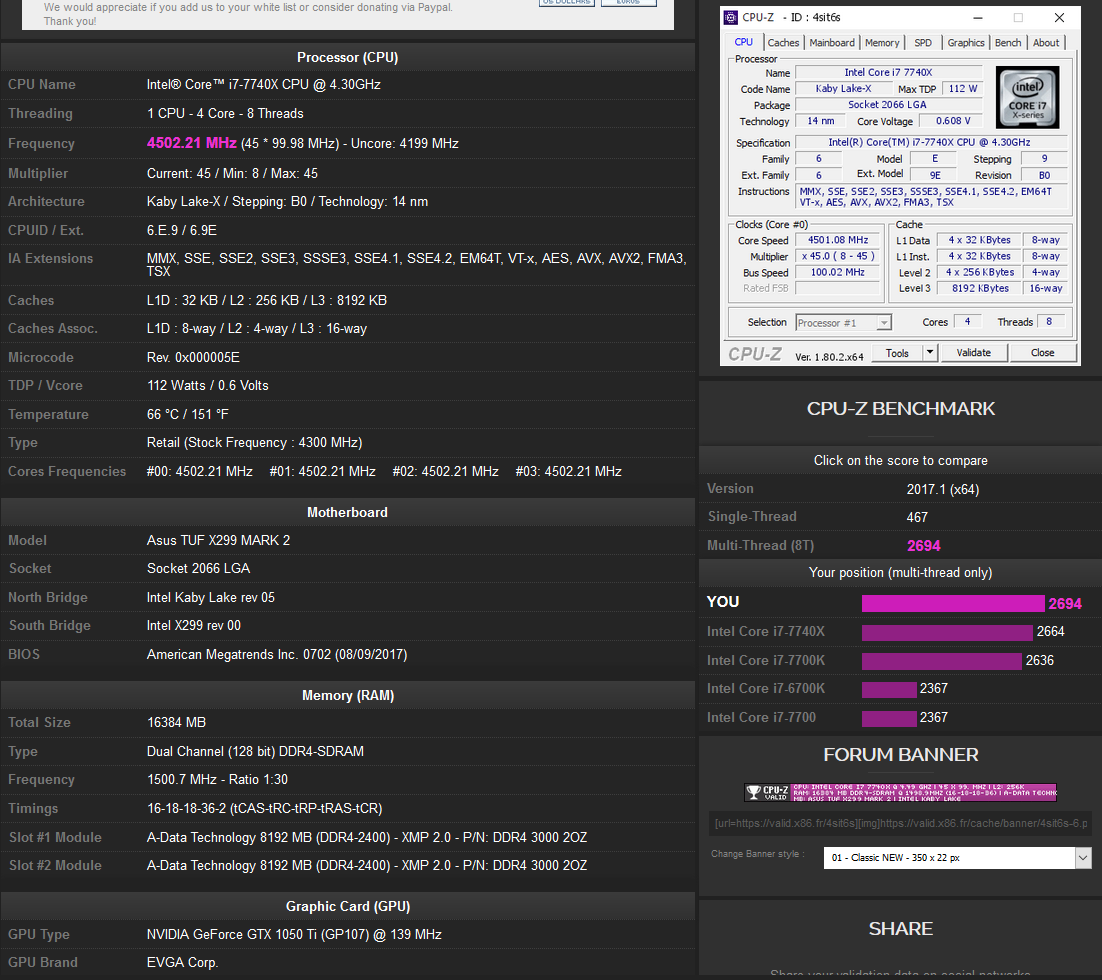 Order:
$1961
Chassis Model: Special Deal Hot Seller - Digital Storm Apollo (Black)
Exterior Finish: - Standard Factory Finish
Trim Accents: - Standard Factory Finish
Processor: Intel Core i7-7740X (4-Core) (Up to 4.50 GHz)
Motherboard: ASUS TUF X299 MARK 2 (Intel X299 Chipset) (Up to 3x PCI-E Devices)
System Memory: 16GB DDR4 3000MHz Digital Storm Performance Series
Power Supply: 750W EVGA SuperNOVA (750 G) (Fully Modular)
Expansion Bay: - No Thanks
Optical Drive: Blu-Ray & DVD Writer/Reader (Burn + Play Blu-Ray & DVDs) (12x BD-R) (Internal)
Storage Set 1: 1x SSD (240GB Digital Storm Performance Series)
Storage Set 2: - No Thanks
Storage Set 3: - No Thanks
RAID Config: - No Thanks
RAID Card: - No Thanks
Internet Access: High Speed Network Port (Supports High-Speed Cable / DSL / Network Connections)
Graphics Card(s): 1x GeForce GTX 1050 Ti 4GB
Sound Card: Integrated Motherboard Audio
HPC Processor: - No Thanks
Extreme Cooling: H20: Stage 2: Corsair H115i - 280mm Liquid CPU Cooler (Fully Sealed + No Maintenance)
HydroLux Tubing Style: - Not Applicable, I do not have a custom HydroLux liquid cooling system selected
HydroLux Fluid Color: - Not Applicable, I do not have a custom HydroLux liquid cooling system selected
Cable Management: Premium Cable Management (Strategically Routed & Organized for Airflow)
Chassis Fans: Standard Factory Chassis Fans
Internal Lighting: - No Thanks
Airflow Control: - No Thanks
Chassis Mods: - No Thanks
Noise Reduction: - No Thanks
LaserMark: - No Thanks
CPU Boost: Stock Factory Turbo Boost Advanced Automatic Overclocking
Graphics Boost: - No Thanks, Please do not overclock my video card(s)
OS Boost: - No Thanks, Please do not tweak the services on the operating system
Operating System: Microsoft Windows 10 Professional (64-Bit Edition)
Recovery Tools: Windows 10 Installation CD Only (Clean Install with No Drivers)
Virus Protection: FREE: McAfee AntiVirus Plus (1 Year Service Activation Card) (Not Pre-installed) ($35 Value)
Office: - No Thanks
Game: - No Thanks
Display: - No Thanks
Surge Shield: - No Thanks
Speakers: - No Thanks
Keyboard: - No Thanks
Mouse: - No Thanks
Branded Gear: - No Thanks
Priority Build: - No Thanks, Ship Within 15-20 Business Days After Order Is Successfully Processed
Warranty: Life-time Expert Care with 3 Year Limited Warranty
Ordering:
Ordering was simple and easy, picked my parts and customized my build, put the order online, called my credit card company before hand to let them know that my purchase was coming.
Ordered 8/23
Stage 1 8/23
Stage 2 8/24
Stage 3 8/24
Stage 4 8/29
Stage 5 8/29
Stage 6 8/30
Stage 7 9/7
Shipped 9/7
I have to say it was great and easy 10/10
Packaging:
So, at first sight the box is big 65-75 pounds big. The rig itself is a monster. A big, bad-ass beautiful monster. I mean this thing is gonna take up some serious space and every square inch will be the envy of those that lay their eyes upon it.
The packaging and shipping box is perfect: the case is extremely well protected within the air cushion and placed inside a large plastic bag still further. The accessories boxes are labeled with your invoice number, so you know they keep track of everything while building the computer. packaging was perfect and I have no complaints about it. 10/10.
Documentation:
The relevant paperwork from your components is included in the accessories boxes. I receive the motherboard manual, the little Intel processor booklet, and everything else I would have cared about.
Otherwise, let's focus on the binder, which I included some pictures of. The first page is a certificate of ownership and your invoice/packaging receipt on the reverse side. The next page is titled, "How to Connect a Monitor to Your New PC" and has an image of the I/O ports on the rear of the motherboard. The title is self-explanatory as to the purpose of the page. The next page is titled, "Issues with New Arrival?" and has a few cases listed if you run into problems when booting the system. This page would be very helpful for people who don't know how exactly to troubleshoot, and was a good investment on the part of Digital Storm to create it. The next page was a simple Thank You and good wishes. It really expresses the thought and time put into the system, and again shows how Digital Storm stands out from the competition. The remaining pages are standard printouts:
* Quality Checks: printed check marks, so just a stock page
* Setup Instructions: foolproof "how to turn it on"
* Desktops with Liquid Cooling maintenance: describes the correct amount of fluid
* Warranty Coverage
* Terms and Conditions
* Installation media (DVDs for the motherboard and GPUs)
I say 10/10 here also.
Build Quality:
The hardware assembly of this rig is a dream. Perfect in every way. I could go on and on, but I think I'll leave it at "perfect" and move on. When I first turned on the system, Everything booted right up. This thing is whisper quiet now, better than I ever expected. The fans+cooling is amazing: at idle, the CPUs and GPU sit near 28-33°C. Practically not even there if you had your eyes closed. Load temps are around 65°C, SSD FTW.
10/10
Software Configuration:
It's clear the overclocking was performed, virtualization was disabled for some reason. As return customers know, the OS comes fully patched and ready to go. you are pleasantly surprised by how little bloat there was preinstalled. Just the basic stuff, drivers, corsair link, etc.
I think is another area where Digital Storm really needs to be appreciated: the OS came as clean as one could hope and this is exactly how it should be. You'll never get this kind of purity from the big dealers, which load Windows up with so much junk you want to take a hammer to it. 10/10 here, guys.
The only complaint I have I guess is that I had special instructions as to what username to use when installing windows and those were not followed completely so 7/10 there.
Overall:
Overall I have to say it was all easy and simple, I got my family member what they wanted in a timely matter, the username instructions that were missed was important but not important enough to over powere all the other positives, so I say 10/10 here overall.
Overall 10/10 Would Buy Again and Highly Recommend DigitalStorm
BTW I ordered no extra lights or led fans with this system and still have plenty of lights to enjoy as you can see.
Name:
This system is called DMM (DigitalStorm Mighty Mouse) because:
1. Its pretty mighty for its price
2. A quick upgrade to 16 core cpu is in its future where the "Mighty" part really kicks in.


Edited by DST4ME - 29 Sep 2017 at 4:18pm