Hi everyone:
First of all I have had this computer for just 2 days and I enjoy every thing that it has. MY SPECS ARE:
Chassis Model: Special Deal Hot Seller - Black OPS HailStorm Edition
Exterior Finish: - Standard Factory Finish
Trim Accents: - Standard Factory Finish
Processor: Intel Core i7 3930K 3.2GHz (Unlocked CPU for Extreme Overclocking) (Six-Core)
Motherboard: ASUS P9X79 DELUXE (Intel X79 Chipset) (Features USB 3.0 and SATA 6Gb/s)
System Memory: 16GB DDR3 1866MHz Corsair Dominator DHX (High-Performance)
Power Supply: 1050W Corsair Pro Silver 1050HX (Dual/Triple/Quad SLI Compatible)
Expansion Bay: Internal Digital Media Card Reader (Black)
Hard Drive Set 1: Operating System: 1x (240GB Solid State (By: Corsair) (Model: Neutron GTX Series) (SATA 6Gbps)
Set 1 Raid Options: - No Thanks
Hard Drive Set 2: Multimedia\Data: - No Thanks
Hard Drive Set 3: Backup\Misc.: - No Thanks
Optical Drive 1: Blu-Ray & DVD Writer/Reader (Burn + Play Blu-Ray & DVDs) (12x BD-R)
Optical Drive 2: - No Thanks
Internet Access: High Speed Network Port (Supports High-Speed Cable / DSL / Network Connections)
Video Card(s): 1x NVIDIA GeForce GTX 680 4GB (Includes PhysX)
Add-on Card: - No Thanks
Sound Card: Integrated Motherboard Audio
Extreme Cooling: H20: Stage 4: Sub-Zero LCS Cooling System: CPU Only
H20 Tube Color: White Tubing with High-Performance Fluid (UV Lighting Reactive)
Chassis Airflow: Upgrade Chassis With LED Performance Fans (Blue) (Up to 6 Fans)
Internal Lighting: Internal Chassis Lighting System (White)
Enhancements: - No Thanks
Chassis Mods: HailStorm & 950Si Case Only: Video Card(s) Area: Drill and Mount a Side Window 120mm Fan Blow-Hole
Noise Reduction: - No Thanks
LaserMark: - No Thanks
CPU Boost: Stage 2: Overclock CPU 4.5GHz to 4.8GHz (Requires Pro/Deluxe/Sabertooth Motherboard)
Graphics Boost: - No Thanks, Please do not overclock my video card(s)
Memory Boost: - No Thanks, Please do not overclock my memory
OS Boost: - No Thanks, Please do not tweak the services on the operating system
Windows OS: Microsoft Windows 8 (64-Bit Edition)
Recovery Tools: Advanced Recovery Kit (40GB Hard Drive Partition of Image With OS & Drivers)
Virus Protection: - No Thanks
Office: - No Thanks
Game: - No Thanks
Display: - No Thanks
Surge Shield: - No Thanks
Speakers: - No Thanks
Keyboard: - No Thanks
Mouse: - No Thanks
External Storage: - No Thanks
Exclusive T-Shirt: FREE: Digital Storm T-Shirt - Black (Medium)
Priority Build: - No Thanks, Ship Within 10-15 Business Days After Order Is Successfully Processed
Warranty: Life-time Expert Customer Care with 3 Year Limited Warranty
Now this computer is too fast and I don't need to worry for waiting any program to start and load. After doing a lot of research I was first persuaded for buying an Alienware Aurora R4 but when I was viewing some stuff on the internet I ended up at the digital storm web page. I started looking every computer and I was amazed of the reviews of too many people that had no concerns about what they had ordered. So I did a comparison between the Hailstorm and the Alienware. Alienware was OK but not outstanding. Why?? Because it has a small Motherboard which you can only expand 2 cards and that's it. The cooling system is too cheap and they charge you a lot for that PC. I ended up buying this digital storm PC and I DO NOT REGRET ANYTHING. This computer is too big that when I showed up to my buddies they looked astonished and jealous because they saw an amazing machine that comes out of this world. I can say that they have an amazing customer service which were too kind to answer all my questions and replaced a component that I upgraded with no excuses that they were too busy or something like that. (POWER SUPPLY FROM 800W TO 1050W CORSAIR HX).
PROS:
CUSTOMER SERVICE,HIGH QUALITY COMPONENTS, AMAZING SLEEK DESIGNS THEY HAVE,SHIPPING SERVICE AND OF COURSE THE GOOD PACKAGING OF YOUR PC.
CONS:
NONE TO THIS DAY.
When I first opened this machine I noticed that the interior didn't have the foam mold to protect the video cards from dislodging in shipping.
Another thing to point out is that when I removed the side panel, the fan that it was mounted in the side window wasn't connected.
Finally, When I opened the Front Panel USB,s and Firewire stuff the lid didn't close anymore. (This was because down of the lid is connected the blue ray player and the blue ray is not letting the lid close well). I THINK I WILL MOVE THE BLUE RAY PLAYER TO ANOTHER 5.25" BAY.
Now I will show you my system with a few pics: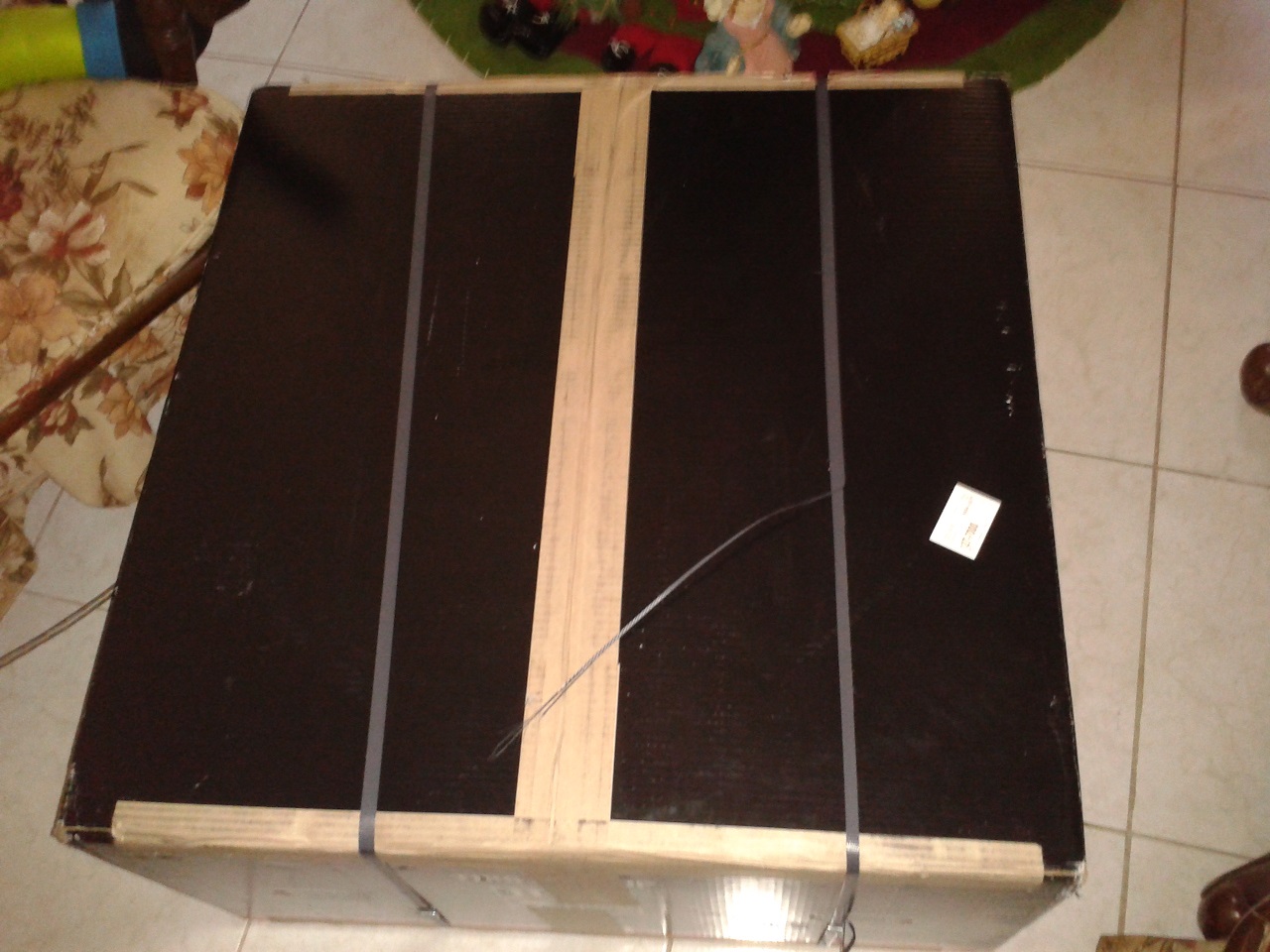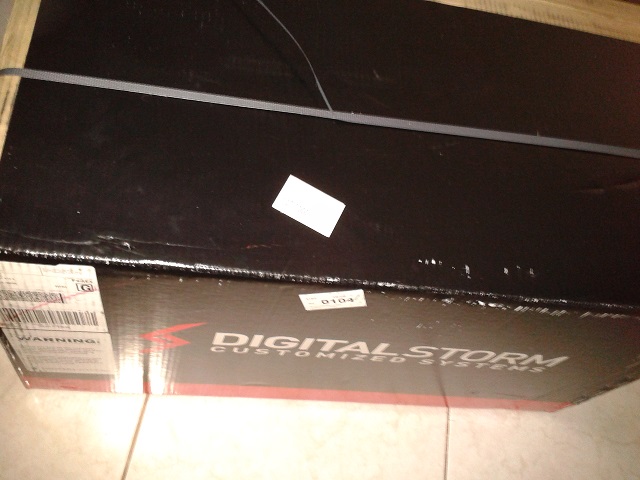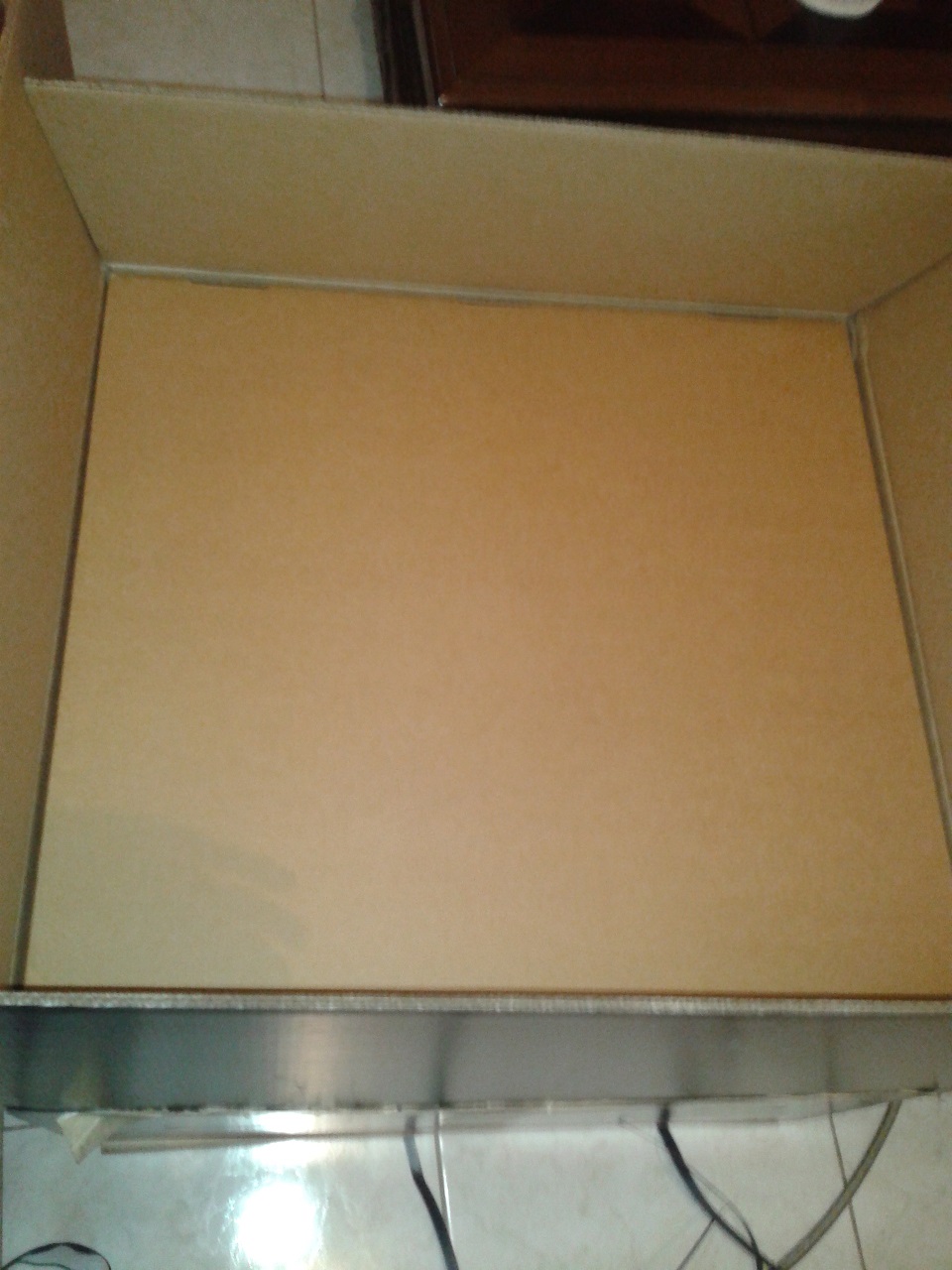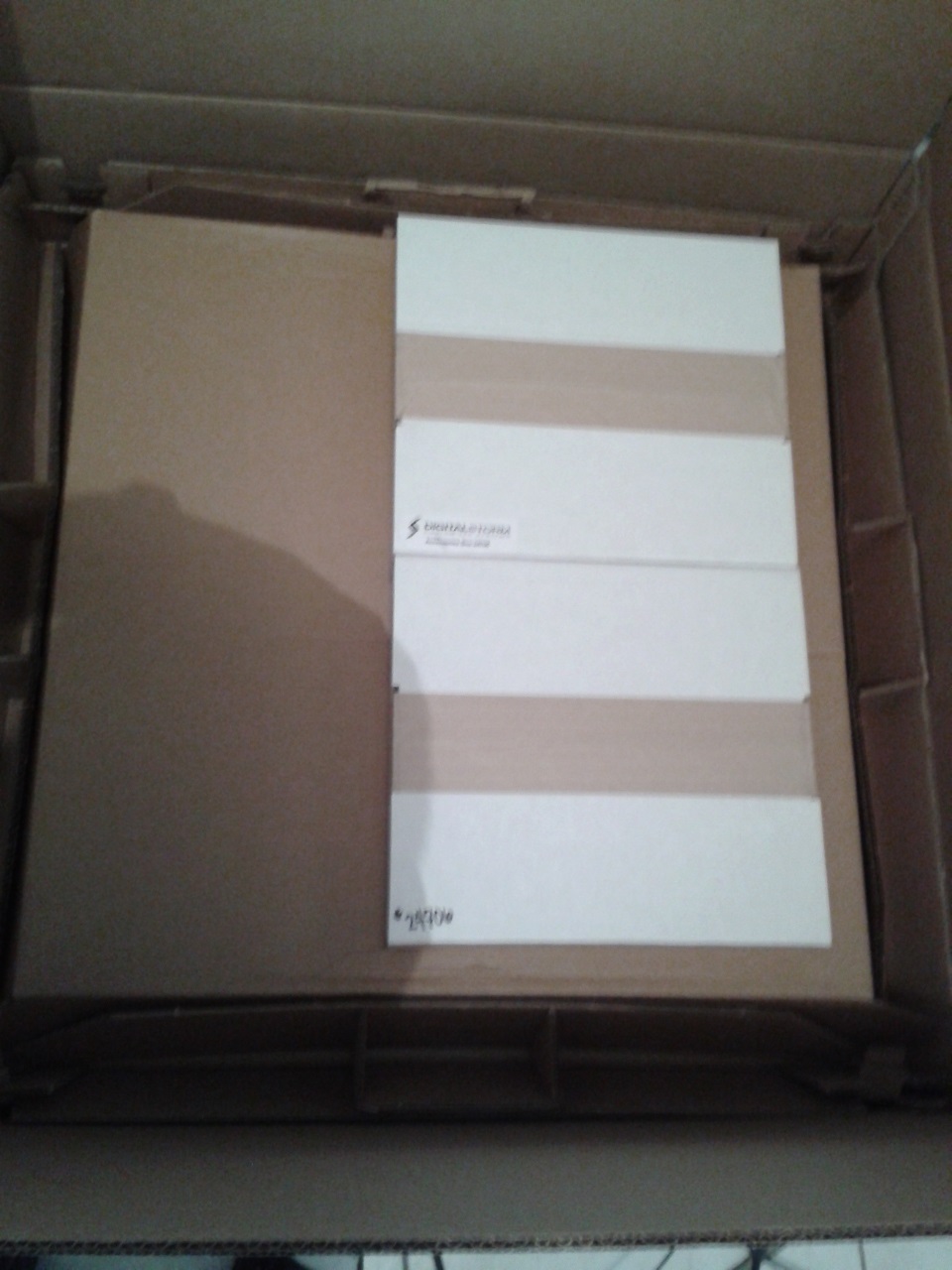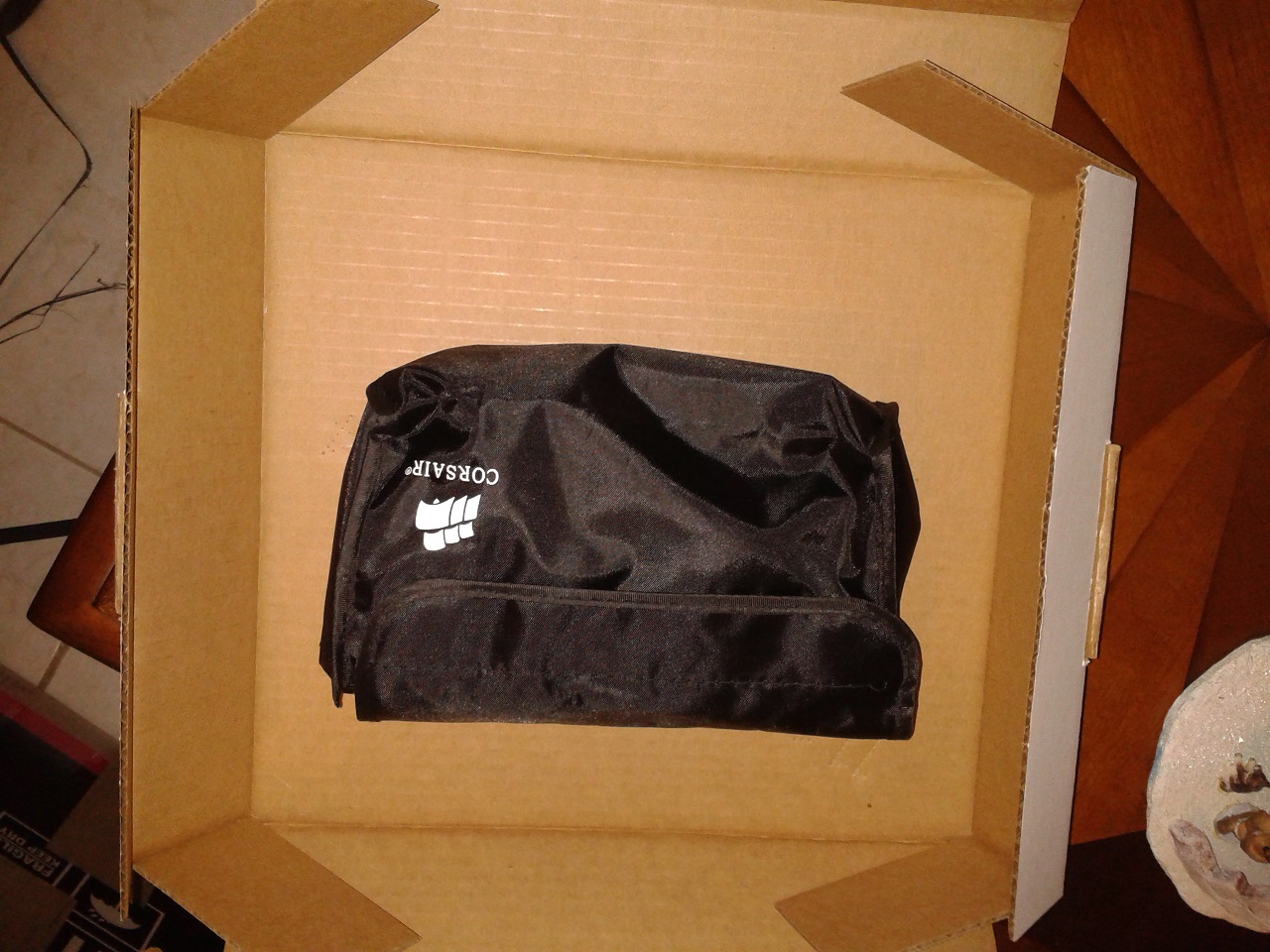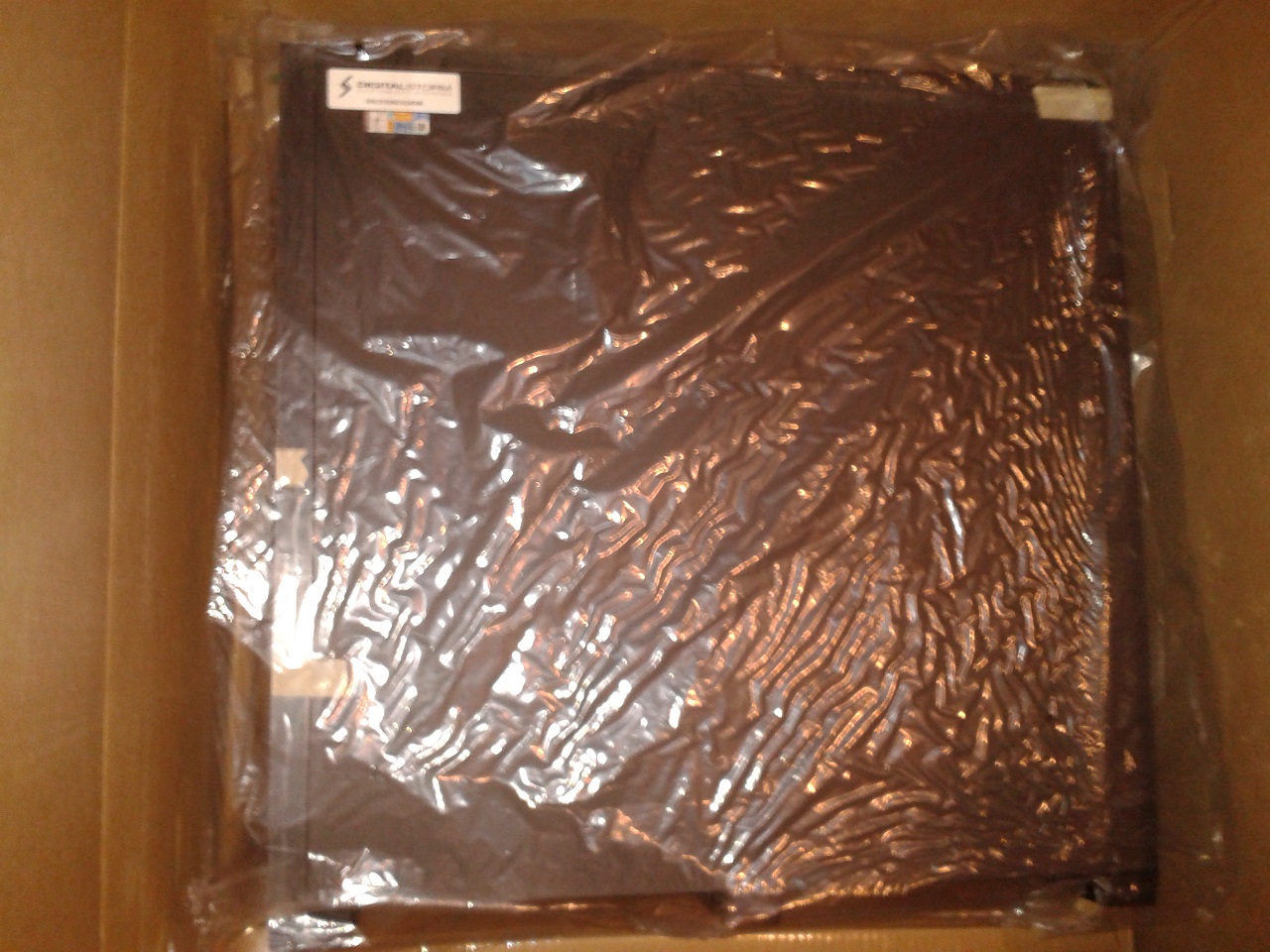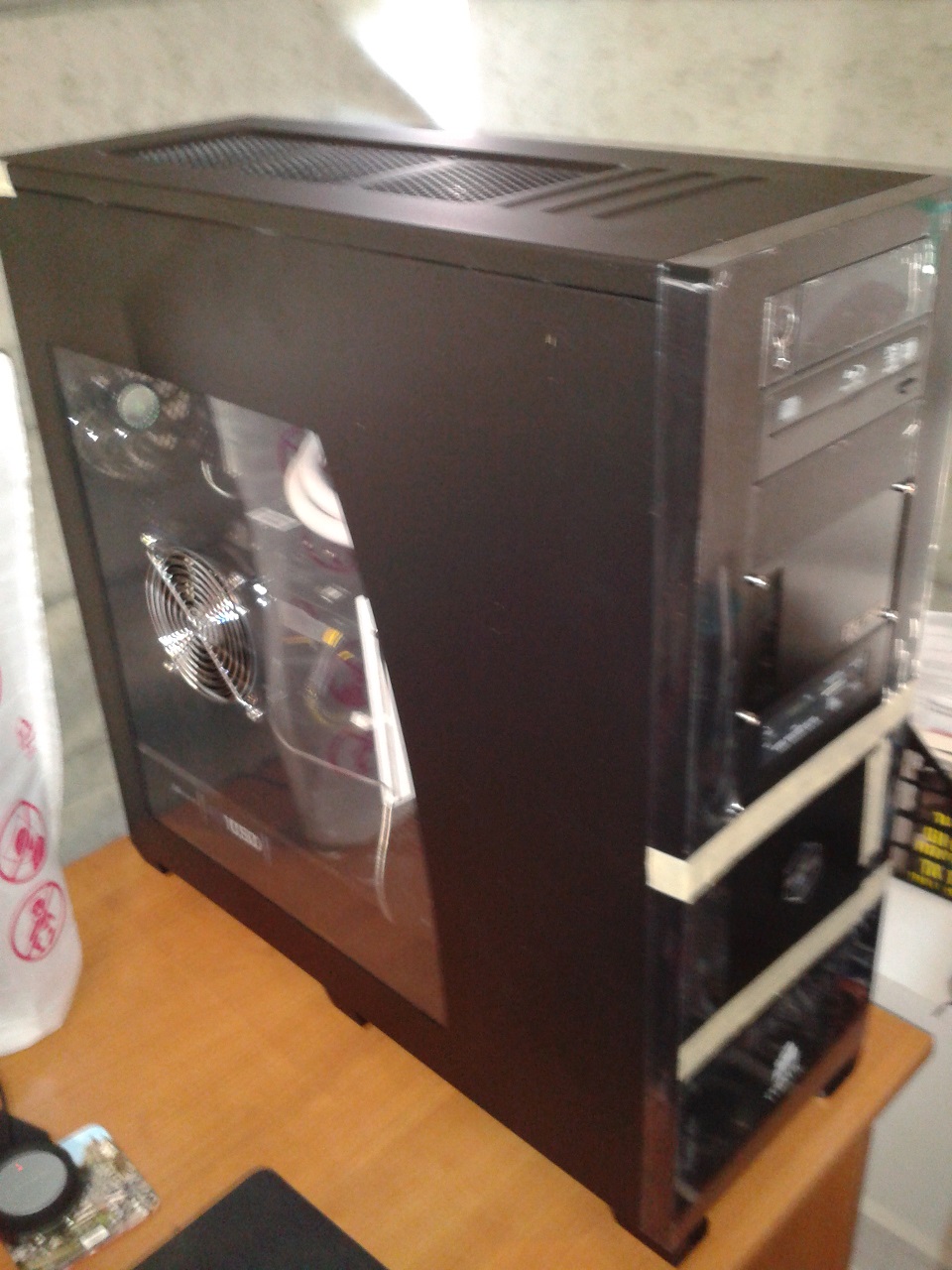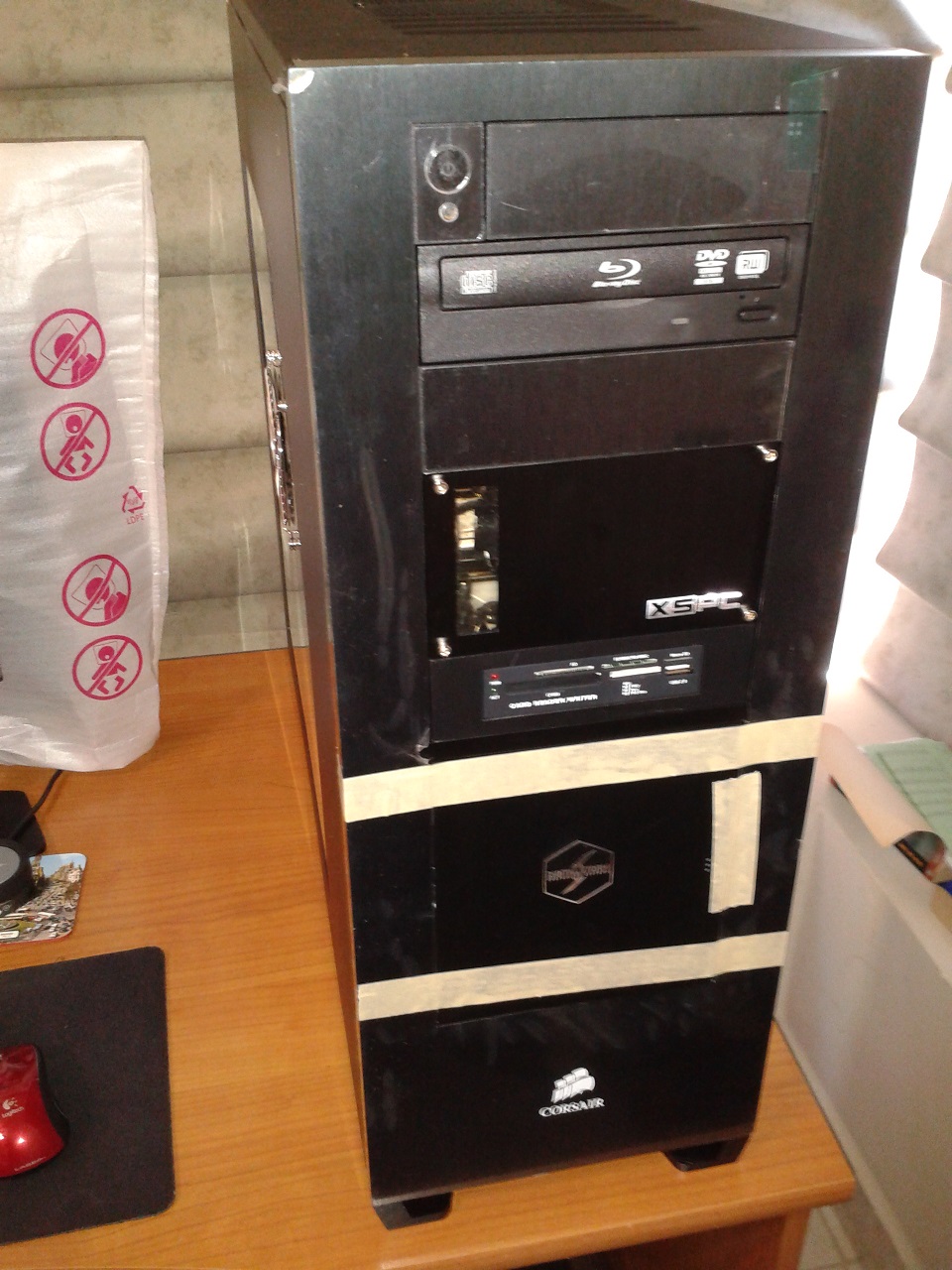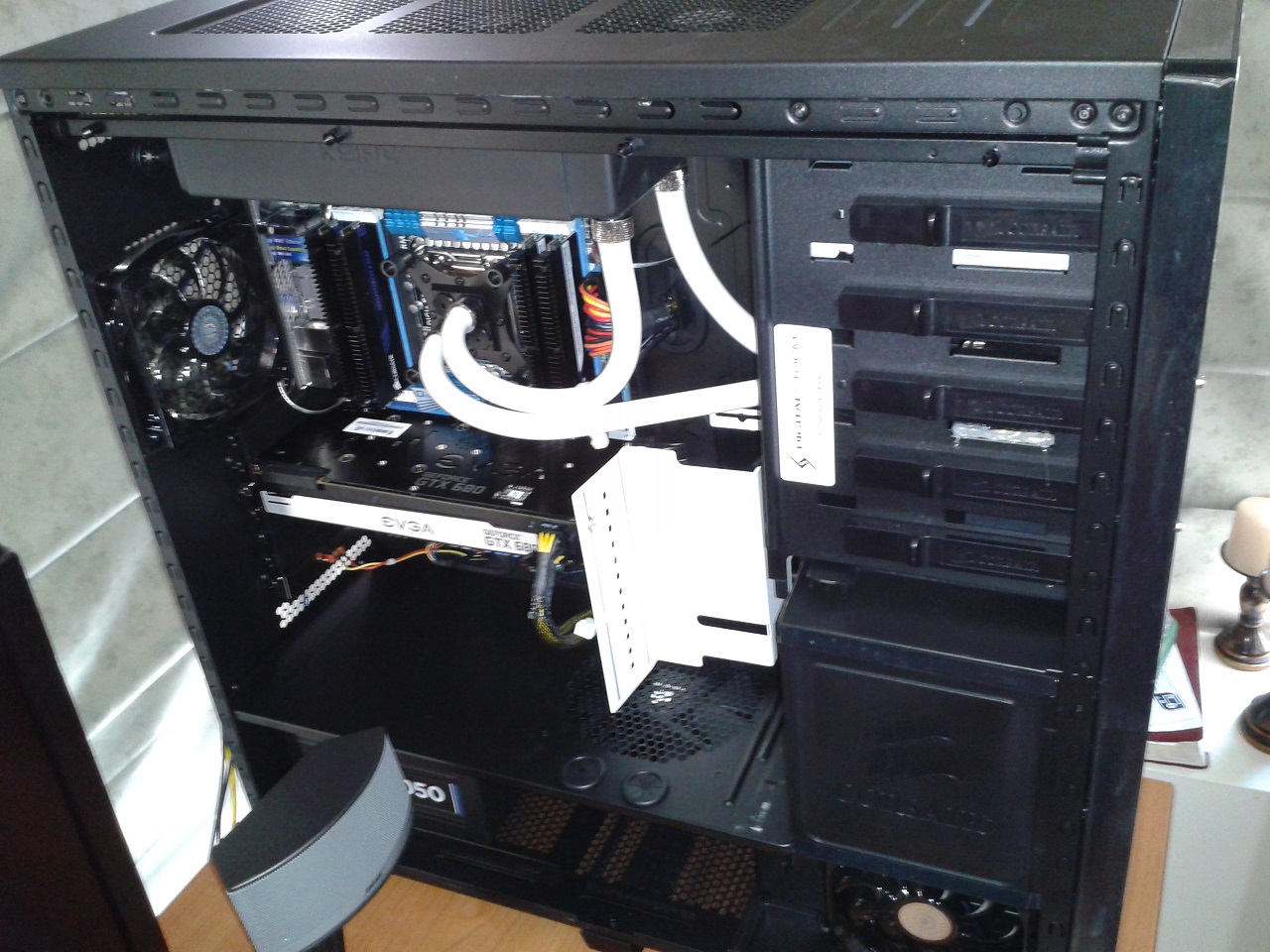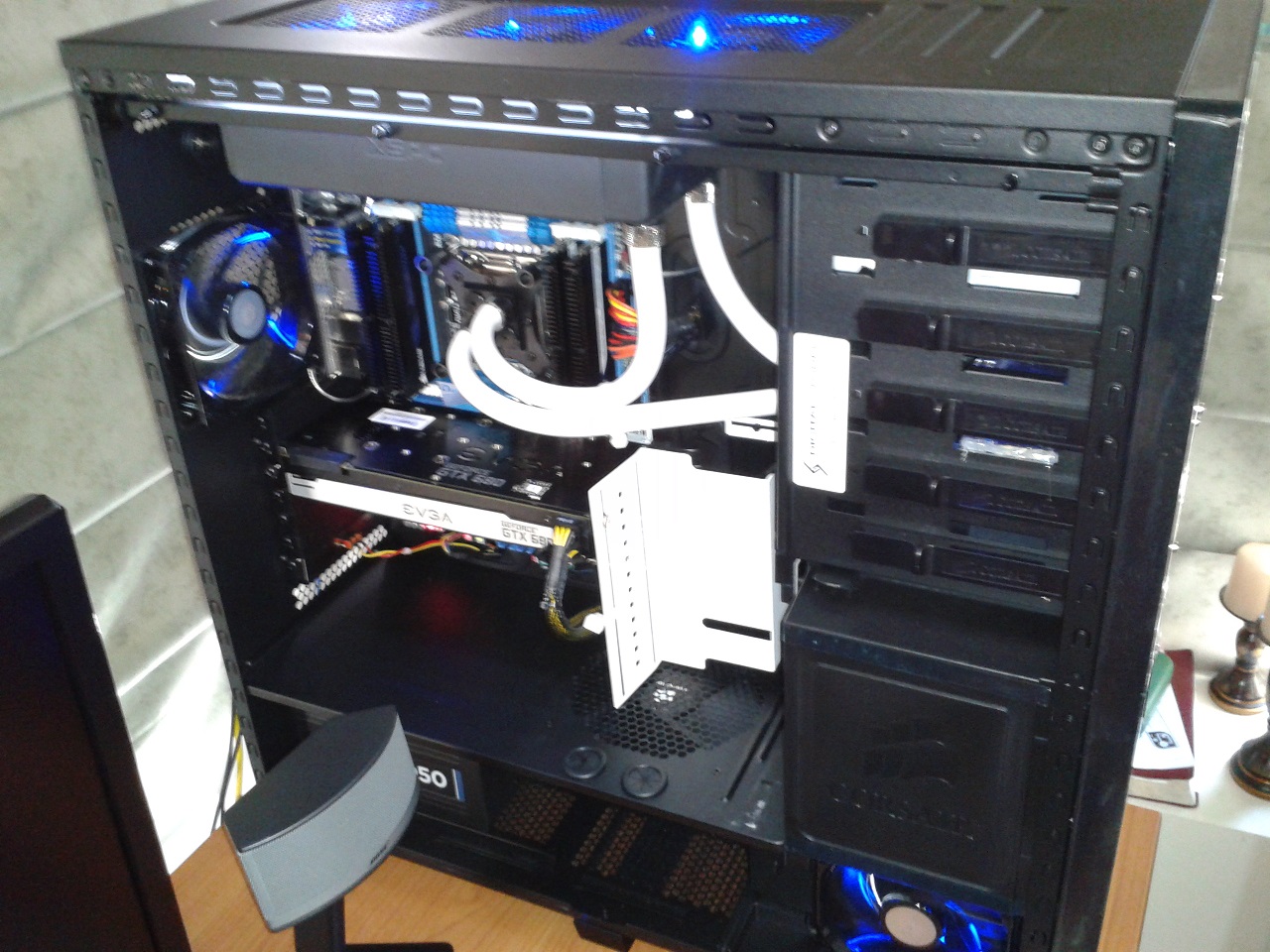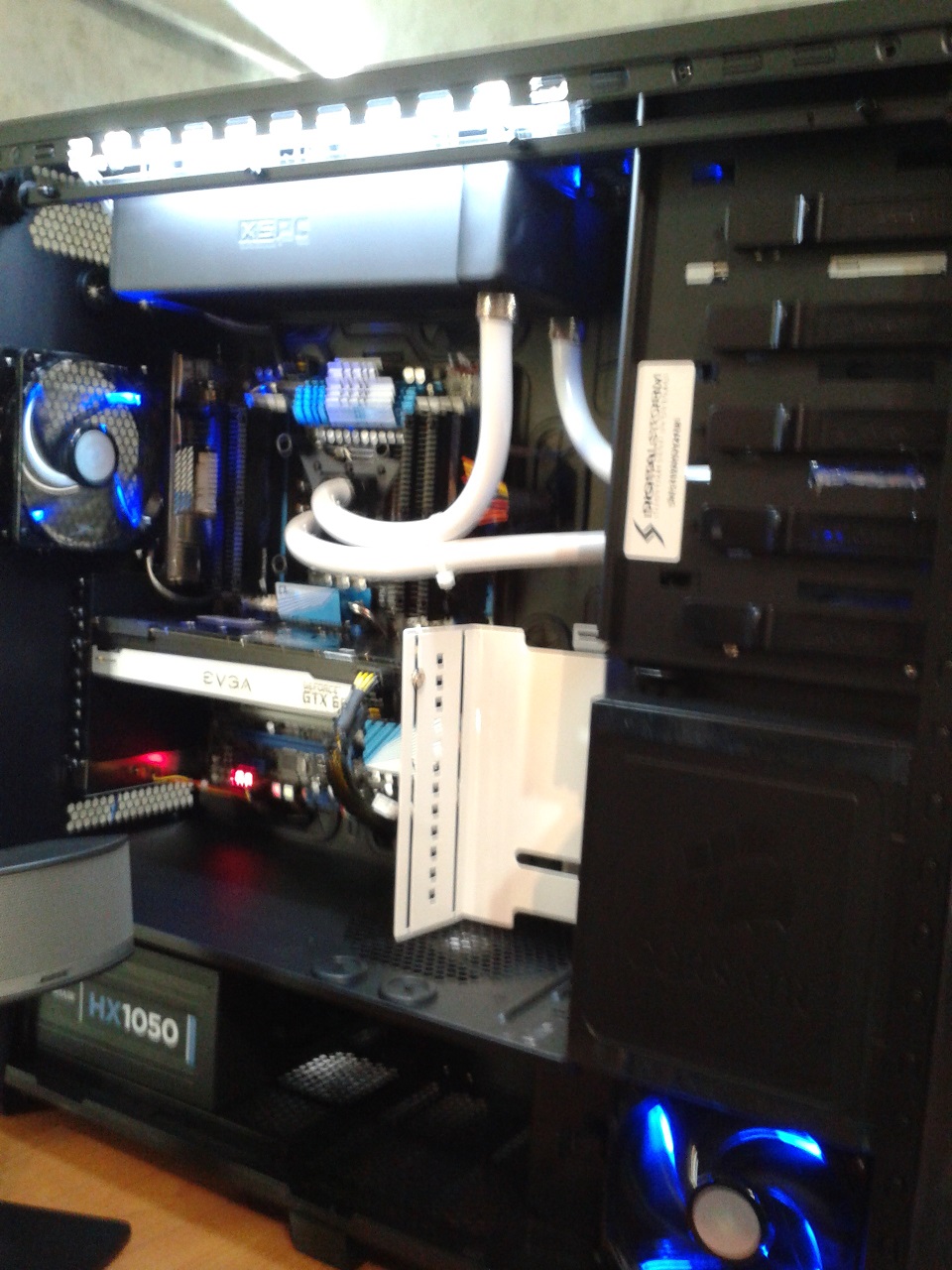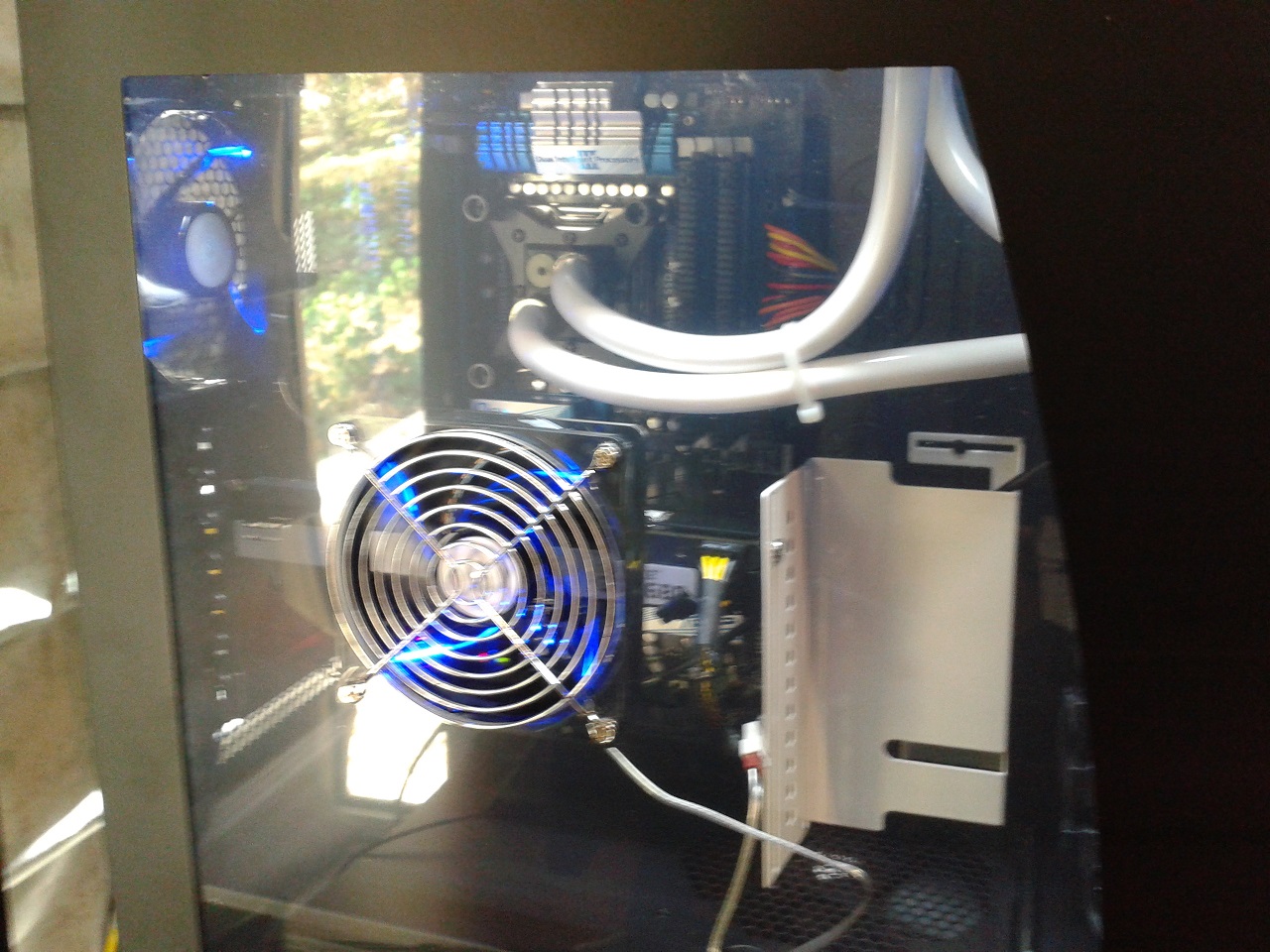 NOW THE TEMPS:
CPU 46°C IDLE
MOTHERBOARD: 28°C IDLE
HARD DRIVE: 29°C
NVIDIA GRAPHICS CARD: 30°C
Overall I am really satisfied with my product, and I am like a boy with a new toy. Very Happy :) I am astonished with the work Digital Storm has put in this PC. Everything is flawlessly and runs very fast with no issues at this day.
WINDOWS 8 SPECS:
PROCESSOR SCORE 8.6 - 3930K OVERCLOCKED TO 4.6 GHZ.
RAM SCORE - 8.6 16 GB 1866 MHZ
GRAPHICS - 8.1 NVIDIGIA GTX 680.
GAMING GRAPHICS - 8.1
PRIMARY HARD DISK SCORE - 8.1
THIS IS OUT OF 9.9 WHICH IS THE TOP SCORE IN WINDOWS 8.
Another thing is that this machine runs awesome with WINDOWS 8 so I highly recommend upgrading to Windows 8. I just installed CLASSIC SHELL which restores the START BUTTON and everything is the same as Windows 7.
I CAN SAY THAT FROM THIS DAY ON, I WILL LOOK NO ELSEWHERE TO BUY MY PCs and LAPTOPS. I have become a new loyal customer to DIGITAL Storm and I will throw away the garbage that I used to have.
THANKS DIGITAL STORM FOR EVERYTHING.