Ok so here i go i ordered my Hailstorm II on August 15 after 3 months of trying to find the best computer builder after past bad experiences with Alienware and well after hours of chat and email sessions with DS and other builders i picked DS.
Here i will break down all my experience:
Product selection: 10/10
Alex and Brian Benoit cleared all my questions and made this experience smooth.Brian also helped me with part picking.
Paying: 10/10
I selected direct deposit/wire transfer and payed the day i ordered next day it was already on stage 1 at 9:00 a.m PST.
Build updates: 10/10
The day my computer entered stage 1 by 5:00 p.m. It was on stage 5 i was concerned about this but Alex cleared it out the even sent Photos of the system upon my request.The computer reaching stage 5 first day means that they built it in 1 day but used 3 aditional days just for testing while other builder would just send it like that.
Shipping: 3/10
Well im kinda upset with this even tough it's not DS fault.I picked Freight Shipping with South Bay Freight.My computer leaved Fremont,California(Digital storm's factory/headquarters location)on August 22 and my Shipping status says that it's still in City of the industry since the 23th and the ETA Is August 23th .
HOW CAN A PAST DATE BE ETA????
Also in their page SB Freight say that the time they take to ship to Arizona is 1-2 days i already waited 1 week and it hasn't leaved California.
Already contacted Alex about my worries that SB Freight lost my package but well anyway let's continue.
Updated:Computer arrived and well here's my experience with South Bay Freight:
WORST PACKAGING SERVICE I HAVE EVER SEEN,you think im exaggerating well here's what happened.I was not at Home but my sister was there to receive the pc she got called at 9:00 a.m that the package would arrive between 10:00 and 11:00 she waited and waited and the computer arrived at 1:00 p.m
The delivery guy just placed the computer IN THE MIDDLE OF THE STREET and was about to leave when my sister asked him:are you gonna leave it there can't you help me?.Guess what he said:That's not my problem.How you want a girl to get a 200 lbs package in his home she asked him again if he could help her and he said maybe but at the end he said he could't enter the house.Then my sister asked if he could disassemble the wooden crate and he said that he had to delivery it intact.Then my sister said well you delivered but can you help me disassemble it so i can get it inside.He said just NO he then got on the truck and leaved it was about to rain in a City that almost never sees rain and he had to go for her child at 2:00 p.m and it was 1:45 p.m. So there she was with a 200 lbs package about to rain and having to go for his kid in 10 minutes she had to stop a neighbor so he could help her which luckily could and got the pc inside.I forgot to add before that SB Freight asked if the pc was delivered and everything was ok she told the girl on the phone what happened and she could't believe it but they couldn't send somebody before 2:00 p.m.
So resuming:Don't get Freight Shipping or ask to not get SB Freight plus their tracking king page still says it's in California.
Set up: 10/10
Ok so when i arrived home there it was...the beast ready to be unleashed.So i quickly seated it up and removed the foam which protected the PC inside components.
The PC included ALL the hardware manuals in a nice crate that came with a folder which included all the driver discs and the OS also with a very boss T-shirt.
Ok so i double check everything,press the on button on the PSU and when absolutely everything is ready i can't find the gaming mouse i already owned.i was like FUUUUUUUUUU. So i was forced to use a $8 dollar mouse.But well back to what we were talking: I then pressed the on button on the front of the case and it was...Beautiful the fans started up and the blue LED's came on...Just awesome.
Performance: 15/10
Ok so 10 seconds from pressing on i was already at the desktop thanks to my SSD.Ok so i take a look and there's absolutely no bloatware the PC is completely clean,only extra is MSI afterburner,geforce experience and the OC check files.
Ok so i quickly download steam and all my game and it absolutely rocks everything with lots of FPS.
Also the 144 Hz monitor i picked is awesome i hugely recommend it
Everything is awesome with this thank you.
Overall experience: 10/10
Despite the shipping issue Digital Storm's services and quality make everything worth it i mean it's just a beast,it's beautiful,it's bad ass,it's powerful,it's elegant,simply awesome.I have absolutely no problems with this machine thank you
IF I WAS OFERED 10 $5000 PC's FROM OTHER BUILDERS I WOULD STILL STAY WITH 1 DS.I WON'T DOUBT ON BUYING FROM DIGITAL STORM AGAIN

Benchmarks
3D Mark FireStrike before overclocking: http://www.3dmark.com/fs/898078
3D Mark FireStrike after overclocking: http://www.3dmark.com/fs/898207
Please tell me if the benchmark links work
Here's the build:
- PROMOTION: 10% Discount of $673 Applied to Digital Storm Desktop 516258, Original Price $6,734 Quantity: 1 $0.00
- -- PROMOTIONAL LIMITED TIME BONUS DISCOUNT: $200 Quantity: 1 ($200.00)
- -- PROMOTIONAL LIMITED TIME 1 YEAR WARRANTY UPGRADE ($99 VALUE) Quantity: 1 $0.00
- -- FREE NVIDIA Bundle - Splinter Cell: Blacklist (Digital Download Code for GeForce GTX 660 and Up) Quantity: 1 $0.00
System Configuration:
Chassis Model: Special Deal Hot Seller - Hailstorm II Edition
Exterior Finish: - Standard Factory Finish
Trim Accents: - Standard Factory Finish
Processor: Intel Core i7 3930K 3.2GHz (Unlocked CPU for Extreme Overclocking) (Six-Core)
Motherboard: ASUS Sabertooth X79 (Intel X79 Chipset) (Features USB 3.0 and SATA 6Gb/s)
System Memory: 16GB DDR3 1866MHz Corsair Dominator Platinum DHX (Extreme-Performance)
Power Supply: 1050W Corsair Pro Silver 1050HX (Dual/Triple/Quad SLI Compatible)
Expansion Bay: - No Thanks
Hard Drive Set 1: Operating System: 1x (240GB Solid State (By: Corsair) (Model: Neutron GTX Series) (SATA 6Gbps)
Set 1 Raid Options: - No Thanks
Hard Drive Set 2: Multimedia\Data: 1x (3TB Western Digital/Seagate/Hitachi/Samsung (7200 RPM) (SATA 6Gbps)
Hard Drive Set 3: Backup\Misc.: - No Thanks
Optical Drive 1: DVD-R/RW/CD-R/RW (DVD Writer 24x / CD-Writer 48x)
Optical Drive 2: Blu-Ray & DVD Writer/Reader (Burn + Play Blu-Ray & DVDs) (12x BD-R)
Internet Access: High Speed Network Port (Supports High-Speed Cable / DSL / Network Connections)
Video Card(s): 2x SLI Dual (NVIDIA GeForce GTX 780 3GB (Includes PhysX)
Add-on Card: - No Thanks
Sound Card: Creative Labs Recon3D Fatal1ty Champion 5.1 (Includes Front I/O) (PCI-Express Slot Based)
Extreme Cooling: H20: Stage 2: Corsair H100i 240mm Radiator Liquid CPU Cooler (Extreme-Performance Edition)
H20 Tube Color: Blue Tubing with High-Performance Fluid (UV Lighting Reactive)
Chassis Airflow: Upgrade Chassis With LED Performance Fans (Blue) (Up to 6 Fans)
Internal Lighting: Internal Chassis Lighting System (Blue)
Enhancements: - No Thanks
Chassis Mods: Processor & Video Card Area: Drill and Mount Two Side Window 140mm Fan Blow-Holes
Noise Reduction: Noise Suppression Package Stage 2 (Optimized Airflow & Fan Speeds with Noise Dampening Material)
LaserMark: - No Thanks
CPU Boost: Stage 2: Overclock CPU 4.5GHz to 4.8GHz (Requires Pro/Deluxe/Sabertooth Motherboard)
Graphics Boost: Yes, Overclock the video card(s) as much as possible with complete stability
Memory Boost: Memory Fan Kit Only (Does not include memory overclocking service)
OS Boost: Yes, Disable and tweak all of the non-crucial services on the operating system
Windows OS: Microsoft Windows 7 Ultimate (64-Bit Edition)
Recovery Tools: Windows Recovery Toolkit (Bundled with Windows CD)
Virus Protection: - No Thanks
Office: - No Thanks
Game: - No Thanks
Display: Asus 24 inch VG248QE Series (144Hz Refresh Rate) (Black) (1ms Response Time) (LED Backlight)
Surge Shield: - No Thanks
Speakers: Corsair High-power 2.1 System (Includes Subwoofer) (CA-SP211NA)
Keyboard: Corsair Vengeance K95 (Fully Mechanical Gaming Keyboard) (Black Brushed Aluminum Finish)
Mouse: - No Thanks
External Storage: - No Thanks
Exclusive T-Shirt: - No Thanks
Priority Build: Please Prioritize: Ship Within Four Business Days After Order Is Successfully Processed
Warranty: Life-time Expert Customer Care with 3 Year Limited Warranty
Sub-Total: $5,861.00
Tax: $0.00
S&H: Freight Delivery $471.65
Grand Total: $6,332.65
*****************************************************************
Here's an image of it in QA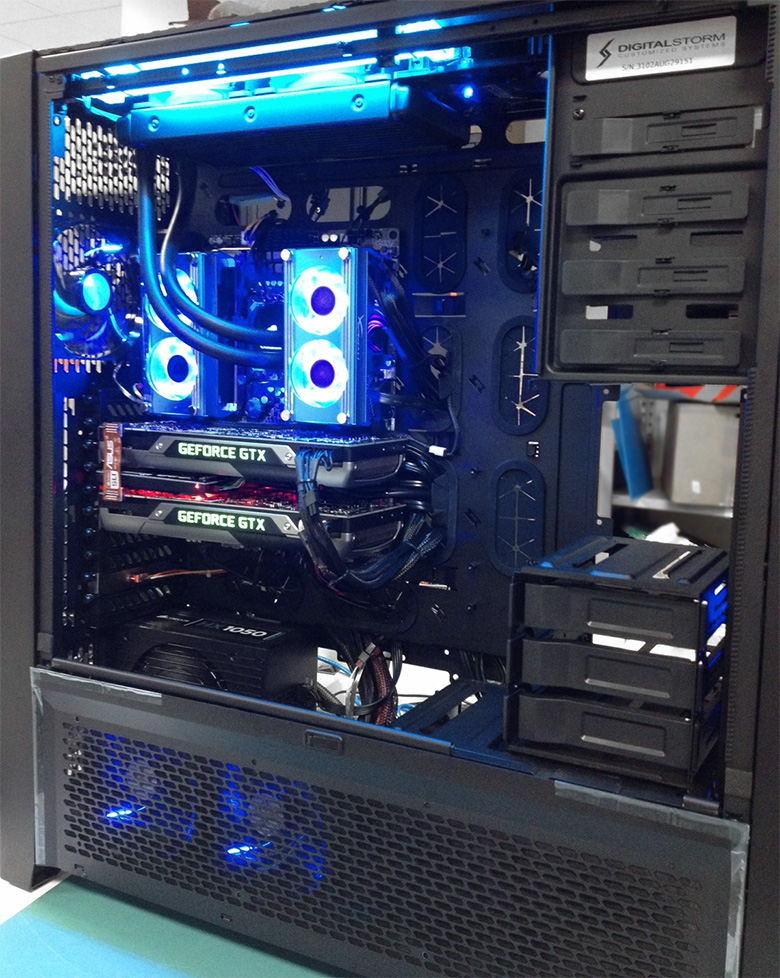 THANK YOU DIGITAL STORM THIS IS BY FAR THE BEST COMPUTER I HAVE EVER OWNED



Edited by Fritz 125 - 05 Oct 2013 at 4:19pm