So just messing around with my new system. Was running Baldurs gate in 4K Ultra and noticed that in my ICUE that at some point my GPU sensor #3 registered 88c, (not sure which area that is, since I didn't build this) should I be concerned? On the side note, the CPU never gets above 65c.
I didn't notice a bit of lag/choppiness or any sort of degradation of gameplay the entire session. Though it's odd going from my last DS build with a RTX 2070 that never got above room temp practically.
This is the first PC I've owned that blows enough hot air to be a room heater as a side job. The back panel was blowing out 101F air and the case was hot to the touch lol. Probably use it to warm up food.
Processor: AMD Ryzen 7 7800X3D (8-Core) 5.0 GHz Turbo (3D V-Cache)
Motherboard: ASUS ROG Strix X670E-E Gaming (Wi-Fi) (AMD X670 Chipset) (Up to 3x PCI-E Devices) (DDR5)
System Memory: 64GB DDR5 6000MHz Kingston FURY Beast RGB
Power Supply: 1500W Corsair HX1500i (Modular) (80 Plus Platinum)
Storage Set 1: 1x SSD M.2 (2TB Samsung 980 PRO) (NVM Express)
Storage Set 2: 1x SSD M.2 (4TB Kingston Fury Renegade) (NVM Express)
Storage Set 3: 1x Storage (10TB Western Digital / Seagate - Ultrastar Data Center / IronWolf)
Graphics Card(s): 1x GeForce RTX 4090 24GB (VR Ready)
Extreme Cooling: H20: Stage 3: Digital Storm Vortex Liquid CPU Cooler (Triple Fan) (Fully Sealed + No Maintenance)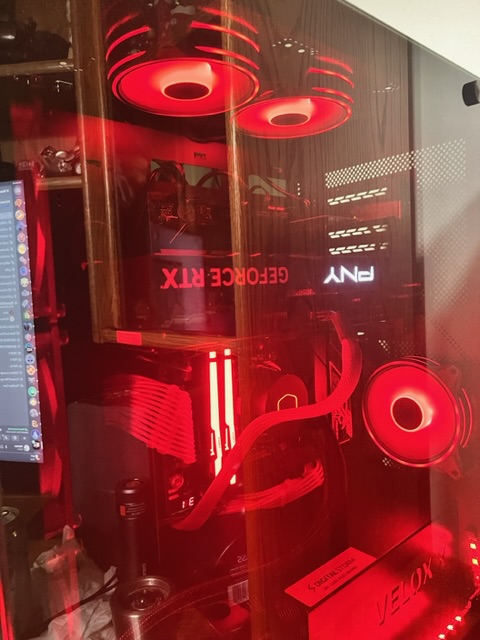 Monitor: Samsung G8 240hz 1ms 4K


Edited by Dondomingo - 08 Oct 2023 at 8:08pm