Hi everyone, ok the day finally arrived when my new Bolt 3 was being delivered and what a day this was. I ordered the below build on 5/2/16 and it was delivered today 5/18/16 by UPS. Since knowing this bad boy was in route, I took the day off of work (cough cough)to maximize my excitement.
5:00am - wake up and call in sick and pour coffee.
8:00am - start to wonder if it will arrive in the morning or afternoon.
10:00am - start to panic thinking it will be much later in the day.
11:00am - nothing
12:00pm - nothing, so made lunch
1:00pm - nothing, so take a nap
1:30pm - wife wakes me from deep sleep to say it had arrived
Rest of day was a blur!
Configuration:
Digital Storm Desktop - Config ID 1408930
Chassis Model: Special Deal Hot Seller - Pre-built Digital Storm Bolt 3
Exterior Finish: Black Brushed Aluminum Hairline Finish
Side Window: Edge to Edge Premium Acrylic
Processor: Intel Core i7 6700K 4.0GHz (Codename Skylake) (Unlocked CPU) (Quad Core)
Motherboard: GIGABYTE Z170N-Gaming 5 (Intel Z170 Chipset) (Mini-ITX) (Up to 1x PCI-E Device)
System Memory: 16GB DDR4 2666MHz Corsair Dominator Platinum DHX (Extreme-Performance)
Power Supply: 600W SilverStone SX600-G (Gold Plus Rated) (Supports up to GTX TITAN X)
Expansion Bay: - No Thanks
Optical Drive: DVD-R/RW/CD-R/RW (DVD Writer 8x / CD-Writer 8x)
Storage Set 1: 1x SSD (250GB Samsung 850 EVO)
Storage Set 2: 1x Storage (1TB Seagate / Western Digital / Toshiba)
Storage Set 3: - No Thanks
RAID Config: - No Thanks
RAID Card: - No Thanks
Internet Access: High Speed Network Port (Supports High-Speed Cable / DSL / Network Connections)
Graphics Card(s): 1x NVIDIA GeForce GTX 980 4GB (VR Ready)
Sound Card: Integrated Motherboard Audio
HPC Processor: - No Thanks
Extreme Cooling: Digital Storm HydroLux PRO (CPU Only)
HydroLux Tubing Style: Flexible Tubing (Requires HydroLux Liquid Cooling System)
HydroLux Fluid Color: Red Fluid (Requires HydroLux Liquid Cooling System)
Cable Management: Premium Cable Management (Strategically Routed & Organized for Airflow)
Chassis Fans: High Static Pressure - Corsair Air Series SP120 Fans (2x 120mm)
Internal Lighting: Software Controlled Internal + Front Panel RGB LED Lighting (Requires Airflow Control Upgrade)
Airflow Control: Digital Storm Thermal Management Control Board & Software
Chassis Mods: - No Thanks
Noise Reduction: - No Thanks
LaserMark: - No Thanks
CPU Boost: Stage 2: Overclock CPU - Up to 4.8GHz (Depends on Cooling and Motherboard)
Graphics Boost: - No Thanks, Please do not overclock my video card(s)
OS Boost: - No Thanks, Please do not tweak the services on the operating system
Windows OS: Microsoft Windows 10 Home (64-Bit Edition)
Recovery Tools: Windows Recovery Toolkit (Bundled with Windows CD)
Virus Protection: FREE: McAfee AntiVirus Plus (1 Year Service Activation Card) (Not Pre-installed) ($35 Value)
Office: - No Thanks
Game: - No Thanks
Display: - No Thanks
Surge Shield: - No Thanks
Speakers: - No Thanks
Keyboard: - No Thanks
Mouse: - No Thanks
Branded Gear: - No Thanks
Priority Build: - No Thanks, Ship Within 10-15 Business Days After Order Is Successfully Processed
Warranty: Life-time Expert Care with 3 Year Limited Warranty (
The box was bigger and sturdier than I expected and everything that you've read on the forums was true in that Digital Storm really does package these things nice and secure.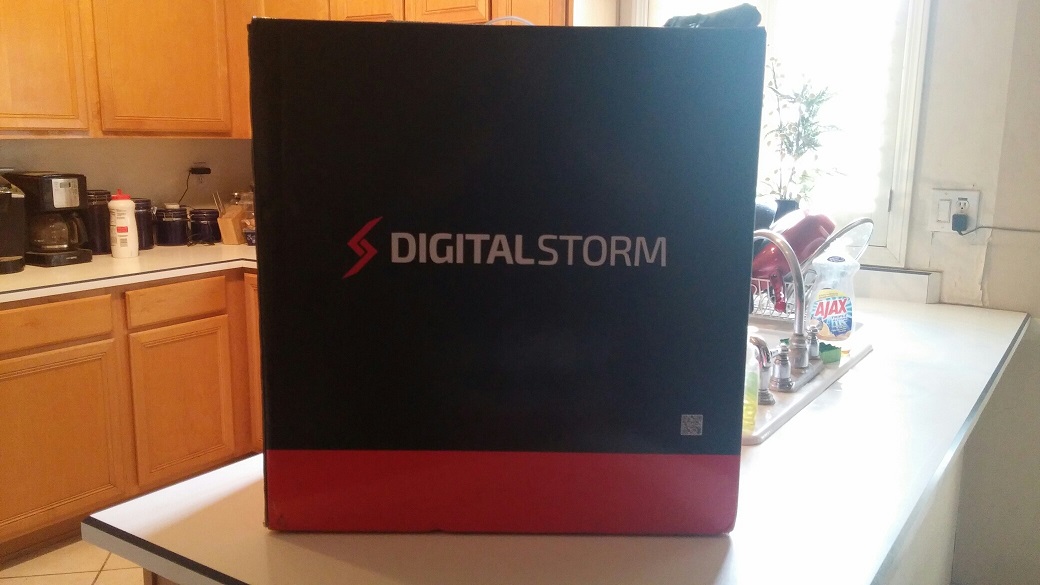 Once inside the box, I could see my accessories box right on top surrounded by foam inserts. It just looked tidy and secure. At the bottom of the box was my binder and this was a great idea to keep everything about your new rig in one place. Your configuration, your drivers, your certificate, etc. This also had another box which at first thought I was thinking it was a keyboard even though I did not order one but instead it was the bottom stand to complete the Bolt 3 look.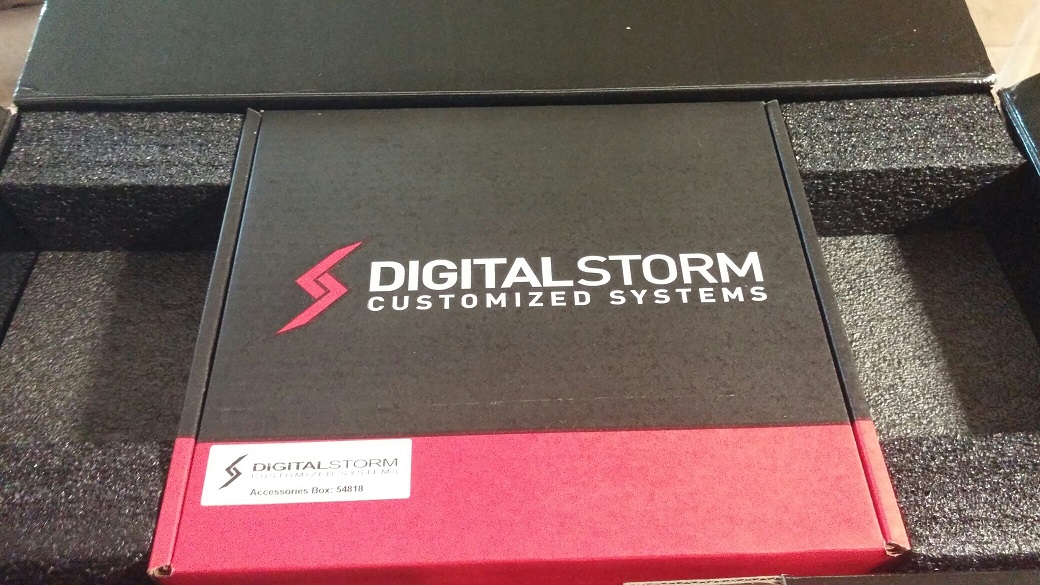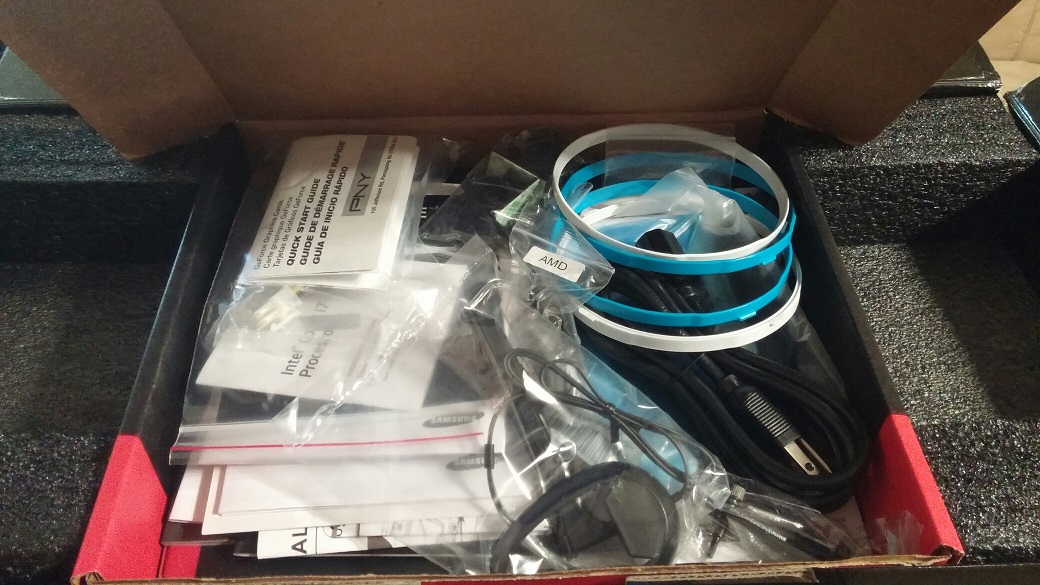 Next, was the computer itself which was nestled nice and snug in the foam inserts and comes with a nice mesh bag that keeps it in pristine condition. I took extra care when removing this bad boy and had someone push down on the box while I pull out the rig. I was a bit surprised as I had read in another review that the glass side would not be attached and packaged separately but mine was and honestly the way it was packaged up there was no need for it not to be. Everything with this rig was very secure and no marks or scratches anywhere.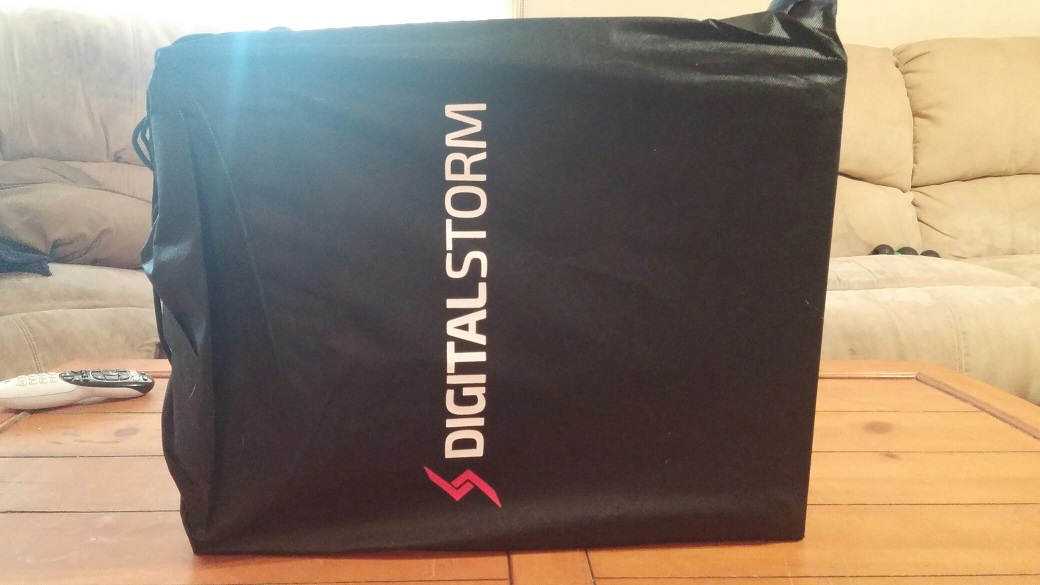 I did hook up the bottom stand at this stage and inspected all of the parts. You will need to remove the glass window to attach the base and that is a good time to ensure there is no chip creep and no leaks and to really get to know the inside of your computer and inspect for proper upgrades that were paid for. I enjoyed this part quite a bit. Mine did not have much foam inside but with this being a smaller case there was no room anyways. There was some foam inserts under the video card to stabilize which I'm really happy they did this this to prevent this big card from putting too much pressure on the slot itself as I was thinking about that during the shipping phase.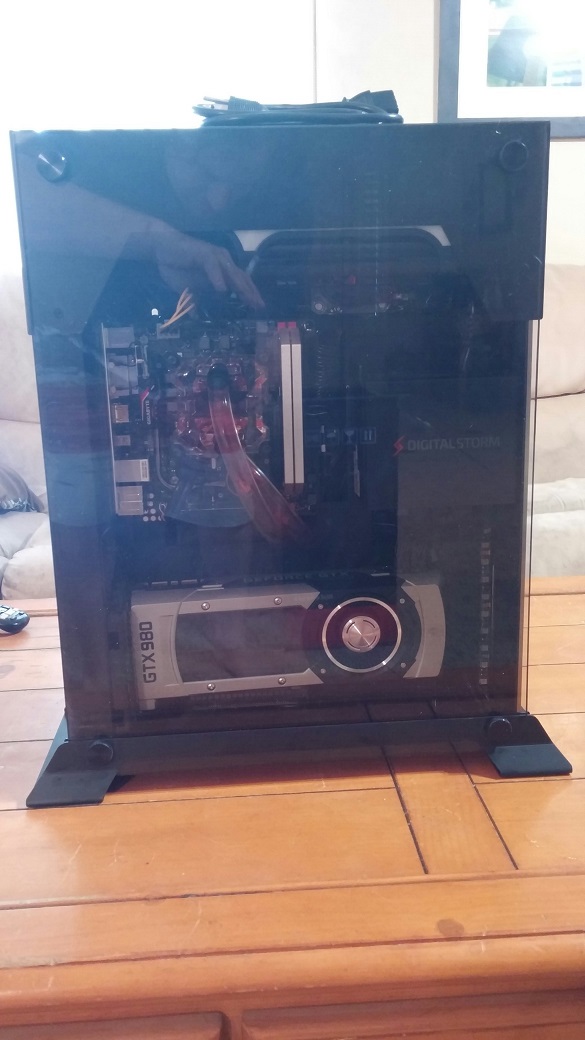 Next, I took off the back panel to inspect this side. I mean the neatness of the glass side with cables and tubing makes you have to believe this side would be in shambles. Nope, not at all as everything looks solid mounted and neat here too for the space they had to work with. I was pleasantly surprised at the craftsmanship that went into everything. Excellent job.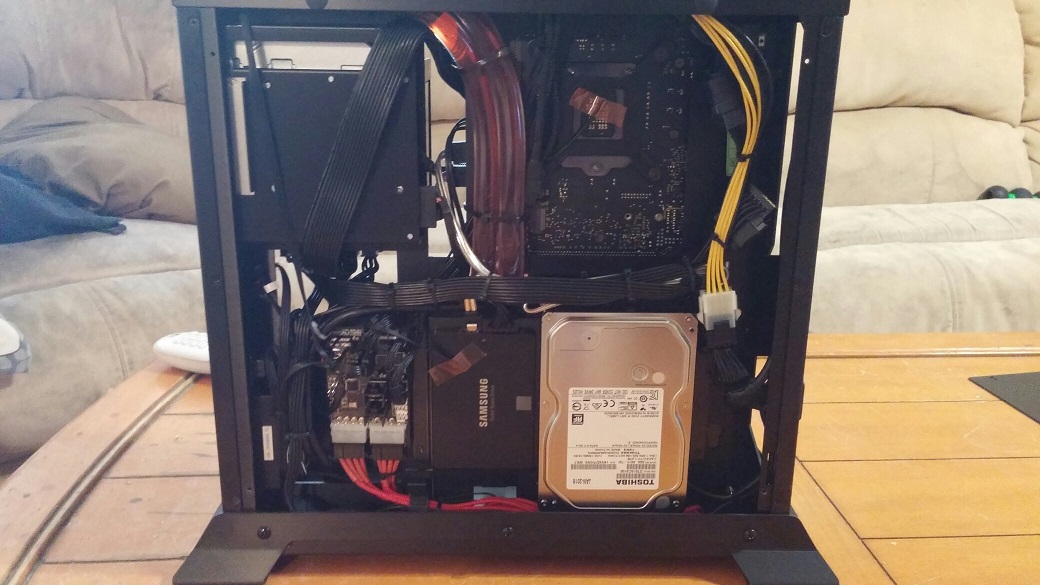 Ok, now it was time to finally boot up. Now, I've built computers in the past and have always stressed the most upon first boot-up and as I reached for the power button I paused for a quick moment and thought there's no way it's not going to fire up as the build so far was amazing it had to work. Bam, instantly it booted right up with red light a glowing. I have to be honest and say I was mesmerized by the soft red glow and the light on the video card just added the perfect accent. In no time, I was at my new Windows10 desktop and off to the races getting everything configured to my liking I was.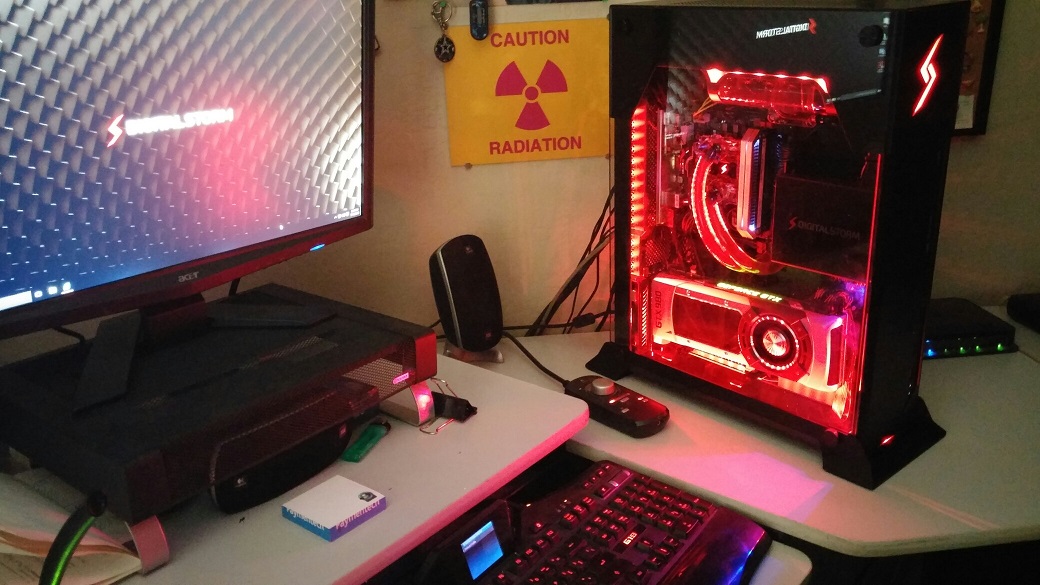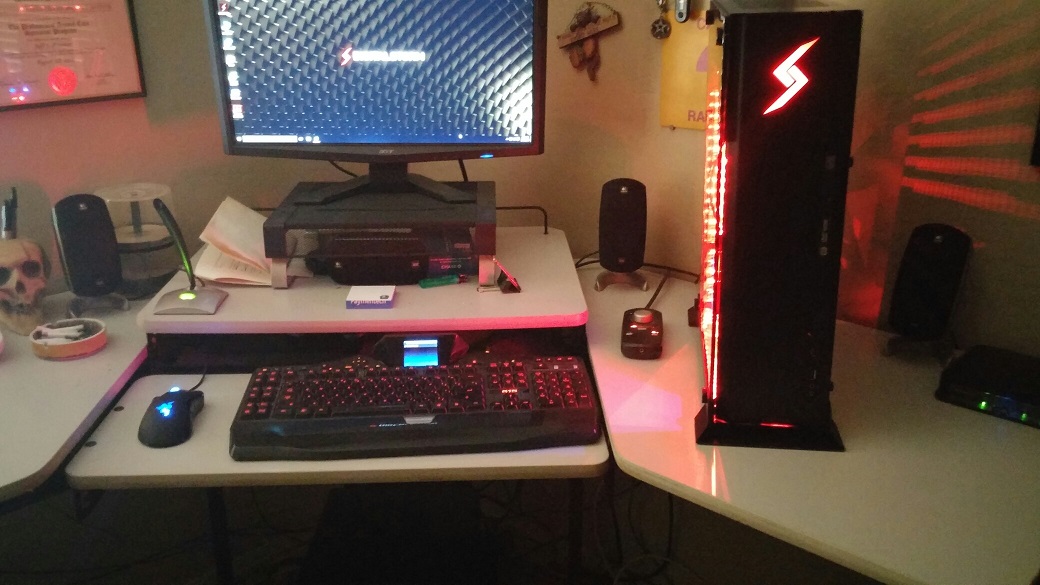 I started to mess with the full color scheme and purple on this rig is awesome too. I can't settle on one just yet.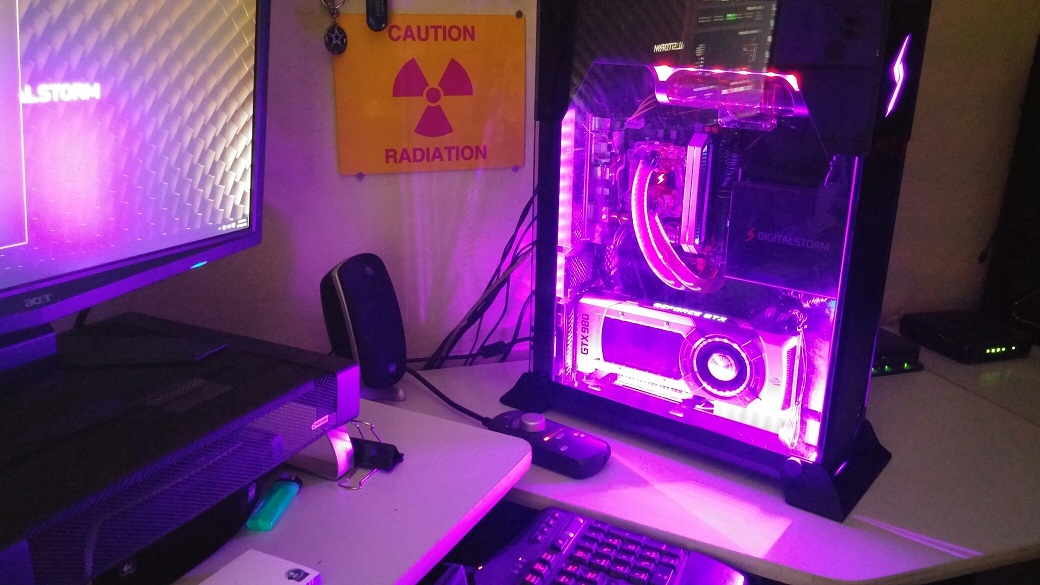 My final analysis on a scale of 1-10 is definitely a 10. This has been just a great experience from the get go. I had to stay within a budget and props go out to Jericho there as he really helped me out and made this happen for me. More props to Alex too as he was very professional with me and answered all my questions and intervened when asked. That goes such a long way. Everything that was told to me was accurate and although build, test and shipping timeframe of 10-15 days seems like a lot it's not when you see what the final product delivered is. A+
Digital Storm you guys are doing things right over there and I will definitely buy from you guys in the future and refer anyone who is in the market for a gaming system to go with you guys. Thanks for an incredible build and I'm very happy with this power house that you guys built and tested for me. Now it's Star Citizen time!
Hope you all enjoyed my review as much as I enjoyed giving it.