Hi,
I bought 2 Digital Storm gaming pc's 12 years ago and they are both still running to this day, with some upgrades along the way. They both lived up to the reputation that made me order through DS to begin with.
Now i'm looking to replace both of them with 2 new system builds.
Here's a build that i came up with for review.
1) Is the 850W power supply sufficient ?
2) Should i go with the RTX 4070 over the 4070ti ?
It will be used mostly for gaming and online trading platforms. I also want an audiophile grade soundcard. I'll be using a 43" Asus ROG Strix monitor for each pc.
Budget is $3500-4000 for each build
Thanks for any

Configuration Code: 4663960
Total Price with Instant Savings: $4,003.00
Direct Load URL: https://www.digitalstorm.com/configurator.asp?id=4663960
Specifications:
Chassis Model: Digital Storm Velox
Exterior Finish: - Standard Factory Finish
Trim Accents: - Standard Factory Finish
Processor: Intel Core i5-13600KF (5.1 GHz Turbo) (20-Thread) (14-Core) 3.5 GHz (Raptor Lake) <br><strong></strong>
Motherboard: ASUS Prime Z790-P D5 (Wi-Fi) (Intel Z790 Chipset) (Up to 3x PCI-E Devices) (No SLI) (DDR5)
System Memory: 64GB DDR5 6000MHz Kingston FURY Beast RGB <br><strong></strong>
Power Supply: 850W Corsair RMx Series (Modular) (80 Plus Gold) <br><strong></strong>
Expansion Bay: - No Thanks
Optical Drive: - No Thanks
Storage Set 1: 1x SSD M.2 (2TB Samsung 980 PRO) (NVM Express) <br><strong></strong>
Storage Set 2: 1x SSD M.2 (2TB Samsung 980 PRO) (NVM Express) <br><strong></strong>
Storage Set 3: - No Thanks
RAID Config: - No Thanks
RAID Card: - No Thanks
Internet Access: High Speed Network Port (Supports High-Speed Cable / DSL / Network Connections)
Graphics Card(s): 1x GeForce RTX 4070 Ti 12GB (VR Ready) <br><strong></strong>
Sound Card: Creative Sound Blaster AE-7 (Hi-Res) (Ultimate Audio Playback) <br><strong></strong>
HPC Processor: - No Thanks
Extreme Cooling: AIR: Stage 2: Noctua NH-D15 chromax.black (Extreme Performance) <br><strong></strong>
HydroLux Tubing Style: - Not Applicable, I do not have a custom HydroLux liquid cooling system selected
HydroLux Fluid Color: - Not Applicable, I do not have a custom HydroLux liquid cooling system selected
Cable Management: Exotic Cable Management - Black - (Cable Combs with Custom Color Sleeved Extension Cables) <br><strong></strong>
Chassis Fans: Standard Factory Chassis Fans
Internal Lighting: Remote Controlled Advanced LED Lighting System (Multiple RGB Color Modes)
Airflow Control: - No Thanks
Chassis Mods: - No Thanks
Noise Reduction: - No Thanks
LaserMark: - No Thanks
Boost Processor: Turbo Boost Advanced Automatic Overclocking
Boost Graphics Card(s): - No Thanks, Please do not overclock my video card(s)
Boost OS: - No Thanks, Please do not tweak the services on the operating system
Windows OS: Microsoft Windows 11 Professional (64-Bit) <br><strong></strong>
Recovery Tools: USB Drive - Windows Installation (Format and Clean Install)
Virus Protection: Windows Defender Antivirus (Built-in to Windows)
Office: - No Thanks
Mouse Pad: - No Thanks
Display: - No Thanks
Surge Shield: - No Thanks
Speakers: - No Thanks
Keyboard: - No Thanks
Mouse: - No Thanks
Branded Gear: - No Thanks
Priority Build: - No Thanks, Ship Within 10-15 Business Days After Order Is Successfully Processed
Warranty: Life-time Expert Care with 3 Year Limited Warranty (3 Year Labor & 1 Year Part Replacement)
My two 12 year old DS systems i bought in 2011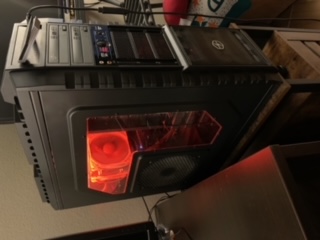 Edited by slicejones - 03 Oct 2023 at 1:14am