Well, my new DS Gaming Rig finally arrived today.  The wait has been torture but well worth it.  I have been itching for a new gaming PC for the past few months now and like always started to do my research.  My current PC was from Overdrive PC and it is 3 years old.  They are a small boutique builder out of Georgia that was acquired by Velocity Micro a year or two ago.  The two guys I dealt with from OPC (Mario & Aaron) are no longer there and that played a part into my decision to make a new purchase instead of sending it back to them for upgrades.  MY OPC has been a fantastic machine.  My PC before that was an Alienware.  I don't have anything bad to say about either company as my experiences with both of them were excellent. 
So after researching ********, Velocity Micro, Digital Storm, Falcon NW, and a couple of others,  it was narrowed down to ******** and DS.  I enjoyed my experience with OPC and Alienware when they were considered smaller boutique builders and wanted to purchase from the same type of company.   Anyway, I finally made the decision to purchase from DS.  The combination of performance, customer service, and price won out in the end.  I felt as if I was getting more system for the same amount of money with DS.  Throw in the promo and an active community forum and I knew I made the right choice.
The new DS rig will be used for mostly gaming on a 1920 x 1200 monitor with an upgrade to larger monitor in the future.  I lurked in the DS forums for quite some time reading all the different configuration threads.  I only wanted to spend around $2800 to $3000.  I knew for this price I could get a top notch gaming rig from DS.
I really liked the colors DS posted of the Tesla system with yellow hose clamps and green cooling liquid.  I asked Sarah if that could be done for my rig and she said yes.   I wanted to do something a little different than just red.  I was hoping the liquid was going to be more yellowish like the Tesla pics but I still like it. 
 Digital Storm Desktop 133340 Quantity: 1 $3,001.00
 PROMOTIONAL LIMITED TIME BONUS DISCOUNT: $300 Quantity: 1 ($300.00)
 
System Configuration:
Chassis Model: Cooler Master HAF 932
Exterior Finish: - Standard Factory Finish
Interior Finish: - Standard Factory
Finish Trim Accents: Paint Screws and Hose Clamps – I ASKED FOR YELLOW
Processor: Intel Core i7 920 2.66GHz (Quad Core)
Motherboard: EVGA X58 3X SLI (Intel X58 Chipset) (Supports Triple SLI or CrossFire)
System Memory: 6GB DDR3 1333MHz Digital Storm Certified by mushkin enhanced (Highly Recommended) (Hand Tested)
Power Supply: 1000W Corsair HX (Dual/Triple/Quad SLI Compatible) (Silent Edition)
Card Reader: - No Thanks
Hard Drive Set 1: Operating System: 1x (500GB Western Digital (16MB Cache) (7200 RPM) (SATA)
Set 1 Raid Options: - No Thanks
Hard Drive Set 2: Multimedia\Data: 1x (500GB Western Digital (16MB Cache) (7200 RPM) (SATA)
Hard Drive Set 3: Backup\Misc.: - No Thanks
Optical Drive 1: DVD±R/RW/CD-R/RW (DVD Writer 20x / CD-Writer 48x)
Optical Drive 2: - No Thanks
Internet Access: High Speed Network Port (Supports High-Speed Cable / DSL / Network Connections)
Video Card(s): 2x SLI Dual (NVIDIA GeForce GTX 275 896MB (Includes PhysX Technology)
Add-on Card: - No Thanks
Sound Card: Razer Barracuda AC-1 (Recommended)
Extreme Cooling: H20: Stage 3: High-Performance Liquid Chilled FrostBite System For CPU
Liquid Color: UV Green: High Glowing Non-conductive Fluid (Requires H20: Stage 3 & UV Lighting)
Chassis Airflow: Standard Factory Chassis Fans
Internal Lighting: Internal Chassis Lighting System (UV) (Creates Glowing Effect For H20: Stage 3 UV Fluid)
Enhancements: - No Thanks
Chassis Mods: - No Thanks
CPU Boost: Stage 1: Overclock the processor between 3.3GHz to 3.9GHz (Requires Air Cooling Upgrade)
Graphics Boost: - No Thanks, Please do not overclock my video card(s)
Memory Boost: Memory Fan Kit Only (Does not include memory overclocking service)
Windows Boost: - No Thanks, Please do not tweak the services on the operating system
Windows OS: Microsoft Windows Vista Home Premium (64-Bit Edition)
Restore Kit: Digital Storm Specialized Recovery System (DVD Image Based)
Virus Protection: - No Thanks
Office: - No Thanks
Benchmarking: - No Thanks
Pre-Install Game: - No Thanks
LCD Display: - No Thanks
Surge Shield: - No Thanks
Speakers: - No Thanks
Keyboard: - No Thanks
Mouse: - No Thanks
External Storage: - No Thanks
Exclusive T-Shirt: - No Thanks
Priority Build: - No Thanks, Ship Within 5-10 Business Days After Order Is Successfully Processed
Warranty: 3 Year Platinum Care Extended Parts & Labor Warranty
 
Sub-Total: $2,701.00
Tax: $0.00
S&H: Ground $0.00
Grand Total: $2,701.00
 
Ordering
 
Once I decide on the config, I called Sarah.  She approved and I placed my order and readied myself for the torture of waiting.  She even threw in a free copy of Far Cry 2 and a T-shirt.  I also called Sarah several times after the order was placed due to having some second thoughts about a few options and she eased my worries…LOL.
 
Sarah was very cool and patient through the whole thing and helped me get the shipping upgrade the day it shipped.
 
Processing
Ordered 6/19
Stage 1 – 6/19
Stage 2 – 6/22
Stage 3 – 6/22
Stage 4 – 6/25
Stage 5 – 6/25
Stage 6 – 6/30
Stage 7 – 7/1   SHIPPED!!!
 
Order was shipped 9 business days from the date I placed it. Very impressive! 
Well, that is it for now. The rig just arrived and the only thing I had time to do was unpack it and take some pictures before I had to go back to the office.  I will get it up and running tonight.  Enjoy the first round of pics.  Rest of the pics can be seen here:
 
 
 
 
 
 
 
 
 
 
 
It looks fantastic.
 
***UPDATED***
So far so good.  I have had one little hiccup with the sound but it must be my new headphones because my other headphones work like a charm.  I purchased some Razer Barracuda Headphones to go with the sound card but for some reason can't get any sound.  My other headphones work though so there may be a setting or something I'm missing.  Might give DS a call tomorrow see if they can help.
 
No gaming yet.  I have been installing and downloading some games...Arma II, Age of Conan, BF Heroes, Empire at War.  I'm about to install Far Cry 2.
 
Enjoy some new pics:
 
 
 
 
 
 
 
 
 ***Update***
Set UP
Well, I finally had a chance to get the new DS up and running.  Set up was a breeze.  Everything has worked perfectly.  I originally thought I had an issue with my new headphones but I just missed the setting in the Razer Soundcard configuration to make them work.  So far this machine has been an absolute joy.
Performance
WOW!  What can I say?  It freaking rocks.  I don't do any type of benchmarking or anything but it has handled everything I have thrown at it and then some with ease.  This is what I have been playing at 1920 x 1200 with pretty much high or max settings.ARMA II - looks fantastic and runs really well at my res and high settings.  this game is a hog too.Crysis - very smooth on combination of high settingsEmpire Total War - the real time battles look amazing, game play is super smooth on highAge of ConanBF HeroesFar Cry 2I am also very pleased with the noise level which is something I was conerned with.  The system is relatively quiet.
Final Thoughts
My experience from choosing a config, to ordering, order processing, shipping, and performance has been nothing but top notch.  I believe I will be a DS customer for life.  Basically, this is one killer system.Here is pic of my desktop.  Finally got it setup how I like.  Stole the wallpaper from someone on this forum...LOL. If anyone has requests for more pics let me know.  I will be happy to oblige.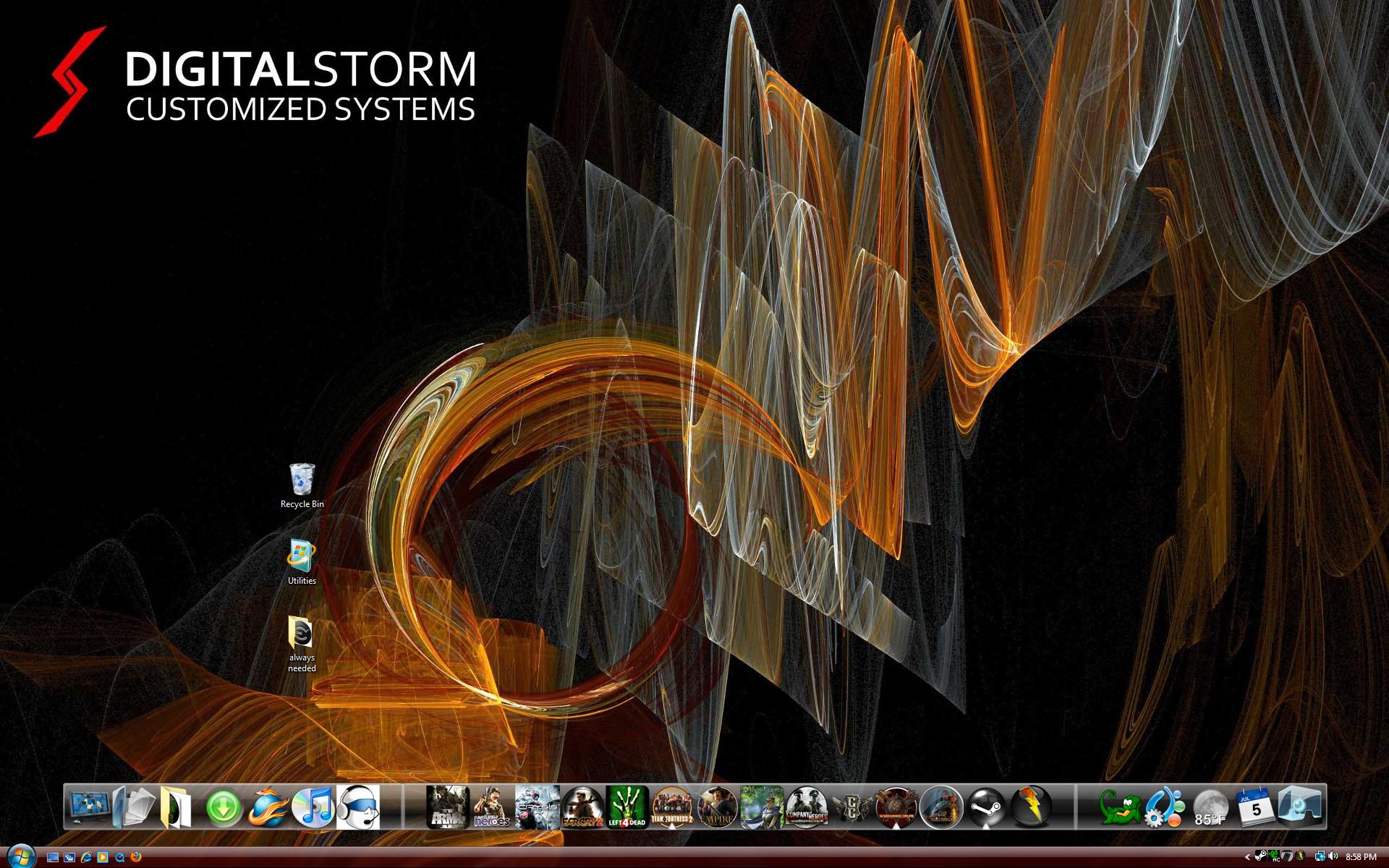 Edited by Alex - 04 Oct 2010 at 9:18pm