As you can see below my new rig is installed and the furnace is glowing as it churns out massive frames per second and ultimate graphics settings on my games.

I am extremely happy and impressed with this machine, Before with my Ibuypower Dual core I was getting maybe 30-40 fps in unpopulated areas of Age of Conan using DX-9, in raids with 24 players, massive graphics and particles I was looking at 9 fps or if I turned everything low with no world particles I was getting maybe 20.
Now?... omg OMG FRIKKIN 120FPS!!! So Sweet... My guildies told me to shut up cuz I was babbling like a fool! (thats with 1 of my dual 470's off!)
I dipped in to a few other games... max settings... flawless!
OK... the rig arrived with a rattle, turns out a screw came loose during transit, The Power switch on the back had been left on (no biggy but might bug some people). I'd asked for blue light... little did I know the front fan would glow red... I actually like the effect but some may be surprised. I probably missed a sentence about the RED led fan. Not 1 but TWO DS tech's called me to check on my system and whether I was happy. One of them even hooked me up with their Gchat so we could go through stuff!
Digital Storm is by far the best system builder out there hands down! My hats off to you guys, seriously!
Well Done
And
Thank You
Chris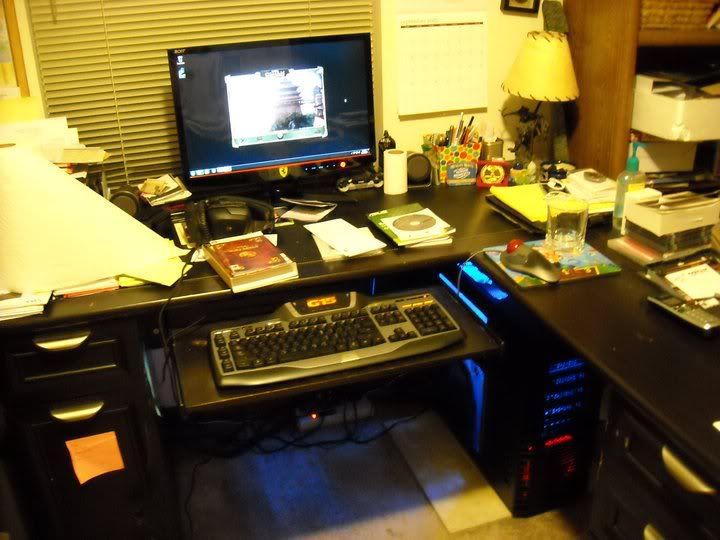 The build:
Order Contents:
- Digital Storm Desktop 240140 Quantity: 1 $2,366.00
System Configuration:
Chassis Model: Special Deal Hot Seller - Cooler Master HAF 932
Exterior Finish: - Standard Factory Finish
Trim Accents: - Standard Factory Finish
Processor: Intel Core i7 950 3.06GHz (Quad Core)
Motherboard: EVGA X58 LE Edition SLI (Intel X58 Chipset) (Model: 141-BL-E757-TR)
System Memory: 6GB DDR3 1600MHz Digital Storm Certified Performance Series (Highly Recommended) (Hand Tested)
Power Supply: 1000W Digital Storm Certified (Dual/Triple/Quad SLI Compatible) (Silent Edition Highly Recommended)
Hard Drive Set 1: Operating System: 1x (40GB Solid State (By: Intel) (Model: X-25V Edition) (Extreme Performance)
Hard Drive Set 2: Multimedia\Data: 1x (500GB Western Digital (16MB Cache) (7200 RPM)
Optical Drive 1: DVD-R/RW/CD-R/RW (DVD Writer 24x / CD-Writer 48x)
Internet Access: High Speed Network Port (Supports High-Speed Cable / DSL / Network Connections)
Video Card(s): 2x SLI Dual (NVIDIA GeForce GTX 470 1.2GB (Includes PhysX Technology)
Sound Card: Integrated Motherboard Audio
Extreme Cooling: AIR: Stage 1: Noctua NH-U12P SE Dual 120mm Fans High
Chassis Airflow: Standard Factory Chassis Fans
Internal Lighting: Internal Chassis Lighting System (Blue)
CPU Boost: FREE: Stage 1: Overclock the processor between 3.3GHz to 3.9GHz (Cooling Upgrade Recommended)