Ok people, here's my review of my new ODE V2 L4 system from Digital Storm.
I'm not a noob to the Digital Storm world. This is my 3rd system from this great company. My first was back in 2006, 2nd in 2008, and now my 3rd in 2013. No problems at all with my first system. 2nd one had a mobo issue about 2.5 years into service and after two trips back to DSO that finally got resolved.
So, my old system is still running but with my son now reaching the age of computer gaming between Call of Duty and Minecraft he needed a computer. So I passed it onto him and ordered up a ODE V2 L4 system for myself.
After a few weeks of trying different configs, and to be honest, looking at different companies, I found myself right back where i started....Digital Storm. I almost ordered an Alienware system but came back to my senses after I looked at pros and cons of them vs. DSO. After saying to myself why would I buy from a company you rarely hear good things about and with DSO you hear pretty much nothing but glowing reviews and I've experienced the great customer service and warranty myself from DSO? I looked at a few of the other botique builders and I'm sure they make great systems too, but when you can get the same from Digital Storm for A LOT less why would you?
OK, onto the review....
Ordered: Thursday, January 24th 2013
Stage 1: Thursday, January 24th
Stage 2: Monday, January 28th
Stage 3: Monday, January 28th
Stage 4: Monday, January 28th
Stage 5: Monday, January 28th
Stage 6: Tuesday, January 29th
Stage 7: Tuesday, January 29th
Shipped: Tuesday, January 29th
Received: Monday, Febuary 4th
(sat on FedEx truck, ready for delivery since Saturday. 15 minutes from my home, that sucked)
I'm sure these pre-configured systems are built quite often and probably a lot faster for DSO to build. Needless to say, I was more than happy (again) with the ordering/build process of Digital Storm.
I work night shifts from 7pm to 7am, my system arrived at approx 11am on Monday. I got it hooked up and tinkered with it for about an hour before having to head back to bed. Needless to say, knowing it was here I didn't sleep well.
This past Wednesday I was off so I got to do a lot with it. Boy, this thing is fast...
My previous system, running Vista Ultimate with an Intel Core2 quad Q9300 with 4gb ram just doesn't hold a candle to this beast!
ODE v2 L4 specs:
Chassis Model: Special Deal Hot Seller - Pre-built Digital Storm ODE V2 - Level 4
Exterior Finish: - Standard Factory Finish
-- I love the white case, really stands out and different from the "normal".
Trim Accents: - Standard Factory Finish
Processor: Intel Core i7 3770K 3.50 GHz (Unlocked CPU) (Quad Core) (Requires Z77 Motherboard)
Motherboard: ASUS SABERTOOTH Z77 (Intel Z77 Chipset) (Features Thermal Armor and Thermal Radar)
--I've heard and read really great reviews on this mobo.
System Memory: 16GB DDR3 1600MHz Digital Storm Certified Performance Series (Highly Recommended) (Hand Tested)
Power Supply: 800W Corsair GS (Dual SLI Compatible)
Expansion Bay: - No Thanks
Hard Drive Set 1: Operating System: 1x (120GB Solid State (By: Corsair) (Model: Neutron GTX Series) (SATA 6Gbps)
-- Love the SSD Drive - boots amazingly fast!
Set 1 Raid Options: - No Thanks
Hard Drive Set 2: Multimedia\Data: 1x (1TB Western Digital/Seagate/Hitachi/Samsung (7200 RPM) (32MB Cache)
-- Plenty of extra storage with this. I also bought a 3TB WD My Book Live network hard drive. I will no doubt have plenty of storage capability.
Hard Drive Set 3: Backup\Misc.: - No Thanks
Optical Drive 1: Blu-Ray Player/DVD Writer (Play Blu-Ray and Burn DVDs)
-- Happy to finally have BR capability on my pc. Watched a few minutes of Taken2 on it, WOW!
Optical Drive 2: - No Thanks
Internet Access: High Speed Network Port (Supports High-Speed Cable / DSL / Network Connections)
Video Card(s): 2x SLI Dual (NVIDIA GeForce GTX 670 2GB (Includes PhysX)
-- So far I have only played COD: BOII - solid and steady 60 fps and total eye candy. The bad, they get loud when they are stressed. No software to control the fan speeds.
Add-on Card: - No Thanks
Sound Card: Integrated Motherboard Audio
-- I was very concerned about not getting a sound card, I had advice that this would do just fine. I figured I would try the mobo sound and get a Sound Blaster later on. So far, I'm happy with it..not sure I will need a sound card.
Extreme Cooling: H20: Stage 2: Digital Storm Vortex 240mm Radiator Liquid CPU Cooler (Extreme-Performance Edition)
H20 Tube Color: - Not Applicable, I do not have a FrostChill or Sub-Zero LCS Cooling System Selected
Chassis Airflow: Standard Factory Chassis Fans
Internal Lighting: Internal Chassis Lighting System (Red)
Enhancements: - No Thanks
Chassis Mods: - No Thanks
Noise Reduction: - No Thanks
LaserMark: - No Thanks
CPU Boost: Stage 2: Overclock CPU 4.5GHz to 4.8GHz
Graphics Boost: - No Thanks, Please do not overclock my video card(s)
Memory Boost: - No Thanks, Please do not overclock my memory
OS Boost: - No Thanks, Please do not tweak the services on the operating system
Windows OS: Microsoft Windows 7 Home Premium (64-Bit Edition)
Recovery Tools: Windows Recovery Toolkit (Bundled with Windows 7 CD)
I asked DSO to change the lighting from Red to Blue, and I added the advanced recovery partition.
I had a few other concerns with this pre-configured system. I wanted a few other extras, but I figured I would just add them later. The other concern was there was no blu-ray playback software. Another expense I didn't want, but I could just buy that later too, or try some free software off the internet. I ended up getting an email from Nero yesterday (found in my spam folder) for Nero12 Platunum for $39 bucks, so I pulled the trigger and got it.
Now for my Cons:
Noise:
- My last pc had EVGA cards also, and software that I could control and over clock them and control the fan speeds. My new one does not, and it gets pretty loud when I'm tasking it. So loud you can hear it down the hall in the family room/kitchen in my house. It sits up on the desktop of my desk (see pics below) I may have to move it down by my feet, we'll see. I would have assumed I would have had similar software with this pc, but I guess not.
No Bluray playback software:
Wasn't too happy about spending this kind of money for a pc with a bluray player and then having to buy software. It worked out in the end with me finding a program that I liked though.
Neutral points:
Lack of front USB 3.0 ports:
Only one usb 3.0 port on the front. However I do realize this is more of a limitation of the case, not DSO. All of the usb ports on the back are usb 3.0 so that is good.
Positives:
4 YEAR WARRANTY - that is awesome.

Digital Storm Tech support - it's simply the best

Quality - 10 of 10 - I checked this thing out from head to toe when I took it out of the box. No scratches, everything was seated properly and didn't seem to jossle out of position other than the SLI bridge had fallen off and was loose.

Here are some pics: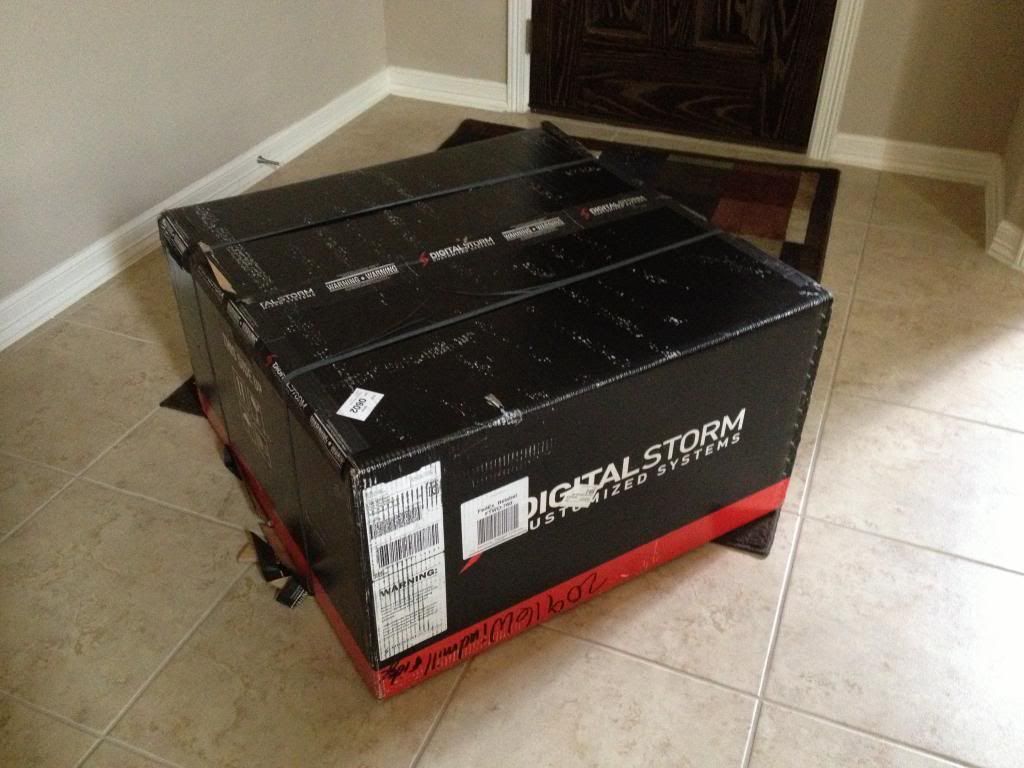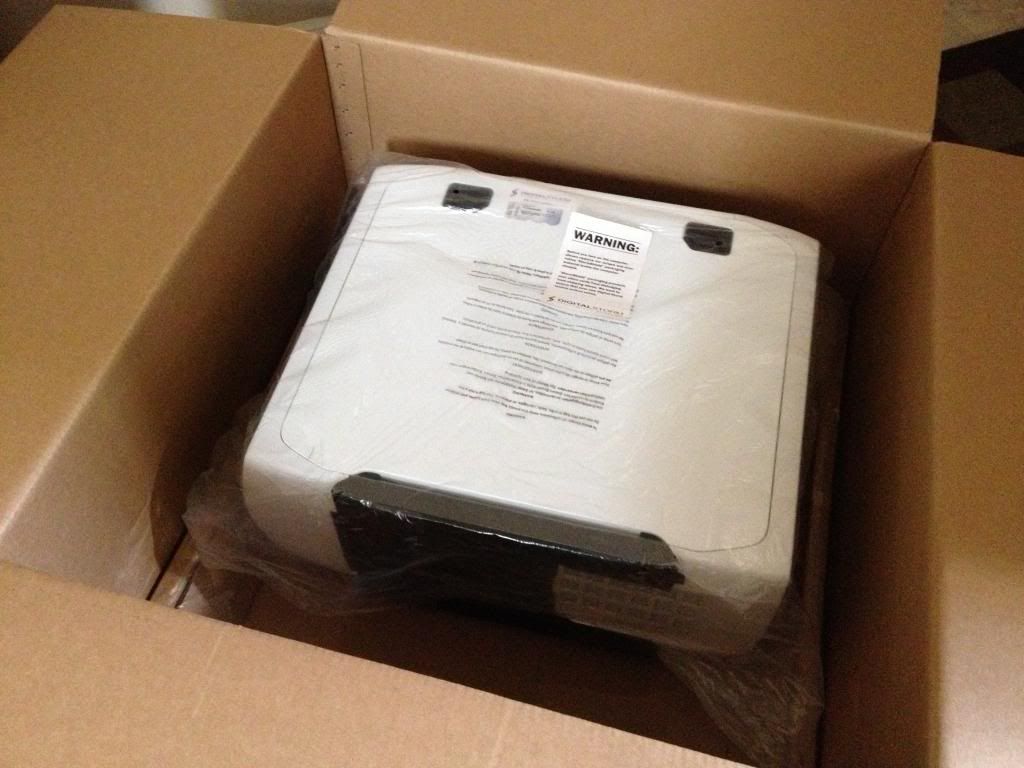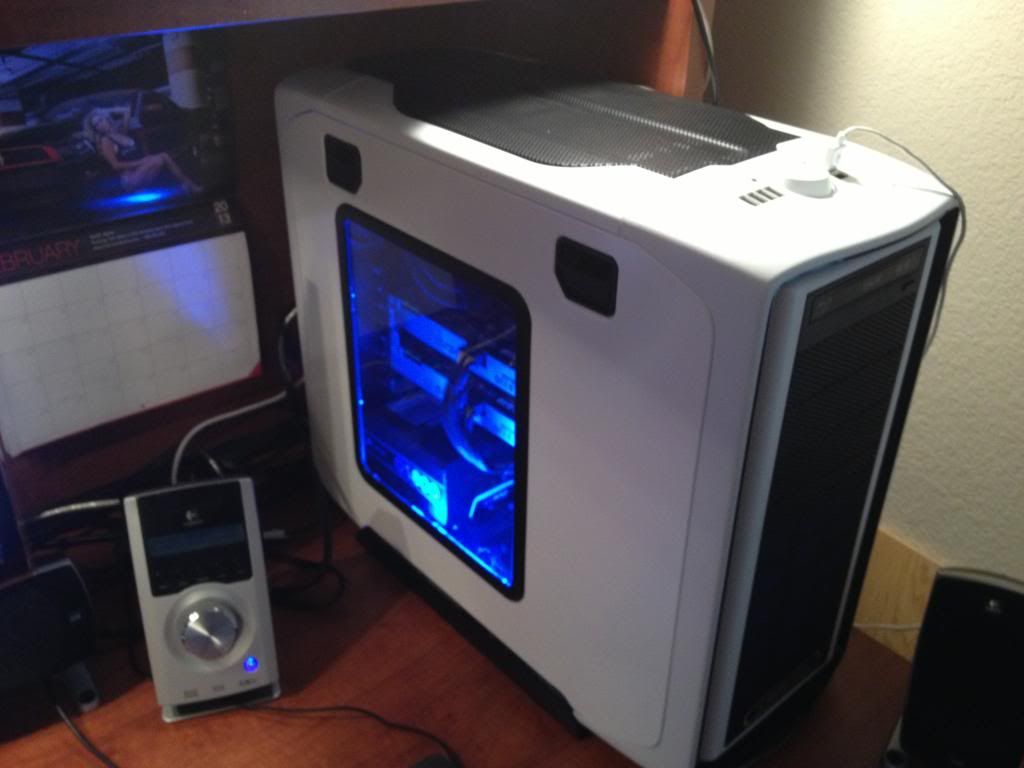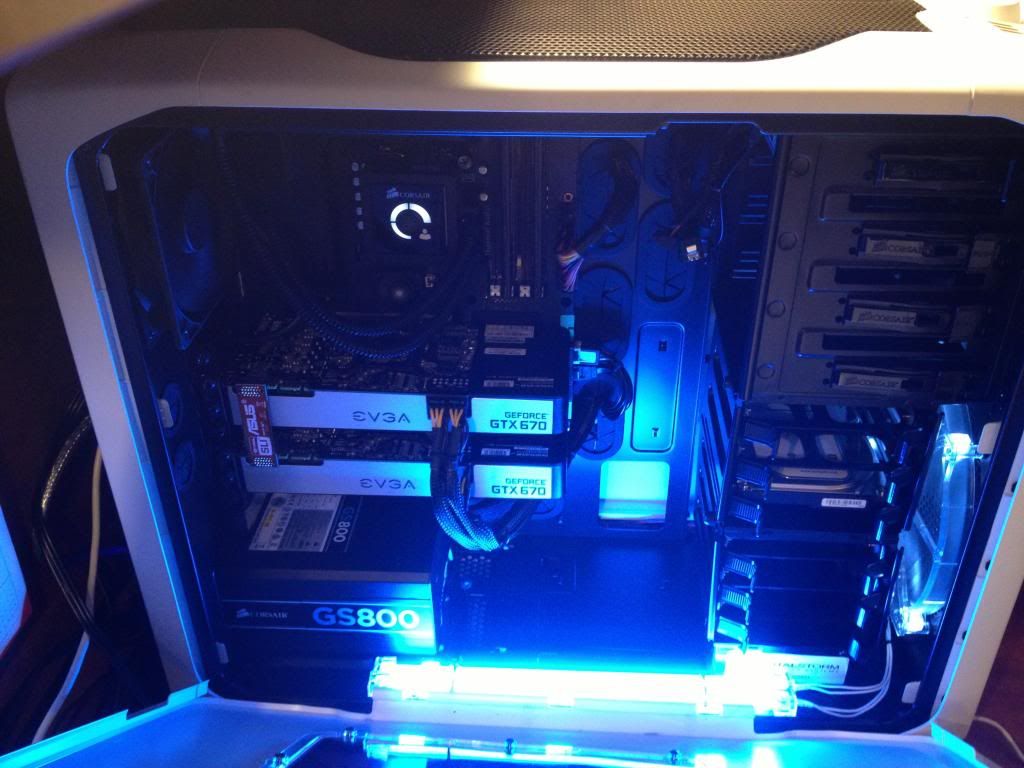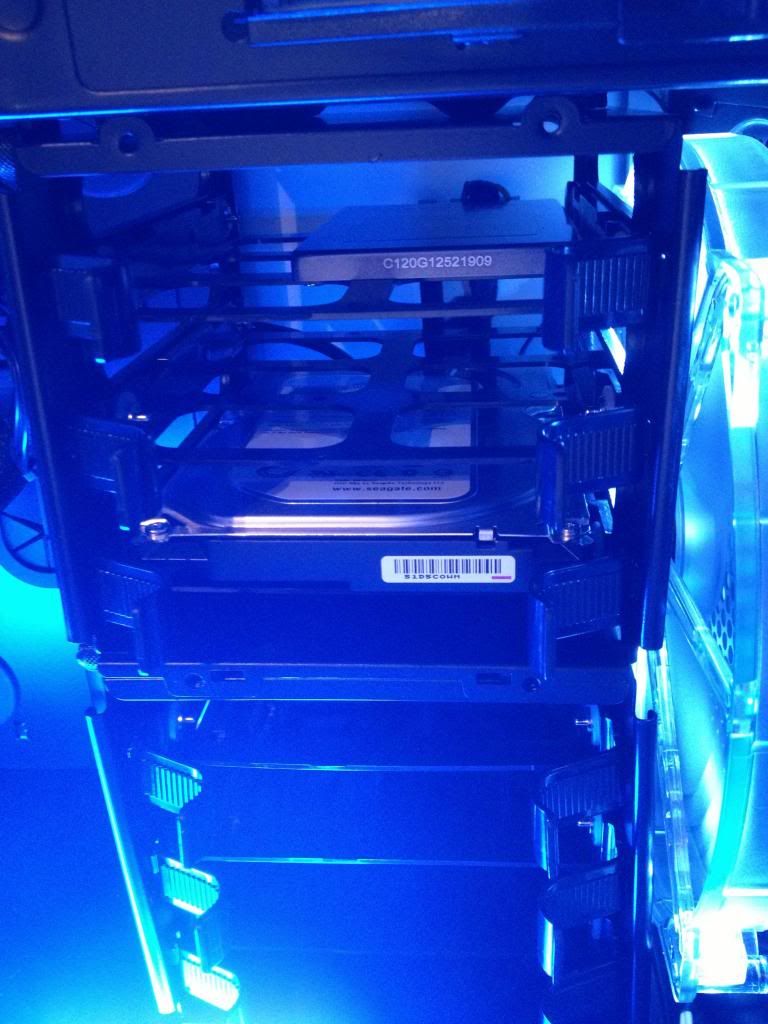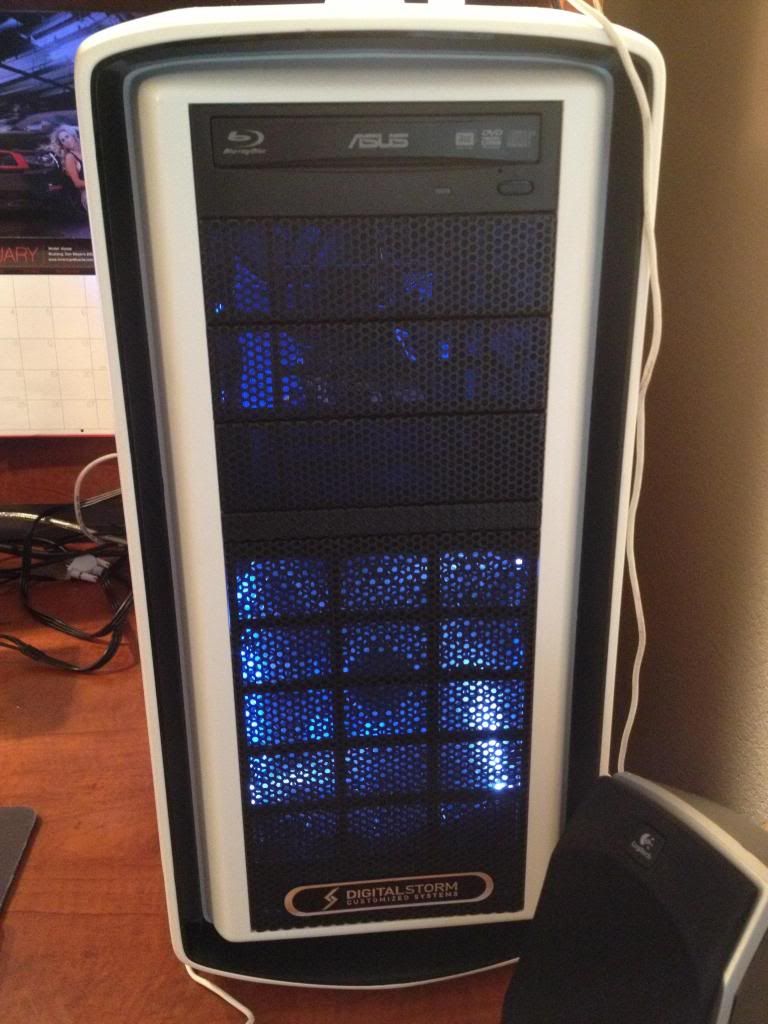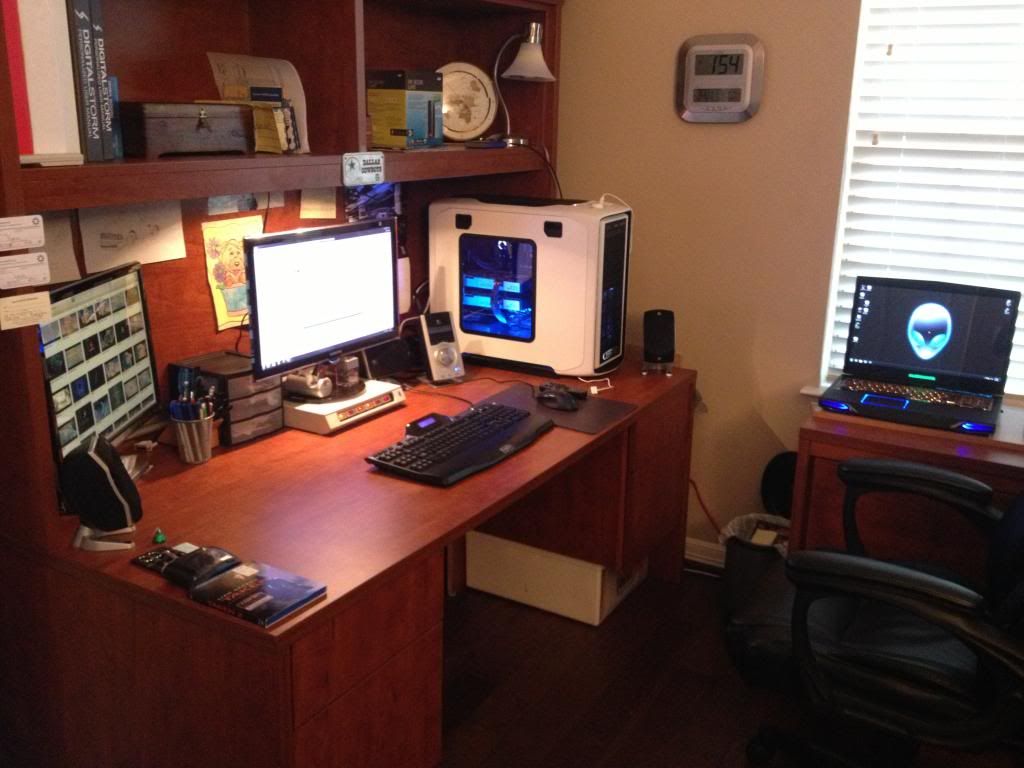 Edited by pgarthw8 - 09 Feb 2013 at 1:42pm