Like you I am a customer, like you I know how hard it is to decided on buying products just from reading reviews. I am here to tell you as a fellow customer that Digital storm is the real deal. If you are looking for a quality computer for the right price and amazing performance with more than just you're average customer service then look no further, Digital storm is for you. Before I stumbled upon Digital storm's website, I came across many different sites such as ibuypower and cyberpower, however I've read many reviews where their products never really performed as promised and the use of cheap components that may or may not work on purchase. My friends and coworkers who had purchased from cyberpower had complained about the quality of the computers for being too slow. Let me tell you that Digital storm is the complete opposite of their rivaling companies in that they actually place in quality time with each of their products before it leaves the front door of their facility. From ensuring that their components actually work to quality stress test to double checking to ensure you the customer have the best possible computer that actually performs as it should on arrival. As far as shipping their products, you will be amaze at the extra mile Digital storm will go to ensure their products are well protected from shipping abuse once you open that box. From outer layer to inner layer of protection you can be rest assured that you're product won't easily be damage from any shipping abuse.
My old computer was pretty beat down, and had overheating issues, what I was specifically looking for in a computer was something that could actually run games at maximum settings without any slow downs nor heating problems. A computer that could actually last more than two years before succumbing to heating issues. Digital storms wide variety of choices had just the computer I have been looking for. Digital storm had all the essential components for a long lasting computer, durability, quality, and performance for an affordable price. They cater to all specific needs of customers, from those who are money conscious but still want a great performance computer to those who are looking for a computers that are years ahead of other competitions.
Upon ordering my computer, I am notified immediately with an email explaining six different stages that Digital Storm go through to ensure the quality of you're computer. The stages consist of payment processing, gathering the materials for you're computer, stress testing each parts, assembling it, second stress testing after its assembled, and finally a quality inspector will double check to make sure everything is as it should be before it gets sent out. The time for each of these stages varies depending on the complexity of you're order. Mine was rather simple so it was shipped exactly one week from my purchased date and arrived at my house within seven days. So in total it was exactly two weeks from my purchase date to arriving at my front door. Upon opening my package I was already impressed by the amount of care that went into ensuring the products safety from any damages. However there was one particular damage only to the case and nothing essential to the computer's performance. The damage was at the bottom of the case where one of the stand snapped off. Now, Digital storm has done everything they could to ensure protection of their products before it gets delivered. The blame falls on fedex ground in my area and their constant mishandling of their products. This is not the first time fedex had mishandled my shipment, where they did deliver my shipment to the wrong house. I recommend for those who live in Brooklyn or Queens part of New York not to use fedex for they are infamous for mishandling their products with no sign of remorse or care. I notified Digital storm, and they immediately investigated the issue and were more than happy to send a replacement part. Take note rivaling companies, that is how you handle customer service with knowledgeable and kind representatives that respond quickly to any issues.
I have been using my computer for a good week now, and I am very content with its performance. Maxing out all settings on practically any high end gaming such as Battlefield 3 and the graphic intensive Total War Shogun 2 without any lags, slowdowns and keeping temps at below 40 degree celsius.
My overall satisfaction with the product that I purchased from Digital Storm have exceeded my expectations, for not only did they deliver on their promises, they went beyond it to ensure complete customer satisfaction. Most companies tend to look at business from only the perspective of the seller, unlike those companies Digital Storm knows what customer wants when they are looking for a product, they know what it is like to be a customer and the frustration to have to deal with poor customer service or mishandled products. They take those into consideration and place the utmost care in their products with exceptional customer service who are willing to help you every step of the way for you're complete satisfaction. I will be purchasing from Digital Storm again and recommend to anyone who is looking for the best possible computer for their preferences.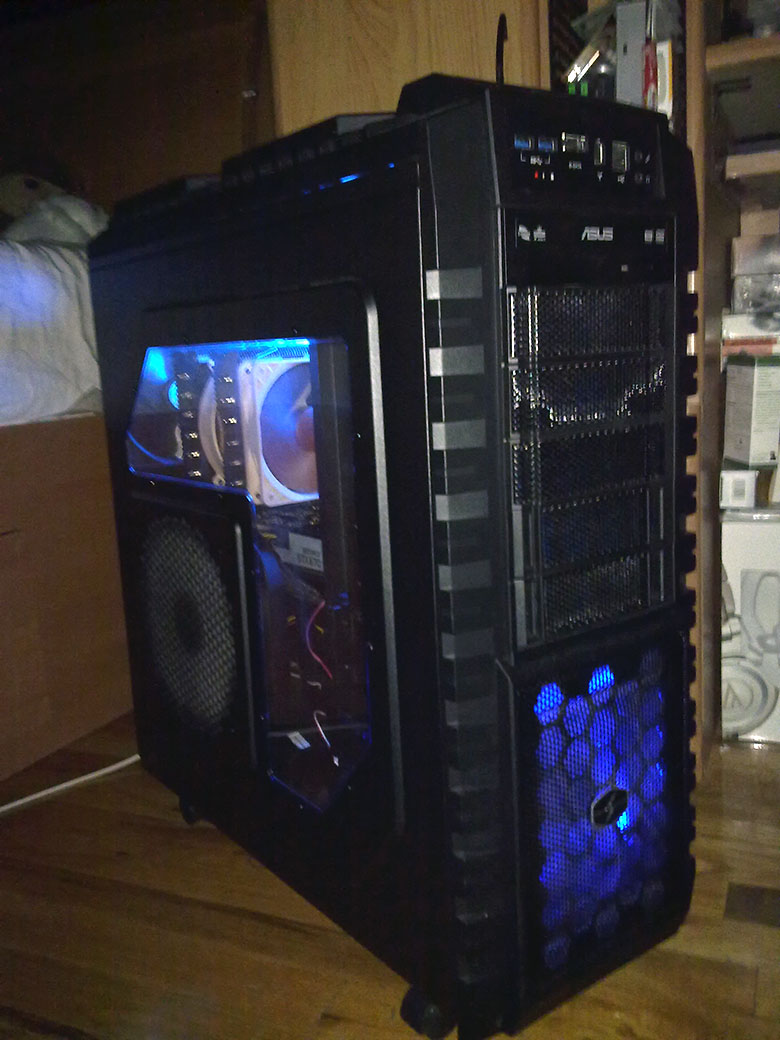 Chassis Model: Special Deal Hot Seller - Cooler Master 942 HAF X
Exterior Finish: - Standard Factory Finish
Trim Accents: - Standard Factory Finish
Processor: Intel Core i5 3570K 3.40 GHz (Unlocked CPU) (Quad Core) (Requires Z77 Motherboard)
Motherboard: ASUS SABERTOOTH Z77 (Intel Z77 Chipset) (Features Thermal Armor and Thermal Radar)
System Memory: 8GB DDR3 1600MHz Digital Storm Certified Performance Series (Highly Recommended) (Hand Tested)
Power Supply: 850W Corsair TX850 V2 (Dual SLI Compatible)
Expansion Bay: - No Thanks
Hard Drive Set 1: Operating System: 1x (1TB Western Digital Caviar (7200 RPM) (Model: Black Edition)
Set 1 Raid Options: - No Thanks
Hard Drive Set 2: Multimedia\Data: - No Thanks
Hard Drive Set 3: Backup\Misc.: - No Thanks
Optical Drive 1: DVD-R/RW/CD-R/RW (DVD Writer 24x / CD-Writer 48x)
Optical Drive 2: - No Thanks
Internet Access: Wireless PCI-E 802.11n Up to 300Mbps (Supports 802.11n/g/b) (Model: ASUS PCE-N15)
Video Card(s): 1x NVIDIA GeForce GTX 670 2GB (Includes PhysX)
Add-on Card: - No Thanks
Sound Card: Integrated Motherboard Audio
Extreme Cooling: AIR: Stage 2: Noctua NH-D14 SE2011 Extreme Performance
H20 Tube Color: - Not Applicable, I do not have a FrostChill or Sub-Zero LCS Cooling System Selected
Chassis Airflow: Standard Factory Chassis Fans
Internal Lighting: Internal Chassis Lighting System (Blue)
Enhancements: - No Thanks
Chassis Mods: - No Thanks
Noise Reduction: - No Thanks
LaserMark: - No Thanks
CPU Boost: Stage 1: Overclock CPU 4.0GHz to 4.4GHz
Graphics Boost: - No Thanks, Please do not overclock my video card(s)
Memory Boost: - No Thanks, Please do not overclock my memory
OS Boost: FREE: Yes, Disable and tweak all of the non-crucial services on the operating system
Windows OS: Microsoft Windows 7 Home Premium (64-Bit Edition)
Recovery Tools: Windows Recovery Toolkit (Bundled with Windows 7 CD