So I have been looking for a new rig for about 4 months now. The old computer i was just getting to long in the tooth.
So I started looking for a new computer or maybe on that i would build myself. I was looking at the other places. That shall remain nameless, as they all suck.
I found this site because I was surfing one of those other sites and i saw a post by someone who said "Don't buy this *#!% go to Digital Storm Online and buy there." So I thought why not. Guess what just like most others i was blown to the curb by the forum and the openness and the helpfullness of the customers and staff on DS Forums. So with the help of other customers i came up with this. By the way if DST4ME helps you. Listen. I did and I love my new computer.
Here is my specs:
Order Contents:
- Digital Storm Desktop 115502 Quantity: 1 $2,844.00
- -- PROMOTIONAL LIMITED TIME BONUS DISCOUNT: $175 Quantity: 1 ($175.00)

System Configuration:
Chassis Model: Cooler Master HAF 932
Exterior Finish: - Standard Factory Finish
Interior Finish: - Standard Factory Finish
Trim Accents: - Standard Factory Finish
Processor: Intel Core i7 920 2.66GHz (Quad Core)
Motherboard: EVGA X58 3X SLI (Intel X58 Chipset) (Supports Triple SLI
or CrossFire)
System Memory: 6GB DDR3 1333MHz Mushkin (Highly Recommended) (Digital
Storm Certified)
Power Supply: 1000W Corsair HX (Dual/Triple/Quad SLI Compatible)
(Silent Edition)
Card Reader: Internal Digital Media Card Reader (Black)
Hard Drive Set 1: Operating System: 1x (500GB Western Digital (16MB
Cache) (7200 RPM) (SATA)
Set 1 Raid Options: - No Thanks
Hard Drive Set 2: Multimedia\Data: - No Thanks
Hard Drive Set 3: Backup\Misc.: - No Thanks
Optical Drive 1: DVD±R/RW/CD-R/RW (DVD Writer 20x / CD-Writer 48x)
Optical Drive 2: DVD±R/RW/CD-R/RW (DVD Writer 20x / CD-Writer 48x)
Internet Access: High Speed Network Port (Supports High-Speed Cable /
DSL / Network Connections)
Video Card(s): 1x NVIDIA GeForce GTX 295 1.792GB (Includes PhysX Technology)
Add-on Card: - No Thanks
Sound Card: Integrated Motherboard Audio
Extreme Cooling: AIR: Stage 2: Cooler Master V8 (Compatible With i7
Processors)
Liquid Color: - Not Applicable, I do not have a H20: Stage 3 Cooling
System Selected
Chassis Airflow: Standard Factory Chassis Fans
Internal Lighting: Internal Chassis Lighting System (Blue)
Enhancements: - No Thanks
Chassis Mods: - No Thanks
CPU Boost: Yes, Overclock the processor as much as possible with
complete stability
Graphics Boost: - No Thanks, Please do not overclock my video card(s)
Memory Boost: - No Thanks, Please do not overclock my memory
Windows Boost: - No Thanks, Please do not tweak the services on the
operating system
Windows OS: Microsoft Windows Vista Home Premium (64-Bit Edition)
(For Enthusiasts)
Restore Kit: Digital Storm Specialized Recovery System (DVD Image Based)
Virus Protection: - No Thanks
Office: - No Thanks
Benchmarking: - No Thanks
Pre-Install Game: - No Thanks
LCD Display: - No Thanks
Surge Shield: - No Thanks
Speakers: Logitech 2.1 System (Black Edition) (Model S220) (Includes
Subwoofer)
Keyboard: - No Thanks
Mouse: - No Thanks
External Storage: - No Thanks
Exclusive T-Shirt: - No Thanks
Priority Build: - No Thanks, Ship Within 5-10 Business Days After
Order Is Successfully Processed
Warranty: 3 Year Platinum Care Extended Parts & Labor Warranty

and this is the OC stats:
Processor Temperatures

Idle: 45C
Overnight Load: 72C
Important Notice: Overclocked systems will definitely run hotter than
stock units. Your unit has been tested to be fully stable in our
stress-test facility at these temperatures.

Overclocked Processor Settings

Processor Speed GHz: 3.32 (Note: My CPU actually with Turbo Boost on is 3.477)
CPU Multiplier: 20
Voltage CPU VCore: 1.381
VDroop Control: Yes
i7 - BCLK MHz: 166
i7 - Voltage QPI\DRAM: 1.5
i7 - Voltage QPI\PLL: 1.25
i7 - Voltage CPU VTT: 175
i7 - Voltage IOH Vcore: 1.25
i7 - Voltage ICH Vcore: 1.2
i7 - Voltage IOH/ICH I/O: auto
i7 - PWM Frequency: 800
780i/790i - Memory Clock Mode:
780i/790i - CPU FSB MHz:
780i/790i - Voltage FSB:
780i/790i - Voltage SPP:
780i/790i - Voltage MCP:

Overclocked Memory Settings

Actual Memory Speed MHz: 1333
i7 - Memory Ratio MHz: 1067 - This is a ratio that is multiplied by
the BCLK multiplier in order to produce a final memory speed of 1333

Voltage Memory (i7 - Dimm Voltage): 1.5
Timings (CAS-tRCD-tRP-tRAS): 9-9-9-24
i7 - Voltage DRAM Bus:
780i/790i - Memory Clock Mode:
780i/790i - CPU FSB MHz:

Motherboard BIOS: SZ27
Video Card Driver: 182.50
Chipset Driver: CD
Sound Card Driver: CD

This is one of the best computers I have ever owned. Keep up the awesome work DSO
Pics here:
Here is a large pic of the temps: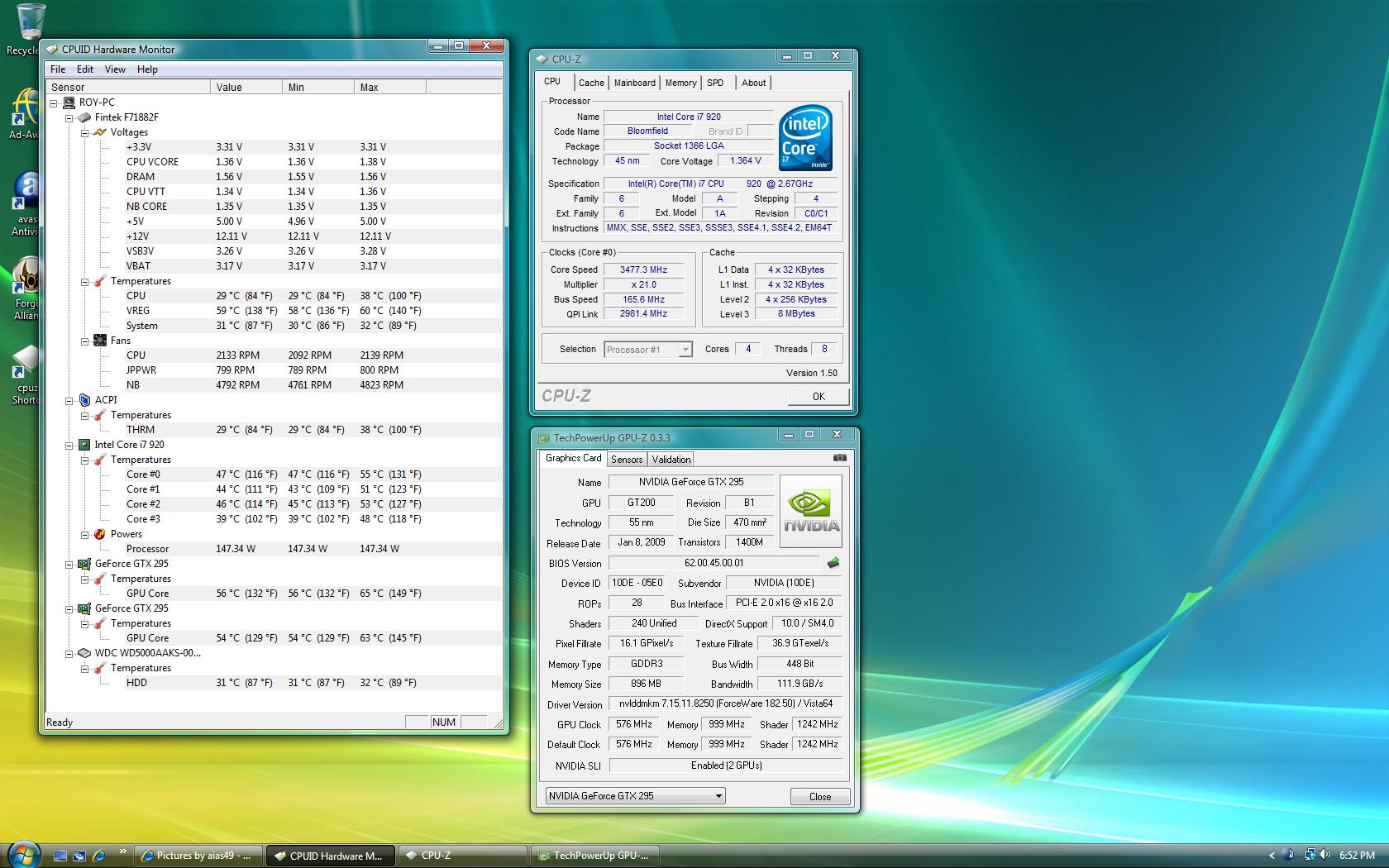 Edited by aias49 - 10 Apr 2009 at 11:32pm