[Since I can't post a new Topic in the "Customer Review" forum, this is as close as I can get.]
So, I've been building (and re-building) computers since 1988. I know what to do, but no longer want to spend the time and effort doing it all myself. I spent six months researching, building fantasy configs on various sites, and generally over-thinking what I was going to do. The important characteristics for me, in (approximate) order of importance, were:
o Longevity (foundation for future upgrades)
o Performance
o Quality of components
o Quality of assembly
o Quality of company
o QUIET
o Price
In the end what I realized was that six months from now I didn't want to be saying,
"I really wish I had chosen Digital Storm!"
THIS IS THE RESULT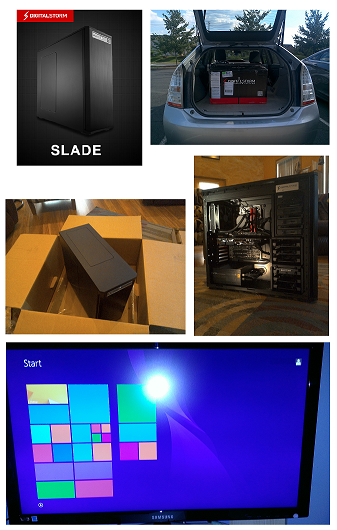 System Configuration:
Chassis Model:
Corsair Obsidian 550D
Processor:
Intel Core i7 4770K @ 3.50 GHz
(Unlocked CPU) (Quad Core)
Motherboard:
ASUS Z97-C
(Intel Z97 Chipset)
System RAM:
16GB DDR3 @ 2133MHz
(2x8GB) Digital Storm Certified Performance Series
Power Supply:
EVGA 750W SuperNOVA Gold Rated
(Dual SLI Compatible)
Optical Drive:
ASUS DVD-R/RW/CD-R/RW
(LG Blu-Ray Writer added)
Storage Set 1:
WD 1TB - Black Edition
(2TB Seagate Barracuda SSHD, and 1TB Seagate HDD added)
Internet Access:
Intel 10/100/1GBE
Ethernet Network Port
Graphics Card(s):
ASUS nVidia GeForce GTX 770 DirectCU II (2GB)
Sound Card:
RealTek Integrated Motherboard 7.1 Audio
Extreme Cooling:
H20: Stage 2:
Digital Storm Vortex 120mm Radiator Liquid CPU Cooler
Chassis Fans:
Standard Factory Chassis Fans
Noise Reduction:
Noise Suppression Package Stage 1
(Optimized Airflow & Fan Speeds Only)
CPU Boost:
Standard Intel Turbo Boost 2.0 Automatic Overclocking
Windows OS:
Microsoft Windows 8.1 Pro (64-Bit Edition)
-----------------------------------------------------------------
Order Submitted: May 23 (Fri, 10:00 pm)
Stage 1 (Payment Processed): May 25 (Sunday)
Stage 2 (Inventory Assignment): May 27 (day after a Holiday)
Stage 3 (Phase 1 Stress Testing): May 27
Stage 4 (Engineering Lab): May 27
Stage 5 (Phase 2 Stress Testing): May 27
Stage 6 (Quality Assurance): May 28
Stage 7 (Released to Shipping): May 29 (FedEx p/u @ 4 pm)
Tracking Number Received: May 30 (Changed to "Hold at Location")
Delivery: June 5 (p/u @ 5 pm)
First Boot: June 5 (7:15 pm)
Total:
13 days from order including two weekends and a Holiday!
-----------------------------------------------------------------
Everything is performing exactly as hoped and expected, and the ease of making physical upgrades has already proven valuable.
Well done, Digital Storm. Well done.


Edited by Thandal - 13 Jun 2014 at 1:01pm