My SLADE Upgrade Story – OLD & NEW (A Digital Storm System Review with Pictures)
With a little more a month to go before the big Flight Simulator Round the World Race I experienced a hardware failure on my Digital Storm Hailstorm system. After almost 4 years of flawless operation the water pump failed leaving me a system that could not start and that would potentially leave me unable to participate in this annual on-line event.
I needed to move quickly in order to get a system built, tested, and delivered to me in time to prepare the new system for the race. My DS Hailstorm system had been rock solid and performed very well so I did not hesitate to initiate a replacement system order from Digital Storm. I already had a good idea of what I wanted because I had been considering an upgrade for a while. I quickly selected the Slade system, configured it on-line to my specifications, and placed the order. I selected priority build because I knew I would need it as soon as possible. I contacted Digital Storm by phone to explain my urgency and they quickly reviewed my configuration and approved it for processing. My Slade system entered Stage 1 on Jan 17 and completed Stage 7 on Jan 22.
I also opened a support ticket for my down Hailstorm system and received a prompt follow-up call from Mike who concurred that the problem was likely a failed pump and a replacement was ordered and shipped. On Jan 28 I received and replaced the failed water pump, recharged the cooling system, and the computer started and ran fine at 4.1ghz over clock.
Although I now had a good system for the race, I was eagerly looking forward to my NEW Slade System.
System Configuration Comparison (OLD Hailstorm -> NEW Slade)
System Configuration
OLD Digital Storm HailStorm
NEW Digital Storm Slade
Chassis Model
Corsair Obsidian 800D
Corsair Obsidian 550D
Processor
Intel Core i7 Extreme Edition 975 3.33GHz
Intel Core i7 4770K 3.50 GHz
Motherboard
EVGA X58 3X SLI (Intel X58 Chipset)
ASUS Sabertooth Z87 (Intel Z87 Chipset) (Features Thermal Armor and Thermal Radar)
System Memory
6GB DDR3 1600MHz Digital Storm Certified Performance Series
16GB DDR3 1866MHz Corsair Vengeance Pro (High-Performance)
Power Supply
1250W Enermax Galaxy EVO
1000W SliverStone Strider Gold
Storage Set 1
1x 160GB Solid State Intel® SSD X25-M Series
1x 256GB Solid State Samsung 840 Pro Series
Storage Set 2
1x (256GB Solid State (By: Corsair)
- No Thanks
Storage Set 3
1x (2TB Western Digital
- No Thanks
Optical Drive
DVD±R/RW/CD-R/RW (DVD Writer 22x / CD-Writer 48x)
DVD-R/RW/CD-R/RW (DVD Writer 24x / CD-Writer 48x)
Internet Access
High Speed Network Port (Supports High-Speed Cable / DSL / Network Connections)
High Speed Network Port (Supports High-Speed Cable / DSL / Network Connections)
Graphics Card(s)
1x NVIDIA GeForce GTX 285 1GB
1x NVIDIA GeForce GTX 780 3GB
Sound Card
Integrated Motherboard Audio
Integrated Motherboard Audio
Extreme Cooling
H20 - Stage 3 - FrostChill Cooling System
H20 - Stage 2 - Corsair H100i 240mm Radiator Liquid CPU Cooler
Chassis Fans
Standard Factory Chassis Fans
Upgrade All Fans to Corsair Airflow Performance Edition (Up to 6 Fans)
Internal Lighting
Internal Chassis Lighting System (Blue)
- No Thanks
Noise Reduction
Noise Suppression Package (Optimized Airflow & Fan Speeds with Noise Dampening Material)
Noise Suppression Package Stage 1 (Optimized Airflow & Fan Speeds Only)
CPU Boost
Stage 2 - Overclock the processor between 4.0GHz to 4.2GHz (4.1Ghz)
Stage 2 - Overclock CPU 4.5GHz to 4.8GHz (4.5 Ghz)
Memory Boost
Yes, Overclock memory frequency (Includes Memory Fan Kit Installed)
- No Thanks, Please do not overclock my memory
Windows OS
Microsoft Windows 7 Ultimate (64-Bit Edition)
Microsoft Windows 7 Ultimate (64-Bit Edition)
Recovery Tools
Digital Storm Specialized Recovery System (DVD Image Based)
Windows Recovery Toolkit (Bundled with Windows CD)
Office
Microsoft Office 2007 Basic (Word Excel Outlook)
Microsoft Office 2013 Home and Student (PC Attach Key PKC Only, No Pre-install)
Pre-Install Game
Flight Simulator X
- No Thanks
Surge Shield
- No Thanks
APC SurgeArrest Personal PER7 (7 Outlet) 120V Surge Protector
Keyboard
- No Thanks
Corsair Vengeance K95 (Fully Mechanical Gaming Keyboard) (Black Brushed Aluminum Finish)
Mouse
- No Thanks
Razer Deathadder 2013 (Infrared 6400 dpi) (Gaming Mouse) (USB Wired)
Priority Build
- No Thanks, Ship Within 5-15 Business Days After Order Is Successfully Processed
Please Prioritize Ship Within Four Business Days After Order Is Successfully Processed
Warranty
3 Year Platinum Care Extended Parts & Labor Warranty
Life-time Expert Care with 3 Year Limited Warranty (3 Year Labor & 1 Year Part Replacement)
On January 29 my NEW Slade System arrived. The box was in good condition with a few expected scuffs from shipping and handling. I unpacked the box and verified the contents against my order sheet. Everything was in perfect order and condition - just as I have come to expect from Digital Storm. I only ordered a single system disk for the Slade because I planned to install some disks that I already owned. Installing my SSD and hard drives and configuring windows was quick and easy. Flight Simulator X was installed on its own dedicated SSD. Installing and configuring the many, many scenery and aircraft add-ons took almost three days and in the end used almost 300GB space just for FSX.
My NEW Digital Storm Slade system has surpassed my expectations. It is much more compact than my Hailstorm and is also very, very quiet. One thing I really like about Digital Storm is the large variety of system options and the high quality of the components on offer. The Digital Storm online configuration system enables customers to evaluate and trade off options to obtain the best value and performance for their particular situation. I really appreciate DS coming through for me and recommend them without reservation.
Thanks again. Jeff Williams
Photos of the NEW Digital Storm Slade System: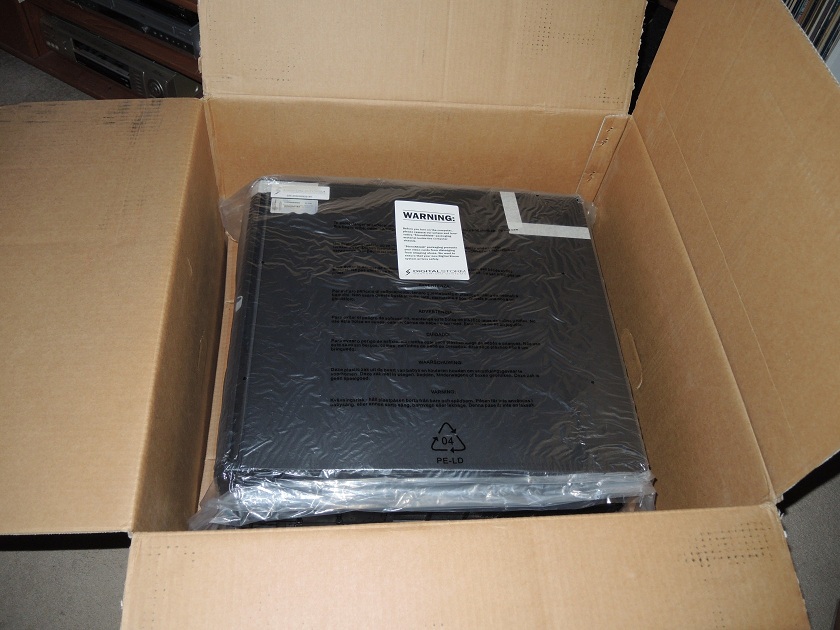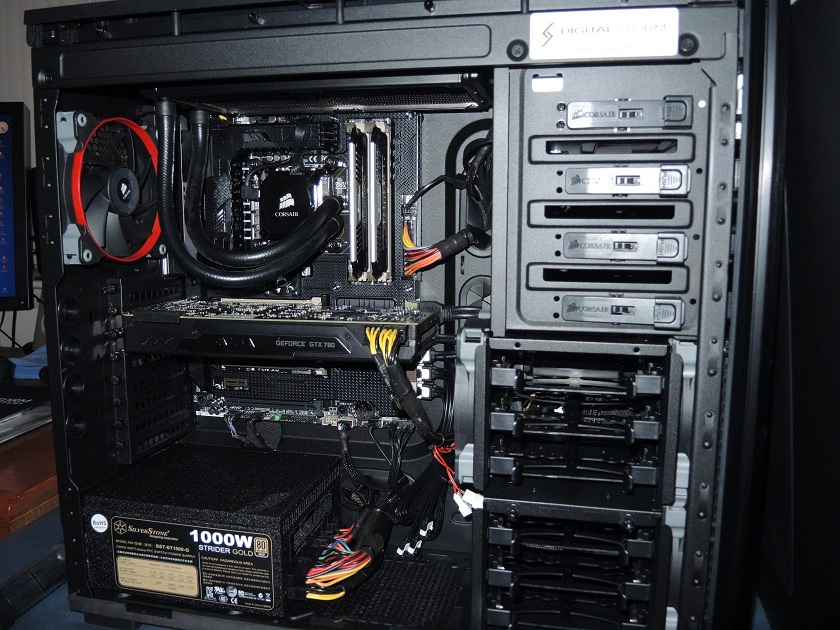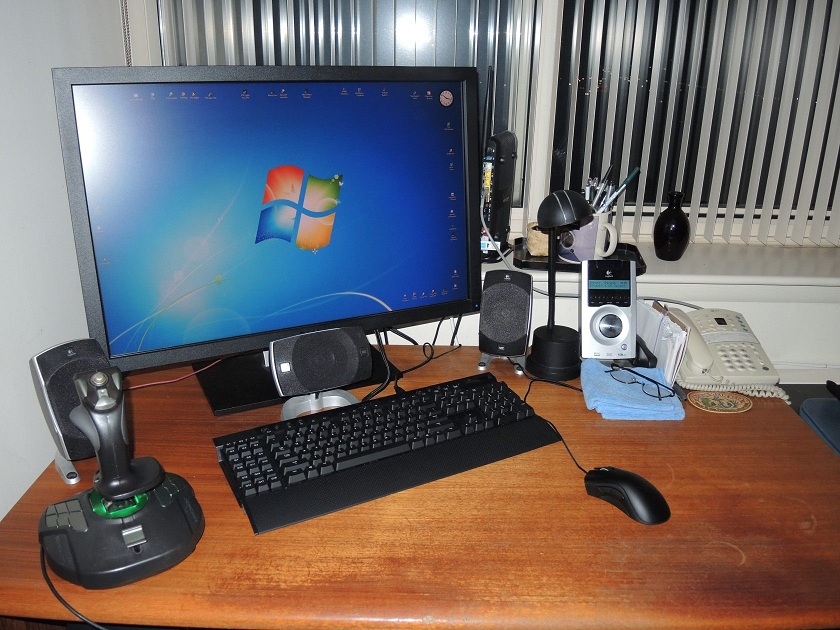 Comparison Photos of OLD Hailstorm – NEW Slade: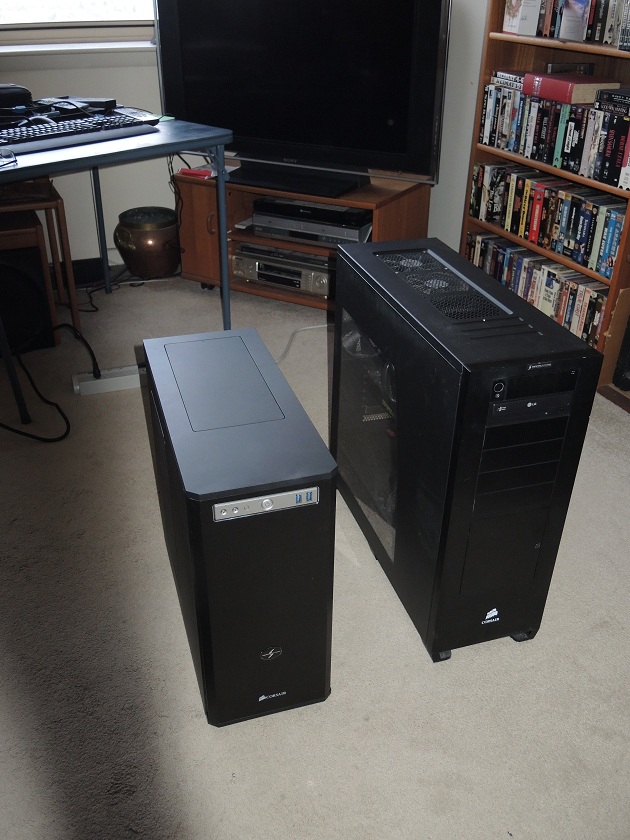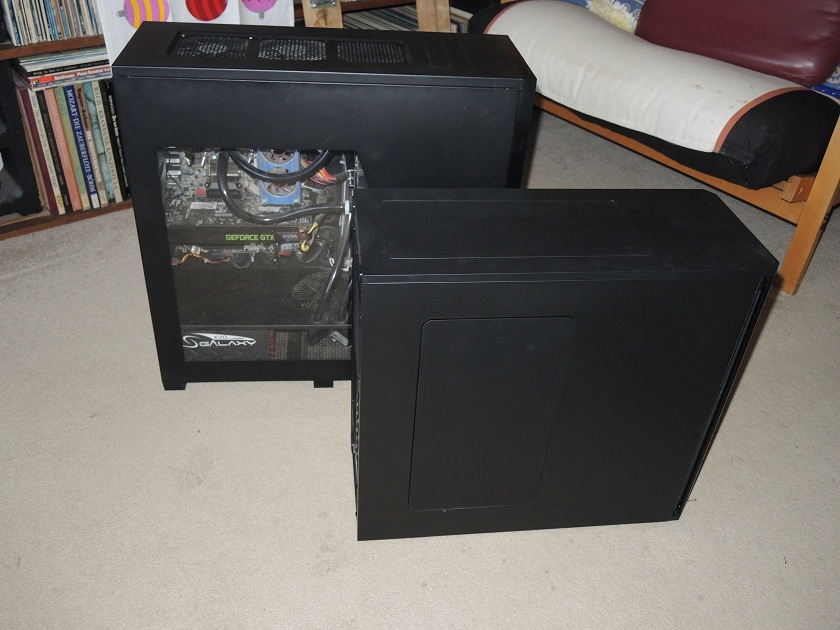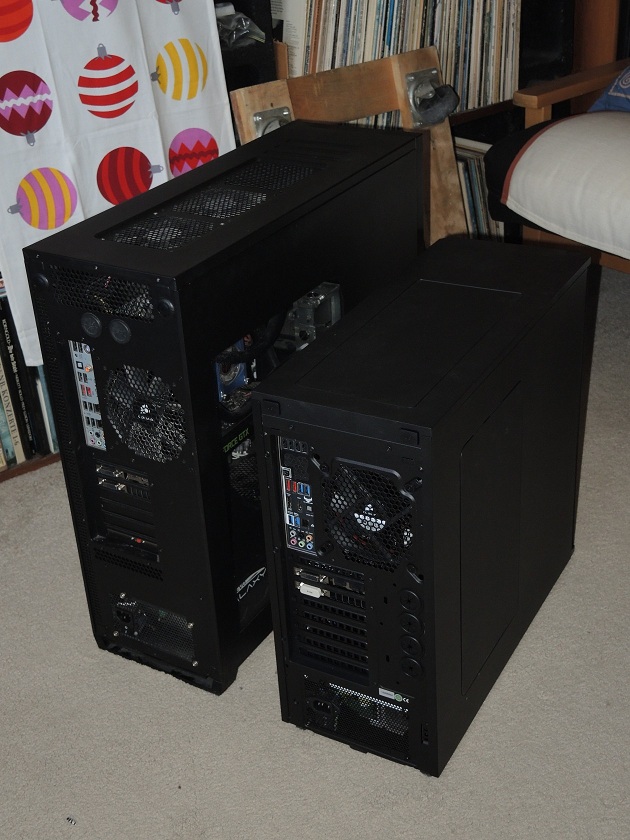 Edited by jtwillia - 04 Feb 2014 at 8:30am