Alex/mods, this is for inclusion in your product reviews section. I am sorry the photographs (especially the self-portrait in DS t-shirt, which makes me wince) are so boring but let's face it, as fantastic as the Slade is, it's not photogenic; it's a black box!
Let me know what you think and if the review suits your purposes. Perhaps you can inform me when you format it over to the reviews forum.
Thanks!
BI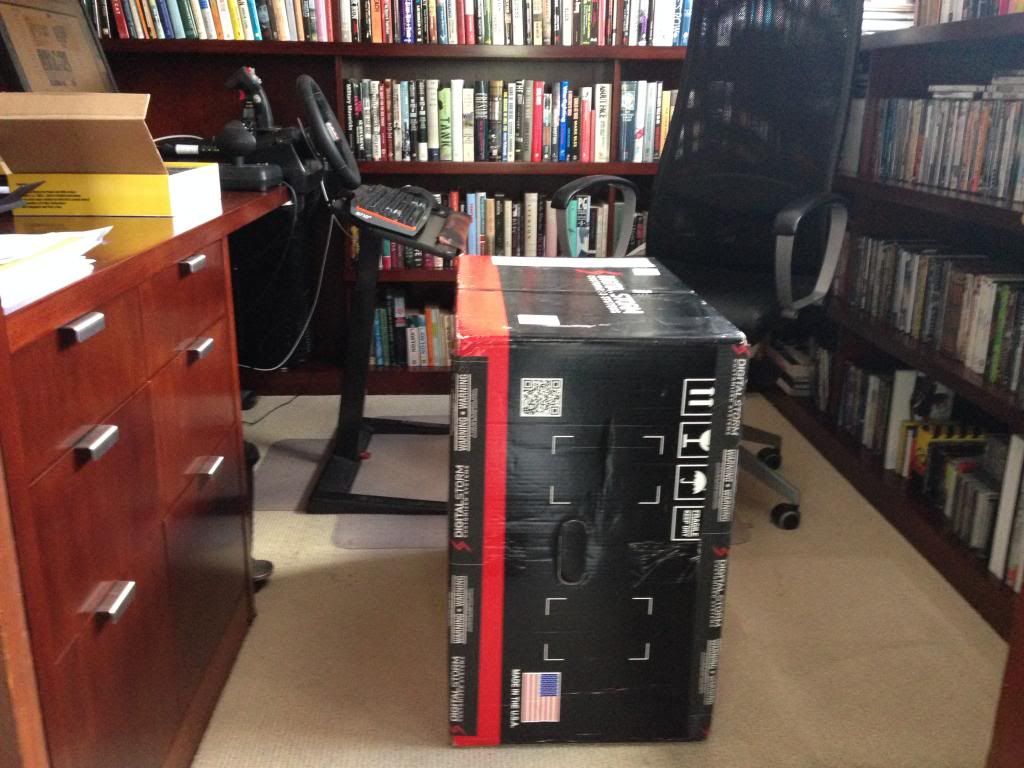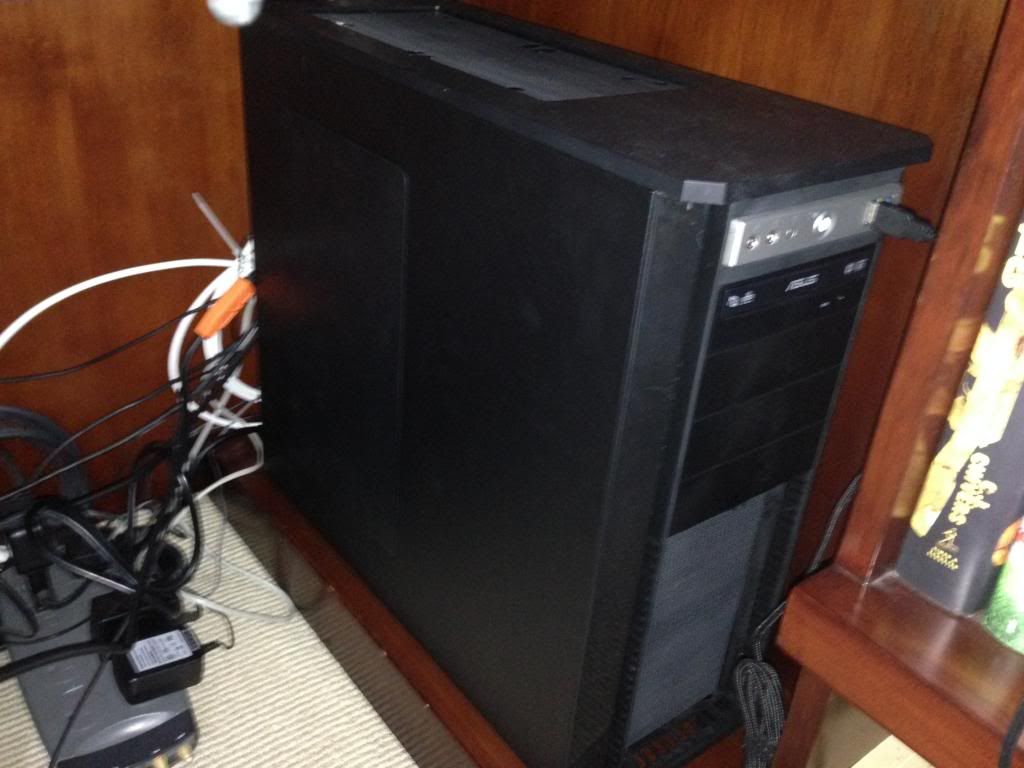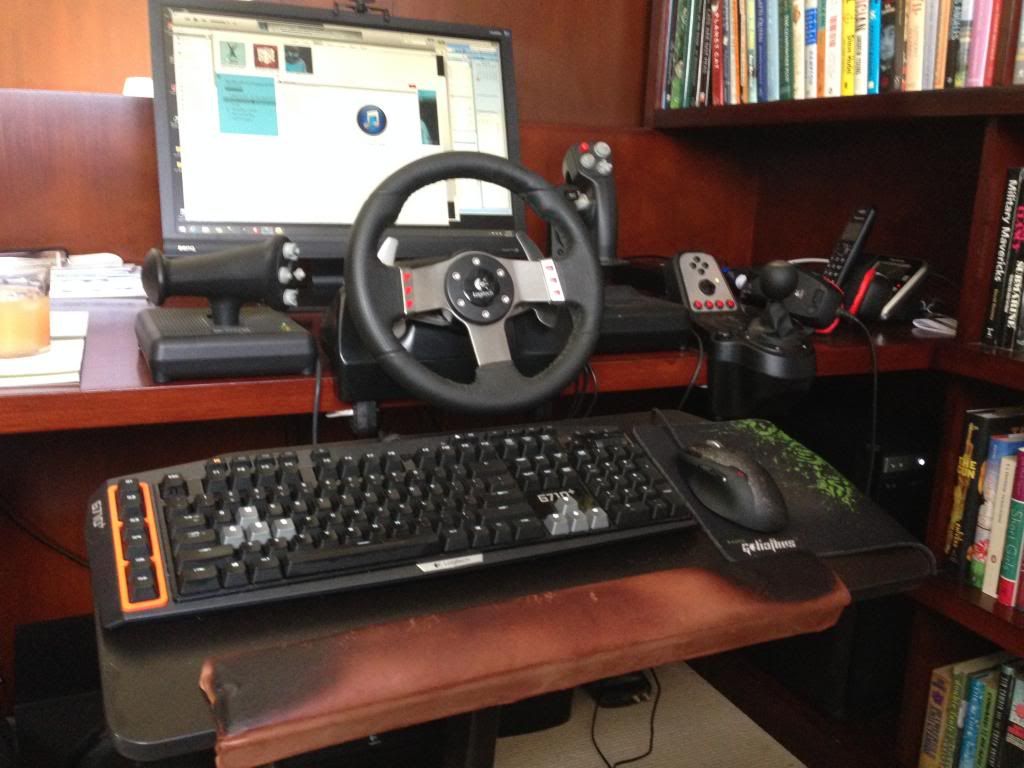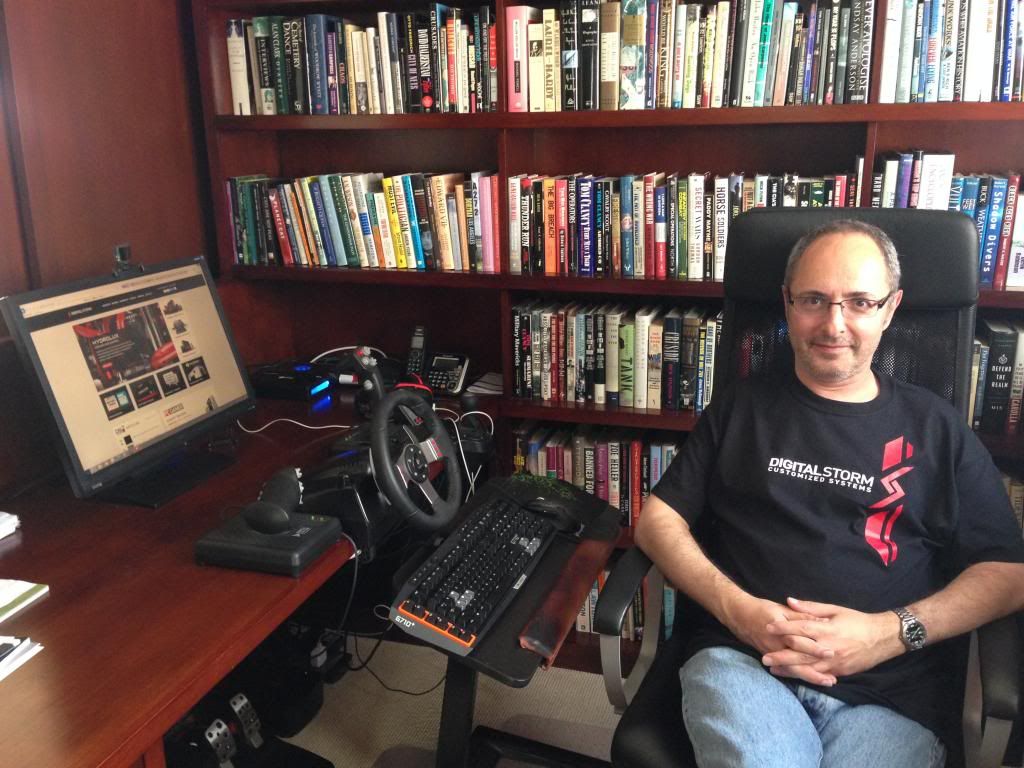 1. Choice of Digital Storm
The Slade is my second Digital Storm system. I never gave serious thought to going anywhere else, especially after I paid my first visit to the DS web site in several years and saw how they have expanded their product line since I bought my first PC from DS in 2009.
My first experience with DS was overwhelmingly positive. Even though the first PC I acquired from DS five years ago arrived with a faulty on/off switch and a PSU requiring an exorcism, I was really impressed by their willingness to take full responsibility and to fix these issues, replacing the problematic components in a timely manner. I assumed that the company's Quality Assurance process and assembly line would have evolved considerably in the intervening years and as it turned out, I was right.
2. Choice of the Slade system
For about five minutes I thought about getting a Marauder, as it amused me to have a gaming rig that resembles a prop from Terminator 2. However, common sense soon intervened and I realized that a system custom built to ventilate effectively and to resist dust is exactly what I need in a non air-conditioned house in Los Angeles, where dust and heat are endemic. If I bought anything other than the Slade and then had issues with heat and dust, I'd feel I only had myself to blame, which was a sobering thought.
I was happy to see that the Slade was no slouch in the performance department, i.e. that there is no trade-off between the need to protect the PC from the elements and my expectations of the highest levels of performance. I feel fortunate that I do not need to power a home-entertainment system with my PC, nor to run a triplex or 3-D monitor setup. All I want is a great gaming rig that will enable me to play games at maxed out settings with good (i.e. >50 FPS) framerates on my 23" Benq monitor. It was obvious that, even at its mid-level price point within Digital Storm's constellation of products, this PC would deliver state-of-the-art performance for me with no compromises.
3. Choice of components and initial interactions with DS
I made full use of both the experts at Digital Storm and those on the excellent DS forums, which are well-organized and exceptionally civil. Thanks to knowledgeable folks on the DS forums, I swapped out the reference 1TB HDD for one that, while $19 more expensive, was more highly regarded. I then called experts at DS and received invaluable advice which resulted in the following highly beneficial changes to the build:
- I exchanged the reference GPU for another high-performance, 4GB card that did not vent inside the case, as cooling is of great concern to me [-$137]
- I bought the chassis fan upgrade [+$99]
- I upgraded the PSU to a 760W Platinum-rated unit [+$75]
All the interactions I had with DS personnel about the changes listed above were positive, enjoyable and highly valuable. I was particularly grateful to receive expert advice regarding my PSU, as I have had trouble with these in the past; they can run hot and they are a headache to upgrade. My last PSU was too big; thanks to a DS expert I learned about what a Platinum-rated PSU is (it guarantees a high level of throughput from the wall to the PC, i.e. minimal power wastage) and got the optimal recommendation for an output that would suit my needs and provide significant additional headroom without wasteful overkill. The DS expert was also very helpful in assessing what GPU I'd need to power my 23" monitor and recommended a card which, for $137 less than the reference cost, would deliver high-performance gaming on my one-monitor setup and would vent efficiently.
4. Factory Assembly
I was astonished by how fast DS put my PC together. Admittedly I did not order any exotic components and had no special requests, but there were a few departures from the reference Slade build (see above). Almost every other day I received notification by email that the system had reached another level of completion and/or testing. My last DS system took about six weeks to assemble; this one was finished in ten days and at my house within two weeks of placing the initial order.
5. Installation
Installation was trouble-free. My friend and I admired the ergonomic efficiency of the case/chassis so much that we decided not to mess with the extremely neat bundling of all the wires by unravelling them in order to hook up the two HDDs from my old computer inside the new case. If I had been that eager to do this, I would have sent the drives up to DS, who would have done it more efficiently during initial assembly than I ever could. As it turned out, I can house these drives one at a time in a good, fast USB 3.0 external HDD chassis connected to one of the USB 3.0 ports on the new PC. No tools were needed at any point in the installation and all we had to do was to unplug all my peripherals and connect them to the new box.
The case itself. while smaller than my last DS PC, is also roomier. The PSU is smaller and the wiring bundled away from all the components, leaving a lot of room in the case for additions, expansions and upgrades.
I am impressed by Windows 8.1, which found all my peripherals with absolutely no fuss and provided a level of plug-and-play functionality that I have never experienced before and did not expect to apply to my elderly scanner and middle-aged printer.
6. First impressions/performance
As everybody who has bought a Slade system says, the silence is truly golden. All I am hearing now, at idle, is a very gentle murmur. Under heavy load, i.e. after an hour of playing Titanfall very badly, I would say that the Slade is perhaps ten per cent louder than at idle. It's astonishing. Temperature and fan usage as monitored in CPUID HWMonitor tell a similar tale. At idle, the fans run at 33% but I do not believe I have exceeded 69% under load. I see GPU temps of about 26 degrees C at idle but have not exceeded 87 degrees C after heavy use.
It's still cool here in Los Angeles. In the summer I intend to keep a careful eye on temperatures and find the right combination of venting via the case's removable panels, and dust protection. It can get up to 80 degrees in my home office at the height of summer but as long as I am sensible I expect the Slade to take this in its stride.
Using FRAPS I am getting 60FPS in ArmA 3 (I rarely got 30 with my old PC), 60FPS in the very demanding Titanfall and an astonishing 200+ FPS in the racing sim Assetto Corsa and the tactical FPS Insurgency. I expect to see fantastic framerates in demanding flight sims, too. I have noticed that all games these days set initial graphics parameters according to system information the games collect; all of the framerates reported above are at maxed-out settings. In some cases I might be able to tweak the GFX setting even higher, either in-game or by fiddling with the GPU settings in the nVidia control panel but right now I am more than happy to accept what I am getting.
This system includes my first ever solid state drive. This fantastic thing will boot up Windows 8.1 from cold in about 7.5 seconds.
I am thrilled by the system's quietness, sophisticated construction and effortless, no-fuss delivery of high-performance gaming.
7. Conclusion
The Slade is a fantastic machine. It's not the sexiest PC on offer from DS but it's an extremely sensible choice for the climate I live in and, as I have said, involves no trade-off in gaming performance; it is lightning-fast. I am confident that it will take everything I throw at it and offer me maxed-out gaming in all games for another three or four years. It is so well built that I fully anticipate it will be ultra low-maintenance (I am grateful that the latest DS water cooling systems are closed and do not need topping up) and upgrading certain components or adding others looks pretty easy with its combination of great system design, superb build quality and chassis ergonomics.
Every aspect of my relationship with Digital Storm has been positive. I appreciate their expertise, their enthusiasm for their products, their accessibility and their integrity. I see no earthly point in going anywhere else for a high-end, custom built gaming PC or laptop.