I was recently in the market for a new computer and decided to evaluate Digital Storm along with other popular brands in this market. There were several important factors that led me to buying a DS system. The most important factor for me is customer service & support so that's what I want to talk about. I feel that how you are treated as a new or returning customer, tends to indicate the quality of a company and its products. I have learned this through trial and error through the years so I always dig into this aspect. This is especially important since I use the system for work & play. I need a reliable company for the years ahead.
There are several consumer "after purchase" review related websites where I was able to take a glimpse of DS in action. From these consumer-based websites you can see DS staff taking an extremely proactive (and unprecedented) role in responding to customers. DS clearly stands out among the rest in this area. This was later supported by their fast response to phone calls and e-mails I made to the company. That's important to me from my past experiences. To top it off, this user forum appears to reflect the overall culture within this company. That's not typically something you get to see. They are a solid company that has no problem with this level of transparency. By this I mean that the forum is a place to learn exactly what you are getting before you buy - pros and cons of configurations right out in the open, and without any irritating sales push. When DS (Sara) provided advice in my case it was to recommend a more reliable component for my specific needs. In the end I took her recommendation and I'm happy I did. Altogether, I feel I made a wise choice buying a DS system primarily because the people behind the company seem to be driven to put customer service as first priority.
My configuration basics:
Black OPS Hailstorm
i7 980x (3.67 GHz)
EVGA X58 SLI 3
6 GB RAM
1x NVIDIA GTX 480 1.5 GB (PhysX)
2x Drives (OS/Data)
Stage 6 cooling / Addon-lighting , tube coloring, etc. blue.
Stage 1 boosts
3 year warranty
For what I do this is the perfect setup. All I can say is this system rocks -- beyond FAST. Setup took about 5 minutes and I was flying. That's no exaggeration. The packing job was amazing, everything included, the manual, all the extras included, etc. Not even a token fingerprint on the case you might reasonably expect. LOL. I feel got more than what I paid for. Sorry this sounds like a sales pitch but there's nothing I can say that's negative. Thanks for everything!!! Also thanks Ender for helping me.
I'll post some pictures at some point, maybe when I'm done admiring this computer : ) Oh I need to change my avatar.

Added some pics...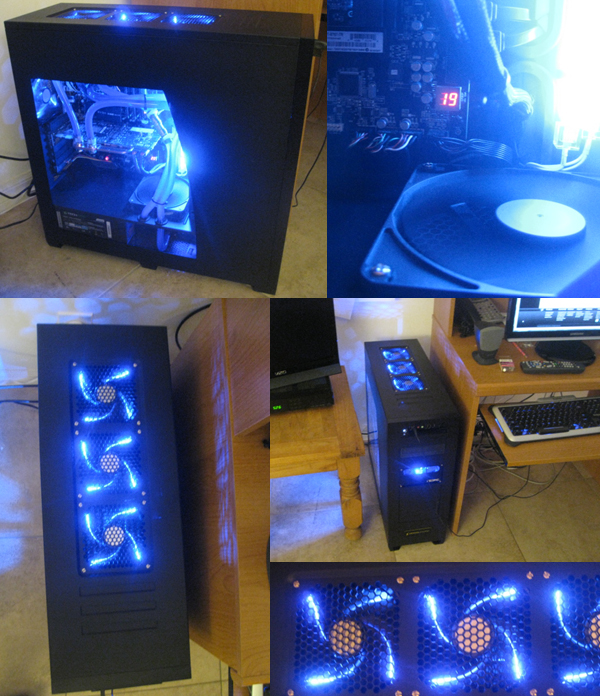 Edited by CamperX - 08 Oct 2010 at 6:22pm