DSO's customer support is top notch. I made aout 4 or five adjustments to my order after making it and each one was carried out to the letter. From fixing my CPU cooler, to my case, to my mother board, no job was too small or too difficult to handle. And never an ill word was spoken about my changes, not a single "no we can't" or "no you can't." Everything was handled with a level of professionalism not seen by the competition, each phone call a refreshing experience. Their worthwhile knowledge of all things computer tech just astounded me. If I called about my cooler, they'd answer in extraordinary detail to help me to be completely and utterly satisfied.

Special thanks to Sarah for a lot that, her help is always appreciated. Here's my order:
System Configuration:
Chassis Model: Special Deal Hot Seller - HAF 922
Exterior Finish: - Standard Factory Finish
Trim Accents: - Standard Factory Finish
Processor: Intel Core i7 930 2.8GHz (Quad Core)
Motherboard: EVGA X58 LE Edition SLI (Intel X58 Chipset)
System Memory: 6GB DDR3 1600MHz Digital Storm Certified Performance Series (Highly Recommended) (Hand Tested)
Power Supply: 750W Digital Storm Certified (Dual SLI Compatible) (Silent Edition Recommended)
Hard Drive Set 1: Operating System: 1x (40GB Solid State (By: Intel) (Model: X-25V Edition) (Extreme Performance)
Optical Drive 1: DVD-R/RW/CD-R/RW (DVD Writer 24x / CD-Writer 48x)
Extreme Cooling: AIR: Stage 1: Noctua Dual 120mm Fans High Performance Cooler (Compatible With ONLY i7 Processors)
H20 Tube Color: - Not Applicable, I do not have a FrostChill or Sub-Zero LCS Cooling System Selected
Internal Lighting: Internal Chassis Lighting System (Green)
CPU Boost: FREE: Stage 1: Overclock the processor between 3.3GHz to 3.9GHz (Cooling Upgrade Recommended)
Windows OS: Microsoft Windows 7 Home Premium (64-Bit Edition)
Restore Kit: Digital Storm Specialized Recovery System (DVD Image Based)
Virus Protection: - No Thanks
Office: - No Thanks
Benchmarking: - No Thanks
Pre-Install Game: FREE: Hot-selling game with a NVIDIA GeForce GTS 250 or above graphics card
Exclusive T-Shirt: FREE: Digital Storm T-Shirt - Black (Large)
Priority Build: - No Thanks, Ship Within 5-15 Business Days After Order Is Successfully Processed
Warranty: Life-time Expert Customer Care with 3 Year Limited Warranty
First, the packaging! Nice and big, barely fit in my corolla when I had to drive it to my apartment!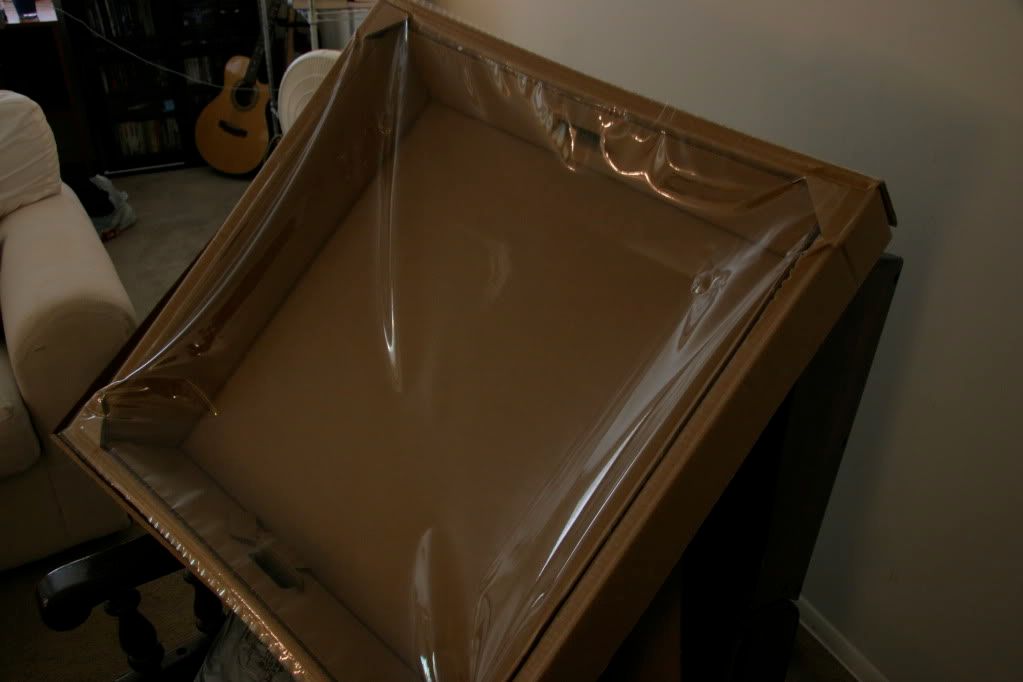 One shot of the plastic case it was set upon.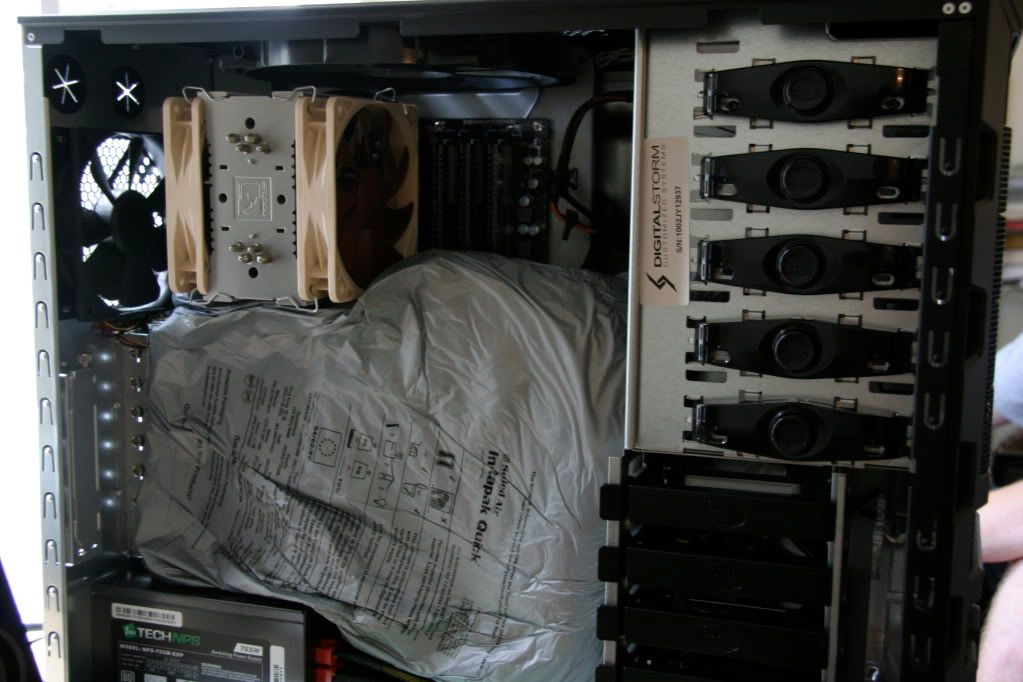 Expanding foam to keep all my technology safe.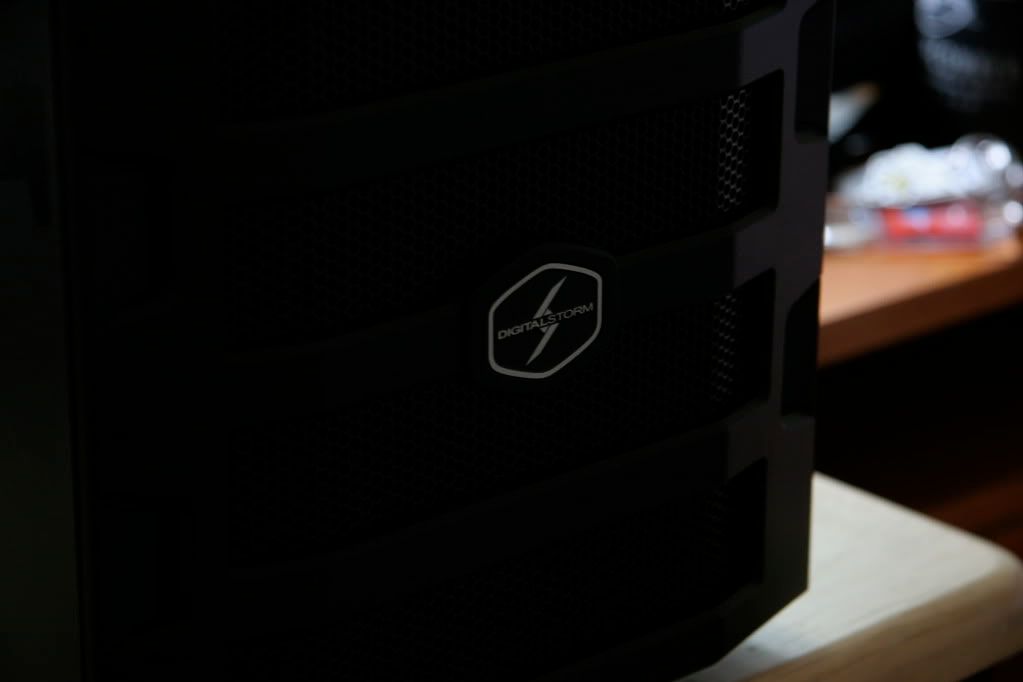 Some brand shot there.
Nice and clean wiring with the beautiful and bulky noctua CPU cooler.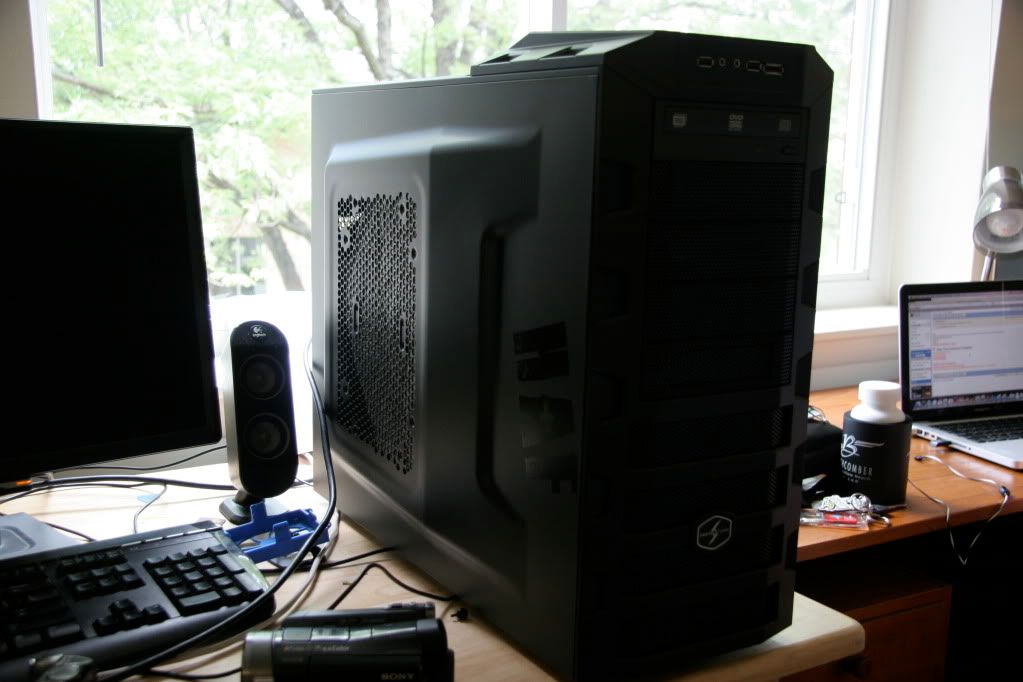 The computer setup on my desk near the window. Nice Haf logo on the side.
Turning on the green lights, showing the RAM.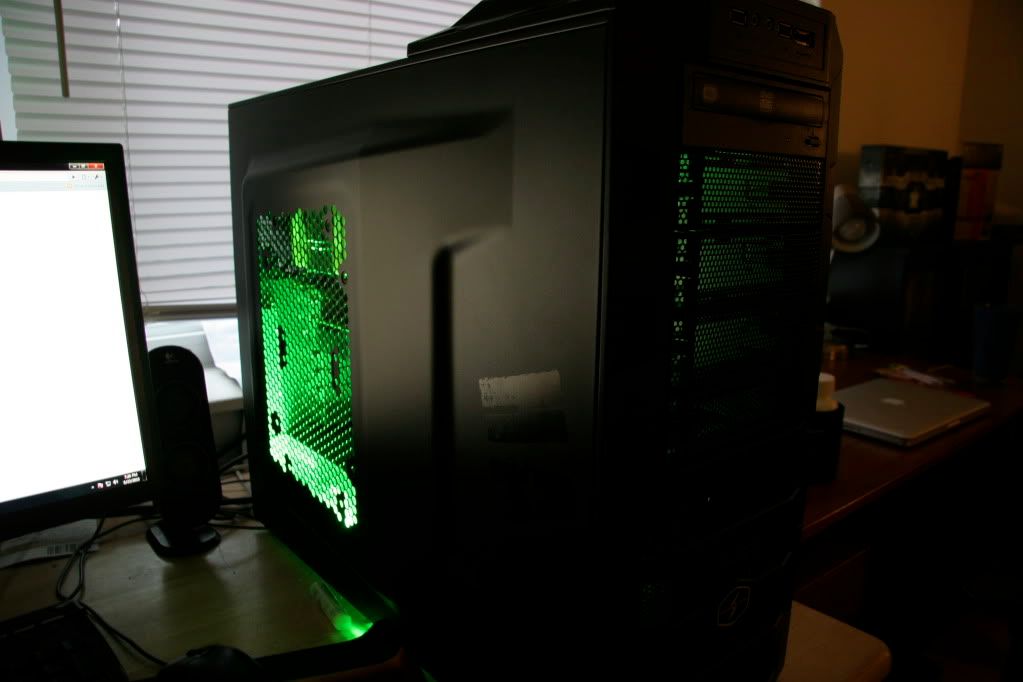 Green lights from outside the case.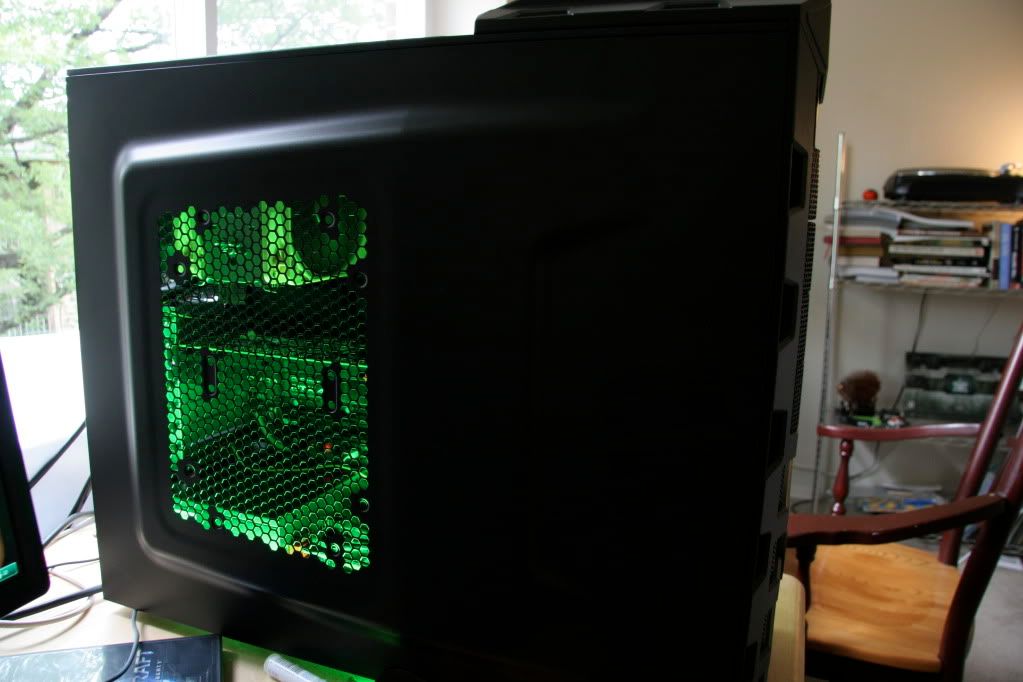 Closer of the side with the green lights, they're magnificant at night, most of my living room is bathed in a nice neon glow.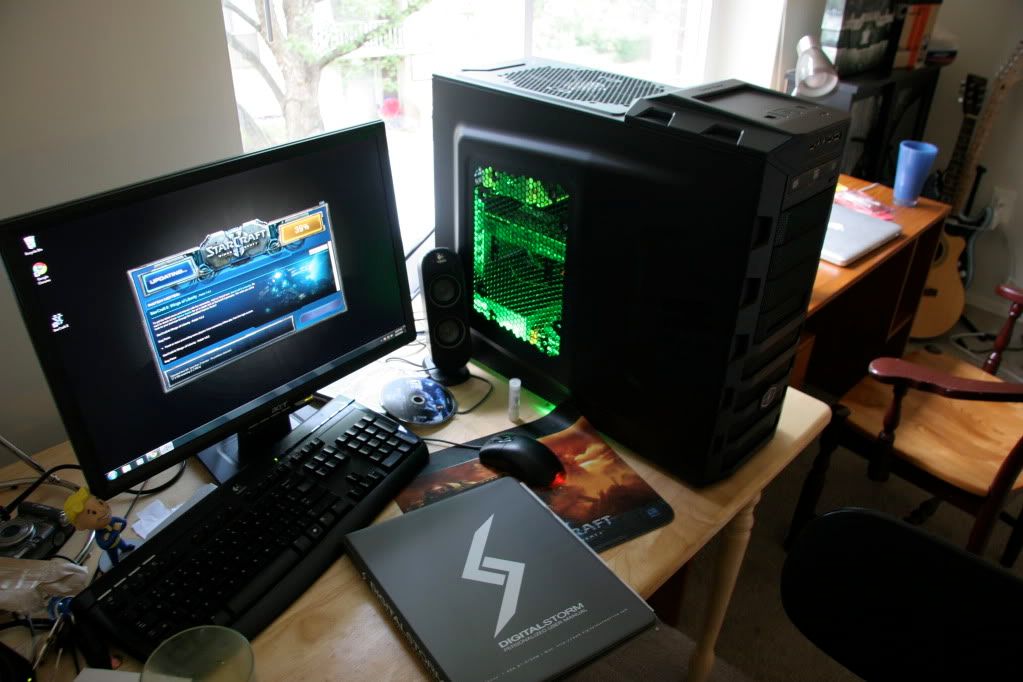 Setting up Starcraft 2 with the neat and tidy binder sat near.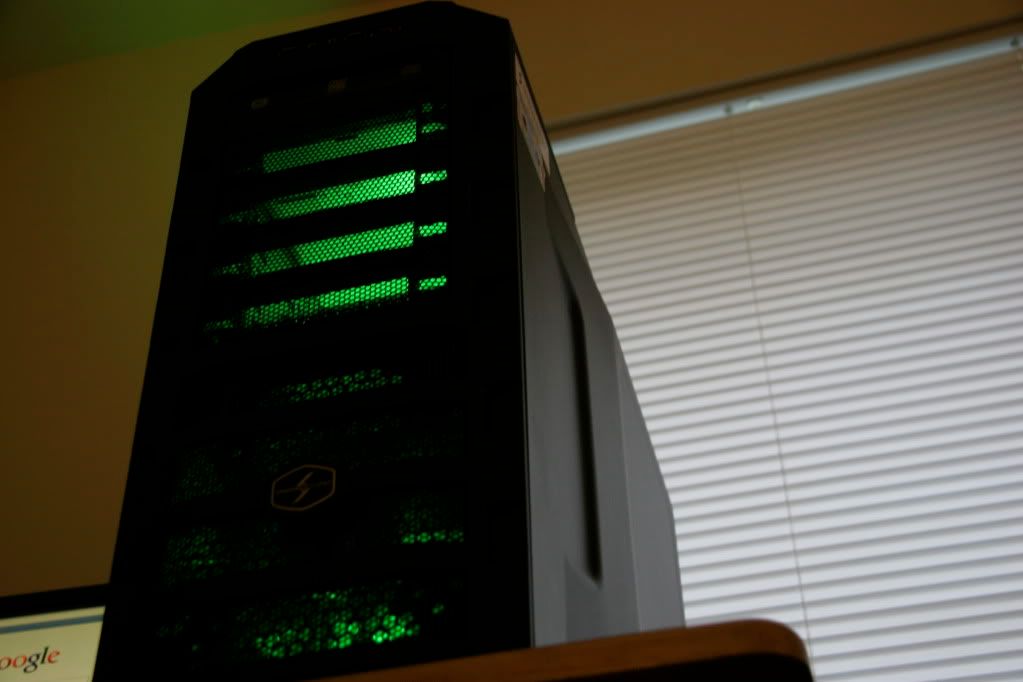 My nod to 2001. :)


Edited by jspaz - 26 Aug 2010 at 10:47am