FINALLY. It's been a week since the arrival of my Digital Storm PC and I've finally found time to write my review

My build specs:
System Configuration:
Chassis Model: Special Deal Hot Seller - Digital Storm VIRTUE
Exterior Finish: - Standard Factory Finish
Trim Accents: - Standard Factory Finish
Processor: Intel Core i5 4670K 3.40 GHz (Unlocked CPU) (Quad Core)
Motherboard: ASUS Z87M-PLUS (Intel Z87 Chipset) (MATX)
System Memory: 8GB DDR3 1600MHz Digital Storm Certified Performance Series (Highly Recommended) (Hand Tested)
Power Supply: 600W Corsair CX
Expansion Bay: - No Thanks
Optical Drive: DVD-R/RW/CD-R/RW (DVD Writer 24x / CD-Writer 48x)
Storage Set 1: 1x (120GB Solid State (By: Corsair) (Model: Neutron GTX Series) (SATA 6Gbps)
Storage Set 2: 1x (1TB Seagate (7200 RPM) (64MB Cache)
Storage Set 3: - No Thanks
RAID Config: - No Thanks
RAID Card: - No Thanks
Internet Access: High Speed Network Port (Supports High-Speed Cable / DSL / Network Connections)
Graphics Card(s): 1x Asus GTX 770 Direct CU II 2GB (Includes PhysX)
Sound Card: Integrated Motherboard Audio
HPC Processor: - No Thanks
Extreme Cooling: H20: Stage 1: Corsair H60 Liquid CPU Cooler (High-Performance Edition)
H20 Tube Color: - Not Applicable, I do not have a FrostChill or Sub-Zero LCS Cooling System Selected
Chassis Fans: Standard Factory Chassis Fans
Internal Lighting: - No Thanks
Airflow Control: - No Thanks
Chassis Mods: - No Thanks
Noise Reduction: - No Thanks
LaserMark: - No Thanks
CPU Boost: Stage 1: Overclock CPU 4.0GHz to 4.4GHz
Graphics Boost: - No Thanks, Please do not overclock my video card(s)
Memory Boost: - No Thanks, Please do not overclock my memory
OS Boost: - No Thanks, Please do not tweak the services on the operating system
Windows OS: Microsoft Windows 8 (64-Bit Edition)
AND YES! - Exclusive T-Shirt: FREE: Digital Storm T-Shirt - Black (Large)
Why Digital Storm?
I had been lurking around, looking for a custom PC shop that would best fit my want, needs, and desires. I looked everywhere. From the companies that had more deals than products, to the flashy and outrageously overpriced "new mortgage" computer craftsmen. After a long and thorough search I finally became attached to Digital Storm for their "Get it done right" attitude which was displayed through the media and through product/company reviews found all over the web.
The Build/Ordering:
Going into it I had already decided on set of components that would fulfill my computing needs. The only part I hadn't nailed down was the case. I wanted a subdued yet elegant case and the Corsair Obsidian 350d was perfect. Much thanks to the Digital Storm crew for quickly and effectively answering any question I had on: components, pricing, upgrading, shipping etc. The whole process was painless and speed bump free.
Shipping:
Standard FedEx ground. The usual worrying about the FedEx truck crashing on the highway and my package being destroyed in the process. (Am I the only one who does this?) And of course I was overly paranoid. Package was delivered exactly one week after FedEx picked it up from Digital storm. box arrived undamaged and intact. The packaging was very solid and was what I expected for what it was carrying. No complaints here.
Initial Impressions:
*Whistles* What a gorgeous machine. Literally my first though upon seeing the machine was "Damn someone worked hard on this" I just wanted to put it under a spot light and look at it for a little while. It is a truly well built machine. I was right. The Corsair 350d was the perfect choice. It's one of those cases that will look good with any internal components, in any room, under any kind of lighting. Such a professional looking chassis.
One small issue:
After inspecting the machine top to bottom the only blemish I found was some minor surface scratching on the view port window of the corsair case. They are small circular scratches from the cover possibly being placed on a hard surface. The scratches are hardly noticeable but I'm afraid that they will become much more visible if I were to add internal case lighting in the future.
The Pictures:
Sorry if the quality is inconsistent. Using a camera that I am not familiar with.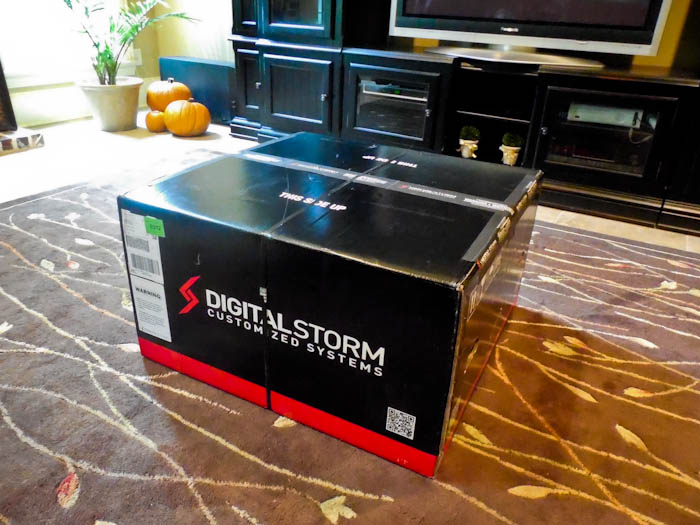 Just arrived.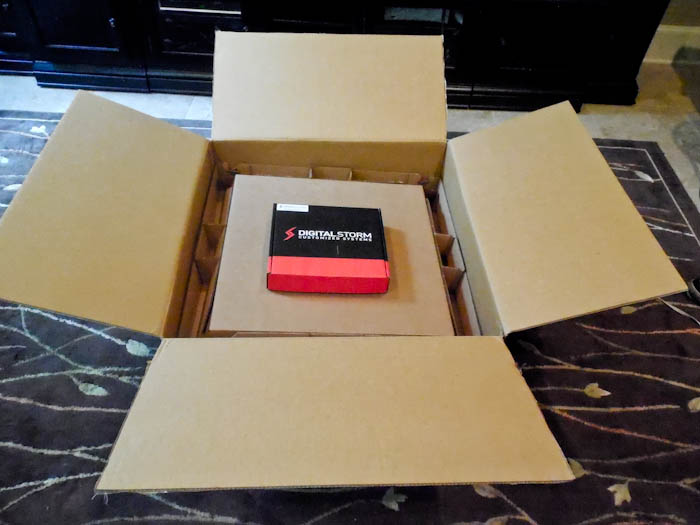 Opening the treasure chest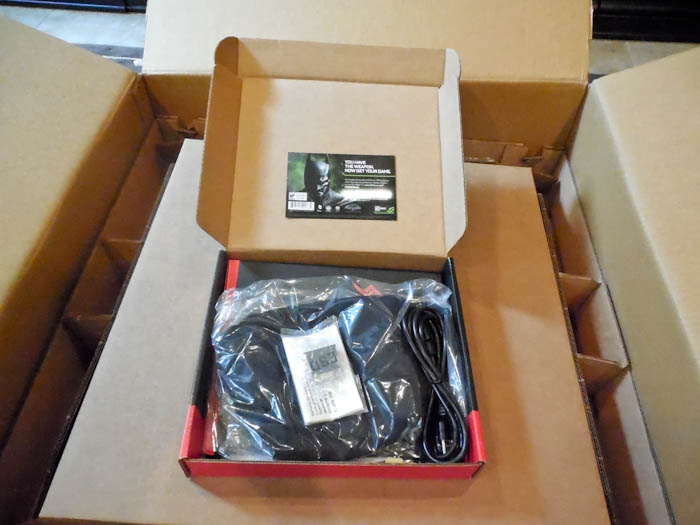 My $1700 pre-order for Batman Arkham Origins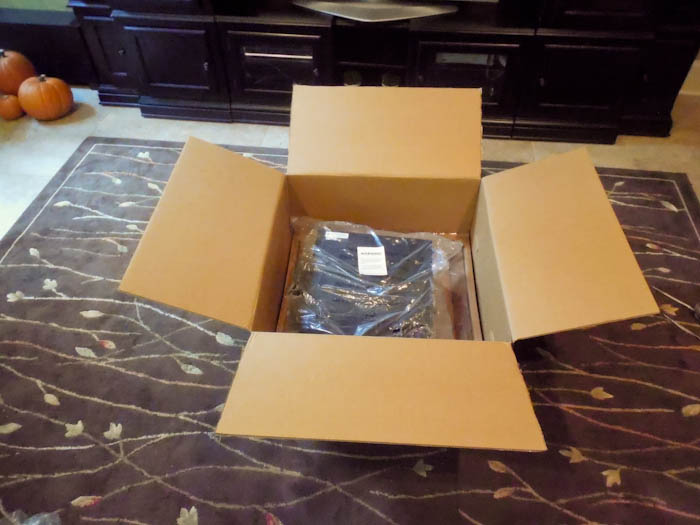 Que 2001 soundtrack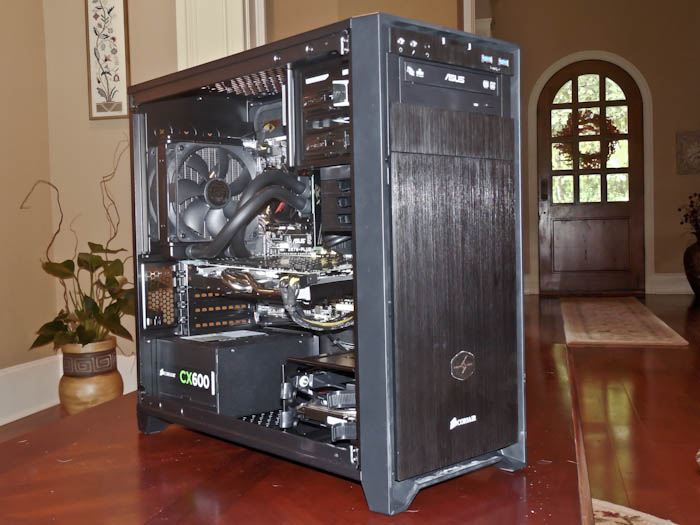 with flash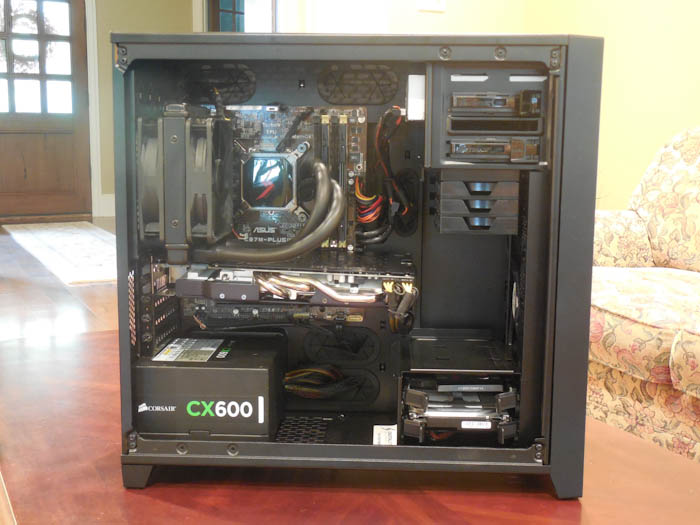 Lots of room to breathe
A+ rating on the wiring. Doesn't look to difficult to undo if I ever need to upgrade parts.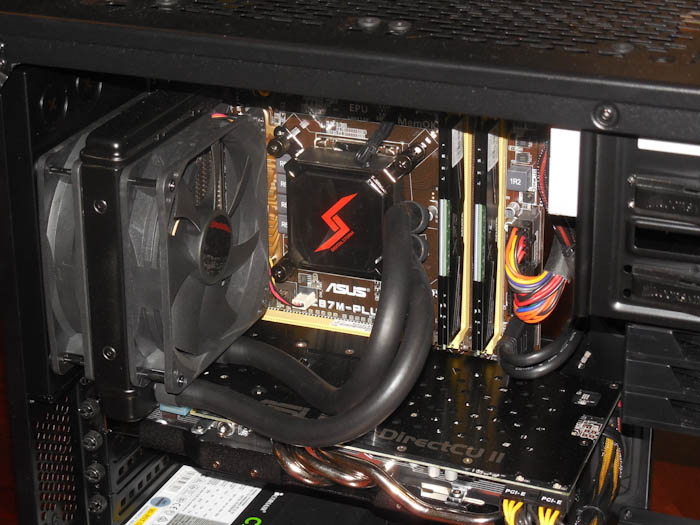 Sweet custom cooler head.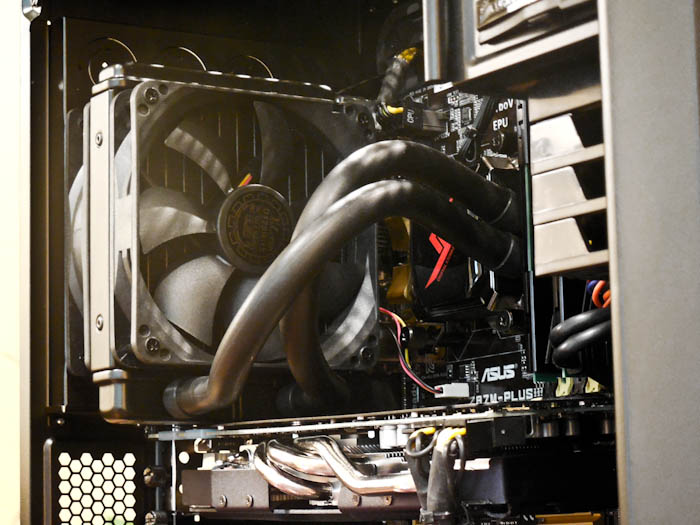 CPU porn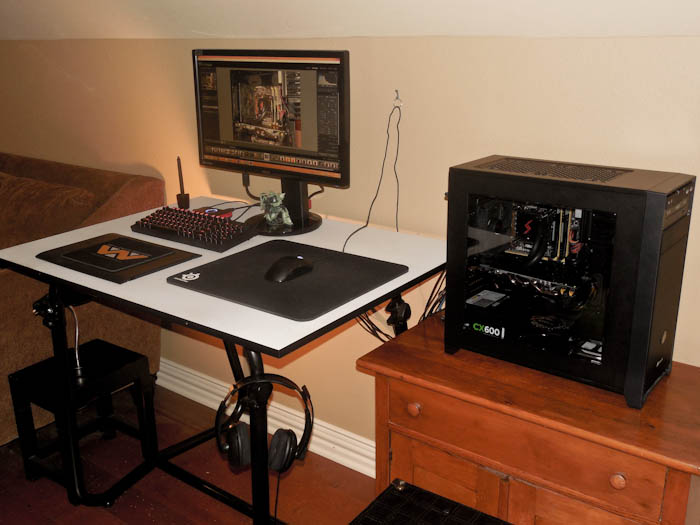 My modest workstation.
Peripherals:
Monitor - ASUS VG248QE 144hz 24'' led
Keyboard - Cooler Master quickfire TK
Mouse - Razer deathadder
Pad - Some old, giant steelseries
Drawing tablet - Wacom Intuos 4 pro.
Headset - Turtle Beach Z11(need to upgrade)
Recording device (left of monitor) - Avermedia Live Gamer Portable.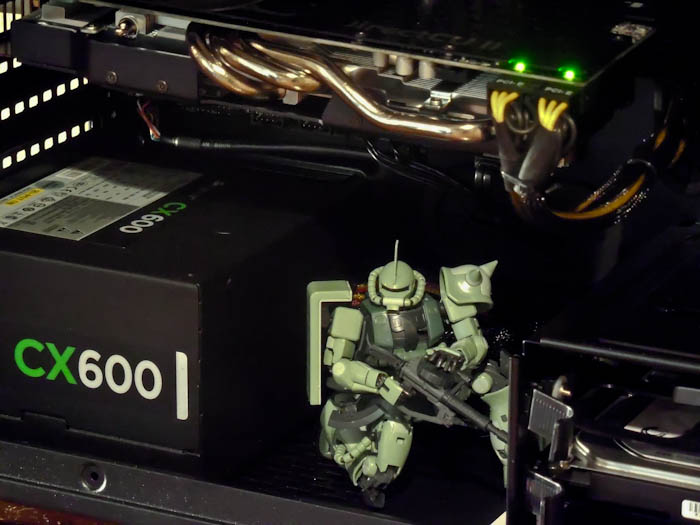 A souvenir from Tokyo defending the power station.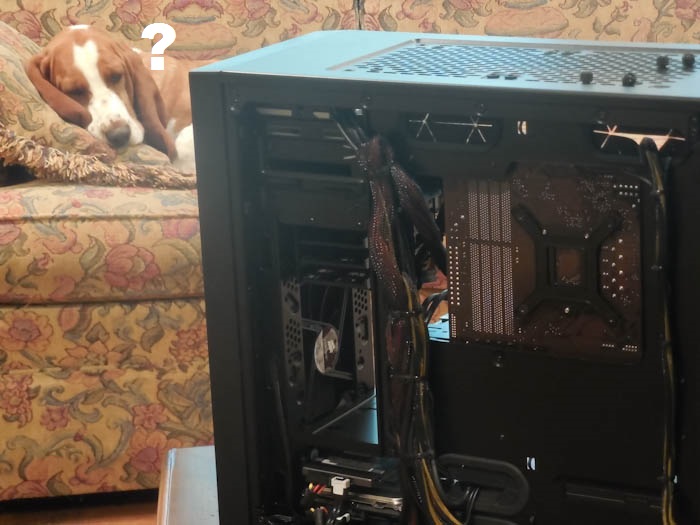 My basset hound trying to decide if my new toy is edible.


Edited by SkunkWorks - 12 Jan 2014 at 6:30pm